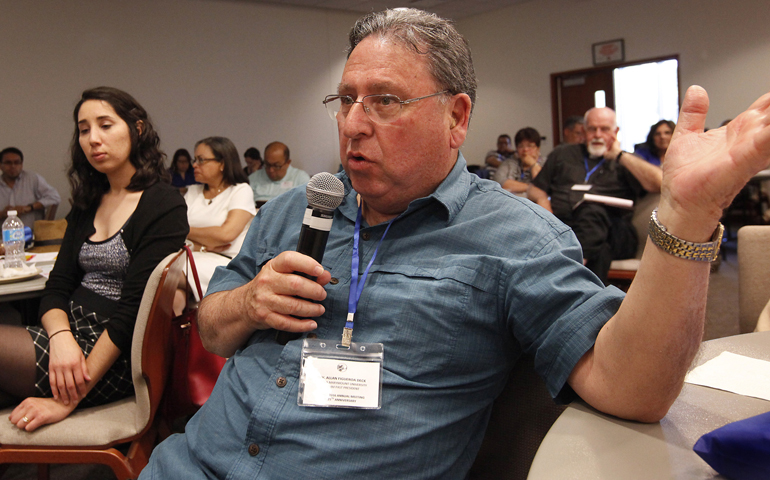 Jesuit Fr. Allan Figueroa Deck speaks during the National Catholic Council for Hispanic Ministry's annual meeting at Catholic Theological Union in Chicago June 25. (Catholic New World/Karen Callaway)
With Latinos making up 60 percent of U.S. Catholics under the age of 30, members of the National Catholic Council for Hispanic Ministry are beginning to think that the last 25 years have been just a prologue to the next 25.
Sixty percent: That figure dominated the Spanglish conversations at the annual conference June 23-26, at the Catholic Theological Union in Chicago. This year's event marked the 25th anniversary of the council's founding.
The council -- a team of Latino organizations that promotes Hispanic ministry through advocacy, education and networking -- encouraged discussion among the more than 100 people present, representing 34 member organizations. These participants were asked to consider how this demographic can best utilize its newly commanding presence in the U.S. church.
"Given the growth of Latinos in the church, approaching about half of all Catholics in the country, the interest that continues to be of concern is the identification of effective Latino leaders, a vision for what these leaders have to offer and their needs, and their vision for the church going forward," said Jesuit Fr. Allan Figueroa Deck, the council's co-founder and first president.
When this segment of the church is not fully active, Deck said, "the whole church is weakened, not just the Latino part of it, because this is the most youthful and one of the fastest-growing groups, and yet for various reasons, it's not participating at full strength."
"That need that was very real 25 years ago, when NCCHM was just founded, is just as real today," he said.
In 1991, leaders of Hispanic ministries, as well as advisory committees to the U.S. bishops, felt it was time for lay Catholic leaders to establish an organization that would serve Latino needs by convening groups focused on developing Hispanic participation in both church and society, Deck said. The National Catholic Council for Hispanic Ministry was born.
As an independent organization, the council collaborates with bishops while pursuing its own vision, serving as a liaison between Hispanic lay leaders and bishops.
"What we do best is bring people together to have conversations that need to be had, so then we can go out and create programs that fit the needs of the church for our people," said council president Elisabeth Román.
Previously, those efforts included leadership formation programs for lay ministry, in which the council partnered with the Mexican American Cultural Center in San Antonio.
The council's mission foreshadowed calls from the first Latino pope challenging the church to embolden its laity and youth.
"Of all the groups of the Catholic church in the U.S. that understands [Pope Francis'] vision and message, it's the Latino Catholic group," Deck said. "The mission and vision of Pope Francis was one that was developed over the past 40 or 50 years in Latin America, and it's characterized by a concern of the poor, an insistence of the importance of pursuit of social justice, and empowering laity to assume leadership."
A shared message in a shared language has allowed Catholic Hispanics to identify with their pope in an unprecedented way, Román noted.
"It is wonderful to have the spiritual leader not only speaking our language, but also speaking our concerns, because he knows us firsthand -- it's not that somebody told him," she said. "It's a different conversation that we can have with this pope compared to conversations Latin America may have had with previous popes."
But at the conference, Bishop Jaime Soto of Sacramento, Calif., stressed during one keynote panel discussion that we mustn't own or rigidly mark Francis as a Latino pope, because he belongs to the whole church.
That theme resonated in the discussions to follow: Hispanic ministry must be done with the whole church in mind.
Even that demographic is changing, as the wave of immigrants has slowed since the council's founding. For ministry to be effective, conversations must shift toward second- and third-generation immigrants, a group that is largely unattended in the church, said Carmen Aguinaco, council president from 2007 to 2014.
"We are like a family," she said, referring to national leaders in Hispanic ministry. "We love each other and it's wonderful to see each other, but we always see the same people, and we say, where are the younger ones? … I believe we need to really pass on the torch and learn how to step aside."
Again echoing Francis, panelists would remind attendees that you can't do theology without being grounded in pastoral realities. "Reality is more important than ideas," Soto said.
In a seminar focused on outreach at the parish and diocesan level, Society of Helpers Sr. Dominga Zapata noted that, when addressing Hispanic youth, ministers mustn't "act like young people are living separate lives" from their families. They're still living at home, so ministers need to address youth while keeping the domestic church in mind, and think ahead to how they'll eventually fill the pews with their own families, she said.
But those in ministry mustn't stretch themselves too thin, she added, advising that, rather than look at the two extremes (from church leaders to those who have left the church), they would be better off analyzing the gap in between and becoming the bridge.
She also stressed that increasing numbers and filling pews should not be the ultimate goal of successful ministry.
"We can't just be getting more lectors or participants -- we need to go for real impact and influence lives," Zapata told the group.
Deck said that this pastoral approach is distinctly Latino: one that doesn't begin with doctrines or rules, but rather focuses on the realities and complex lives within social, economic, political, and cultural context.
That an age-old Latin American mindset now guides the universal church shows that Latinos have something valuable to offer the U.S. Catholic church, Deck said.
But with that power comes great responsibility, council vice president Pedro Rubalcava told the crowd, adding, "Tenemos que ponernos las pilas."
We have to get going.
[Soli Salgado is a staff writer for the NCR reporting project Global Sisters Report.]
A version of this story appeared in the July 15-28, 2016 print issue.