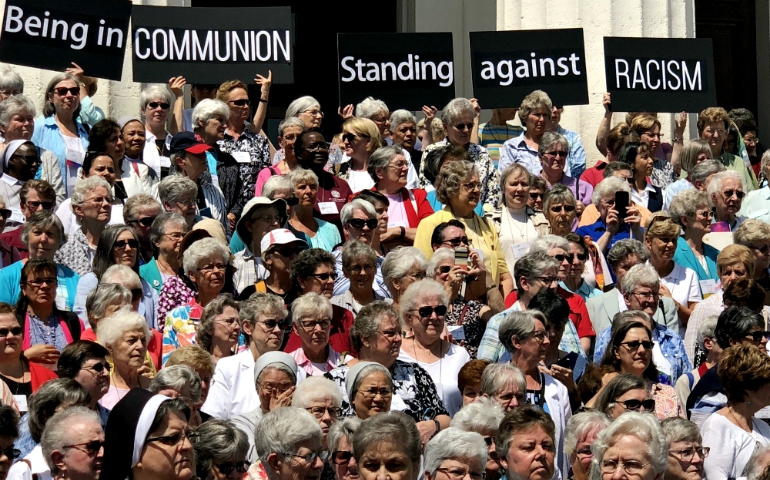 Marching to the Old Courthouse in downtown St. Louis Aug. 10, sisters with the Leadership Conference of Women Religious stand against systemic racism and their historic complicity. (GSR photo / Soli Salgado)
St. Louis — August 14, 2018
As the Leadership Conference of Women Religious wrapped up its assembly on Aug. 10, sisters explored the diversity within the image of God and lessons for religious life, marched and bore witness against systemic racism, and honored the first black recipient of LCWR's Outstanding Leadership Award.
The largest group of leaders of women religious congregations in the U.S., representing about 80 percent of 48,500 sisters in the country, continued its theme, "Being the Presence of Love: The Power of Communion," through its final keynote and reflections, focusing on the strength of relationships and religious life even as profound changes are taking place within many communities.
Benedictine Br. Simón Pedro Arnold, the final keynote speaker and a Belgian theology professor who's lived in Peru for 40 years, blended Christian theology with Andean spirituality, introducing the sister leaders to the concept of ayni, reciprocity, particularly in the Trinity.
"In the Andes, individual experience does not exist," he said. God is seen "as a kind of dynamically evolving cosmic presence," a concept that influences his approach to Trinitarian faith.
"Our mission now is to be a laboratory of the reign of God."