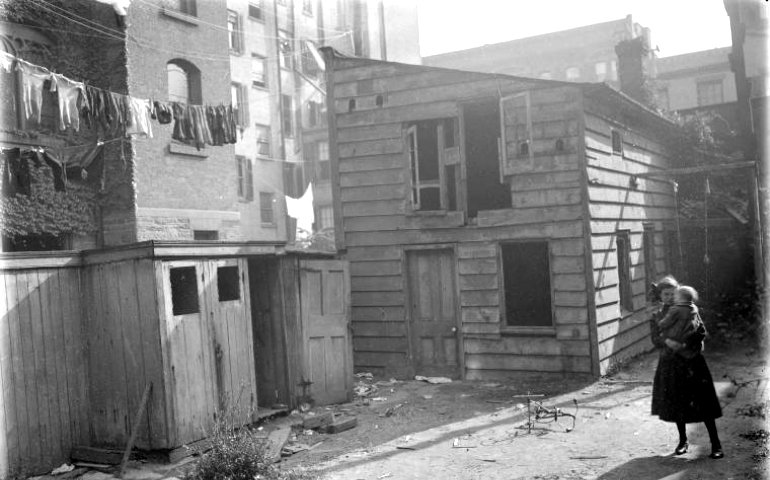 View of back of tenement housing in early 20th-century New York, typical of where immigrants lived (From the New York Public Library archives, photographic negative of the NYC Tenement Housing Department, 1902-1914)
"(T)here was a particular kind of Catholicism that was uniquely American. They combined the worst prejudices of the worst Americans with the worst of being Catholic."
- Mary Gordon, There Your Heart Lies (coming May 2017)
When it was released late last year, Nathan Hill's debut novel The Nix was voted a notable book by both The New York Times and Washington Post and hailed as the best book of the year by Entertainment Weekly. Meryl Streep and J.J. Abrams have already snapped up the television rights to The Nix, which charts the fortunes of a deeply dysfunctional Midwestern family from the political upheavals of the late 1960s to the present.
Midway through The Nix, we meet a hippie-hating Chicago cop with the unfortunate name of Charlie Brown.
"He wasn't much older than the kids he busted," Hill writes. "But the uniform made him feel older, the uniform and crew cut. … And church. Going to church and seeing the other beat cops there: It was a brotherhood. They were Catholic guys, neighborhood guys. You slapped them on the back when you saw them. They were good guys. … Their fathers had lived here, grandfathers too. They were Irish, Poles, Germans, Czechs, Swedes, but now thoroughly Chicagoans."
Brown's grandfather, it turns out, was Czeslaw Bronikowski, a name that was Anglicized at Ellis Island and passed down to the 1960s police officer.
Charlie Brown the cop — and later attempted murderer and powerful right-wing judge — is the most recent version of a curiously durable archetype in American storytelling: the illiberal and sinister ethnic Catholic.
We see variations on this theme in American fiction and films again and again, from James T. Farrell's Studs Lonigan trilogy (1932-1935) and "Saturday Night Fever" (released 40 years ago, in 1977), right up to celebrated recent novels such as The Nix and Atticus Lish's Preparation for the Next Life (2014). They might be Italian, Irish or Polish, and their religion is sometimes explicit and other times implied. But always, they represent a threat to a more harmonious vision of America.

(Penguin Random House)
Questionable alliances
Going back to colonial times, Catholics' supposedly slavish devotion to a "foreign" religion, combined with their impoverished immigrant roots, made them a unique threat to America's dominant culture. The Irish famine and the radical transformation of American cities that followed led to a toxic blend of religious hatred, ethnic bigotry and class contempt reflected in the mid-19th-century diaries of George Templeton Strong, political cartoons of Thomas Nast and wildly popular "captive" narratives featuring scheming priests and nuns.
In short, Catholic immigrants seemed literally un-American: In a nation that elevated individual freedom above all else, Catholics submitted not just to Rome but corrupt political machines. In a nation celebrated as an agricultural idyll, they lived in teeming cities synonymous with vice and corruption.
No surprise, then, that we saw many unflattering portraits of urban ethnics in the late 19th and early 20th centuries. There was Stephen Crane's gritty novella Maggie: A Girl of the Streets (1893), crude tenement comedies like "The Callahans and the Murphys" (1927) and gangster flicks like "The Public Enemy" (1931).
This landscape was eventually granted epic treatment in Farrell's scathing trilogy of Catholic ethnic life — Young Lonigan, The Young Manhood of Studs Lonigan and Judgement Day. Over the course of 1,000 pages, Studs and his family are presented as hypocritical, bigoted, violent and politically reactionary.
Farrell, of course, was not writing in a historical vacuum. The 1930s were a critical time for American Catholics. The previous decade had brought a fearsome backlash against Catholicism and urban ethnics, culminating in sweeping anti-immigration laws, prohibition, a reinvigorated Ku Klux Klan and Al Smith's disastrous loss in the 1928 presidential election.

Paperback reissue of trilogy (Penguin Random House)
Some ethnic Catholics saw the 1930s as a chance to prove they could be true Americans, which sometimes veered into ugly territory — hyper-patriotism, extreme anti-communism and anti-Semitic or anti-immigrant sentiments. While Catholic ethnics were part of the broad New Deal coalition, the immense popularity of "radio priest" Fr. Charles Coughlin tapped into a reactionary streak among his many urban listeners.
To progressive writers like Farrell, this was a problem that needed to be exposed. The trouble is this: In Farrell's zeal to present this dark side of American life, he himself ended up presenting a rather narrow view of this environment.
For example, at the same time Farrell was writing and Coughlin was raging, Chicago Bishop Bernard Sheil was actually attempting to bridge racial and ethnic gaps, as outlined in Timothy B. Neary's recent fascinating book Crossing Parish Boundaries: Race, Sports and Youth in Chicago, 1914-1954. Also at this time, Kate Hennessy notes in her recent book Dorothy Day: The World Will be Saved by Beauty, the far-left Catholic Worker newspaper circulation reached 160,000.
Sticking stereotypes
And yet, despite the evident diversity of American Catholic life, the Farrellian archetypes endured and struck a deep chord with readers and critics. The Modern Library placed Farrell's trilogy at No. 29 on its list of the top 100 English-language novels of the 20th century; fictional offspring of the Lonigans appear over and over in later books and movies.
For non-Catholics, the Lonigans confirmed lingering suspicions about the oppressive church and its uneducated working class followers. Lapsed Catholics, meanwhile, could take comfort in the fact that they had escaped such an environment and were now part of some social solution, rather than problem.
And into the 1950s, ethnic Catholics remained a problem — particularly, it must be added, for more progressive audiences. You could see this in movies like "Blackboard Jungle" (1955), where the violent, racist bully Artie West (identified as "Irish-American" by Glenn Ford's heroic teacher) must literally be taken down with an American flag. You could see it in the newspapers that covered a very different, very real kind of Irish Catholic bully, Sen. Joe McCarthy. And you could see it on bestseller lists, where journalist Paul Blanshard warned of lingering papist conspiracies in popular books such as American Freedom and Catholic Power as well as The Irish and Catholic Power.
By the time the culture wars of the 1960s zealously sorted the hip from the square, ethnic Catholics — who typically lacked the cultural and financial power of the truly elite — were inextricably linked to the dominant culture's most unsavory elements. "The church of the FBI," as one 1960s lapsed Catholic puts it — and it is no compliment — in Mary Gordon's 2005 novel Pearl.
Ironically, at a time of high assimilation for ethnic Catholics — when diverse writers from Gay Talese to Elizabeth Cullinan explored this sub-culture with laudable complexity — the menacing Catholic archetype not only survived but thrived.
There is the murderous, hippy-hating Joe Curran (played by Peter Boyle) in the 1970 film "Joe" and the sex-mad priest in "Harold & Maude" (1971). There is the loud, loathsome Dunn family, with their dangling crucifixes and deadly sexual repression, in "Looking for Mr. Goodbar" (1977). That same year, Tony Manero, in "Saturday Night Fever," was basically Studs Lonigan with nifty dance moves. Tony turns a priest's collar into a noose, before meeting up with his crew of (again) violent, small-minded pals, not unlike those we see in later films ranging from "Bloodbrothers" (1978) to "Summer of Sam" (1999).
Many of these characters actually confirm the bigoted prophecies of George Templeton Strong and Thomas Nast. It's as if America should have built a big, beautiful wall back in the 19th century.
Catholic reactionaries today
The 21st century has brought with it a new batch of dangerous, reactionary Catholics.
In Amy Waldman's 2011 novel The Submission, the firefighting Gallaghers of Brooklyn dabble in Islamophobia as they protest the selection of a Muslim to design a 9/11 memorial. And in the 2014 novel Preparation for the Next Life by Atticus Lish, a troubled Iraq War veteran and his Chinese immigrant lover are menaced by a Queens Irish carpenter and his maniacal son.
Which brings us back to The Nix. It was written before the 2016 election, but given Charlie Brown's characterization, should we really be surprised that by the end of Hill's novel (spoiler alert!) Brown goes to work for a demagogic, anti-immigrant, right-wing presidential candidate?
As if to fulfill The Nix's prophecy, Donald Trump won 60 percent of the white Catholic vote in 2016, according to Pew Research Center. This, even though Trump publicly feuded with the pope.
So are the grandchildren of immigrant Catholics really hopelessly reactionary?
If there is some truth in this, it is a truth desperately in need of subtle analysis exploring immigration, assimilation, class, religion and other factors. Books such as J. Anthony Lukas' Common Ground (1985), about the Boston busing crisis, offer this. But such works are few and far between. (Cable dramas like "The Sopranos," "Ray Donovan" and "Rescue Me" have actually managed to explore aspects of Catholic ethnic life with some complexity.) In The Nix — and many other such books — we get plenty of details about Brown's repellant behavior. We don't get an explanation of what exactly led Czeslaw Bronikowski's grandson down this path.

(Macmillan, Picador)
It must be stressed that from Eugene O'Neill to Martin Scorsese, William Kennedy to Alice McDermott, there is an abundance of grace, beauty and humanity in the Catholic American artistic tradition.
It must also be added, though, that if we take ethnic Catholics — real or fictional — to task for turning against their impoverished immigrant roots and their own church's social justice teachings, we must also acknowledge that progressive non-Catholics have never exactly embraced even the church's more liberal elements.
So as we stumble through a toxic debate over immigration, perhaps we should not be surprised. We have still not come to terms with what exactly was wrought by the assimilation of the Catholic immigrants who came to the U.S. over a century ago.
[Tom Deignan is author of Coming to America: Irish Americans and a columnist for the Irish Voice newspaper. He has written about books for The New York Times, Washington Post, Commonweal and America. Read more at his blog tdeignan.blogspot.com.]
Editor's note: An earlier version of this article provided the wrong publication year for Amy Waldman's The Submission.
A version of this story appeared in the April 21-May 4, 2017 print issue.