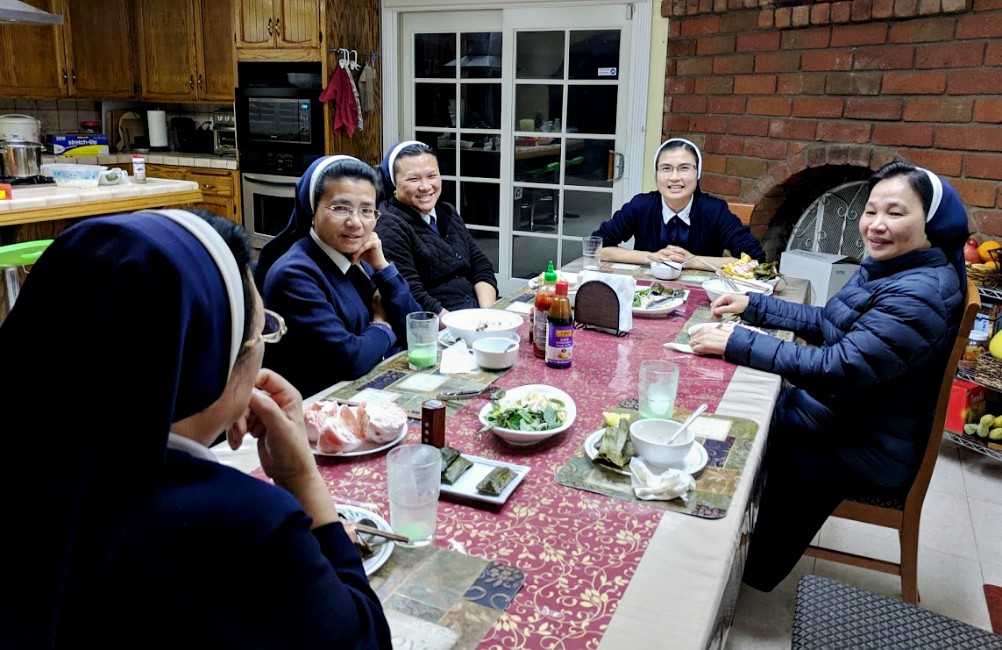 The Lovers of the Holy Cross of Los Angeles community at Our Lady of Mercy convent in Anaheim, California (Peter Tran)
Los Angeles — April 18, 2019
Living on the street of Los Angeles with two children, Katherine desperately needed a shower. "That is all I wanted. I didn't ask for shelter, or food. I just asked if I could take a shower." When she came to the Good Shepherd Center, she got not only shelter but a haven of support to get back on her feet.
She was given a place to live, help for her two boys, life skills classes, and time to rest and heal from domestic violence and a life of homelessness.
Katherine, who didn't want her last name used, told of her experience to some 200 guests at a recent fundraising gala for the Good Shepherd Center. She said when she arrived at the center, she felt like she was home. "Standing there on the porch, I began to cry."
With support from the center, a program of Catholic Charities of Los Angeles, she now has a home and a job helping single mothers to find housing.
For Sr. Anne Lanh Tran, a sister of the Lovers of the Holy Cross of Los Angeles, Katherine's story is not only an example of hope for the up to 93 women and some 50 children whom the center houses each night. The story also reaches to the very roots of Lanh Tran's congregation, founded in Vietnam some 350 years ago by French Bishop Pierre Marie Lambert de la Motte.