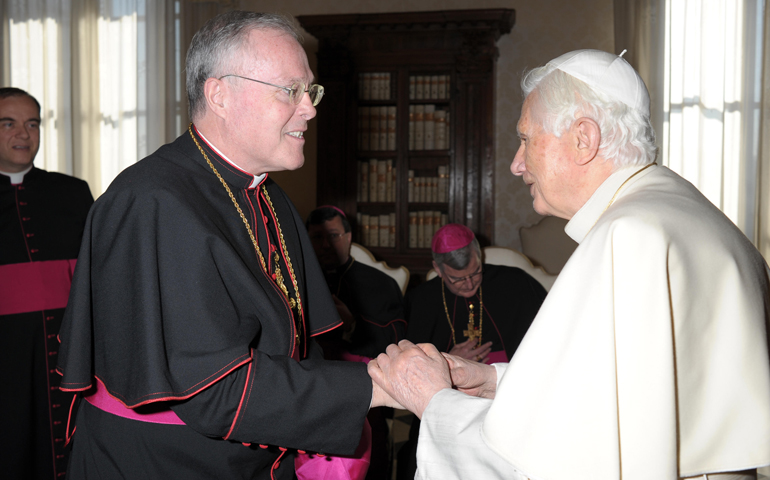 Pope Benedict XVI greets Bishop Michael Hoeppner of Crookston during a March 8, 2012, meeting with bishops from Minnesota on their "ad limina" visits to the Vatican. (CNS/L'Osservatore Romano)
A deacon candidate for a rural Minnesota diocese sued his bishop this week on grounds of blackmail and coercion after the prelate allegedly threatened his ordination if he didn't renounce a prior revelation of sexual abuse by the diocese's former vicar general.
In the civil lawsuit filed May 8, Ronald Vasek alleges that Crookston, Minnesota, Bishop Michael Hoeppner in October 2015 coerced him into signing a letter that retracted his disclosure to the bishop approximately five years earlier that Msgr. Roger Grundhaus had sexually abused him on a trip to Ohio while a teenager in the 1970s.
The suit, which names Hoeppner and the Crookston diocese as defendants, requests a jury trial and seeks $50,000 plus court and other related fees. It charges Hoeppner with coercion — the first such count brought against a U.S. bishop, according to attorney Jeff Anderson — and intentional infliction of emotional distress, and brings against the small northwestern Minnesota diocese three counts of negligence and two counts of public nuisance.
At a press conference Tuesday at Anderson's St. Paul offices, Vasek, 62, said the request from Hoeppner to renege his abuse accusation in a prepared letter came during a meeting on the back patio of the bishop's residence. He arrived expecting to discuss his progress in the diaconate program but instead the conversation turned to Grundhaus.
According to the lawsuit, another diocese had denied the monsignor's ministry within its borders due to Vasek's accusation. At that point, Vasek was presented with a letter drafted by vicar general and moderator of the curia Msgr. Michael Foltz that stated the abuse in Ohio never happened.
"I thought if I signed this letter, it's a lie. And I knew it was a lie. I couldn't sign that letter, I didn't want to sign that letter at all," Vasek said.
But he ultimately did, after he said Hoeppner asked how could he ordain him a deacon if word of the scandal with Grundhaus became public, and also raised the question of the potential impact on Vasek's son, who was ordained a priest of the Crookston diocese in 2010.
"I knew at that moment he was blackmailing me," Vasek said. "I signed that letter to protect my son, because I knew how evil a man the bishop could be if he wanted to be."
Vasek said he did not receive a copy of the letter, and was informed a copy would be kept in a vault at the chancery. He left "feeling like I had been re-abused all over again."
In a statement the Crookston diocese said, "Bishop Hoeppner and other diocesan officials are deeply saddened and troubled about the allegations made today by Ron Vasek." It added it takes all sexual abuse allegations "very seriously" but refuted that Vasek was made to sign a document against his will.
"Bishop Hoeppner categorically denies that he in any way forced, coerced or encouraged Mr. Vasek to not pursue his allegations regarding Msgr. Grundhaus," the diocese said.
The statement said that the allegation was reported to law enforcement in 2011, a year after Grundhaus had retired. The priest is currently suspended from active ministry, it added, and that the diocese would not comment further until its investigation is concluded.
Reached by phone Tuesday, Grundhaus, who is not named in the suit, told NCR he was advised by his lawyer not to comment on the allegations against him until the lawyer released a statement.
He confirmed his suspension, which he said began May 4. Grundhaus, who in June 2016 celebrated his 50th year in the priesthood, retired in 2010 but had continued to assist at parishes and preside at Masses. From 1991 to 2007 he served as vicar general for the Crookston diocese.
Anderson said he was unaware of other claims of abuse against Grundhaus, including under the three-year window into Minnesota's statute of limitations, which closed in May 2016. But despite the diocese learning of an accusation of abuse against him in the late 2000s, the victim's attorney said it withheld his name from a court-ordered disclosure of priests accused of abuse. That order, issued in August 2015, directed the diocese to produce all records related to clergy sexual abuse of children prior to 1985.
---
More: "New Ulm diocese third in Minnesota to file for bankruptcy" (March 3, 2017)
---
According to the lawsuit, Vasek said that in 1971, when he was 16 years old, Grundhaus "engaged in unpermitted sexual contact" during a trip to Columbus, Ohio. Vasek was accompanying the priest to a meeting of canon lawyers.
Vasek said he kept silent on the alleged abuse for roughly four decades, when in either 2009 or 2010 he first revealed it to a priest from another diocese with whom he was discussing his potential decision to enter the permanent diaconate. That priest then reported the alleged abuse to his vicar general, who forwarded it to the Crookston bishop.
Shortly after, Vasek met with Hoeppner at the Crookston diocesan chancery to discuss the allegation. According to the lawsuit, the bishop asked Vasek how he planned to proceed, indicating that going public would be "detrimental" to Grundhaus' reputation. The lawsuit also alleges that Hoeppner said the revelation of the alleged abuse would not hinder Vasek's entry into the diaconate program as long as he kept quiet about the allegation.
Vasek would again go mum about the alleged abuse until this March, when he opened up about it for the first time to his wife of 41 years, along with Fr. Robert Schreiner, director of the diocesan office of diaconate formation and a longtime family friend of the Vaseks.
The original purpose of the three meeting on March 18 was for Schreiner to inform Ron that his pastor had withdrawn support for his ordination, set for June. That news caught Schreiner off-guard, he said at the press conference, when he heard it two days earlier during a meeting with Hoeppner, Foltz and the Vaseks' pastor. A week beforehand, Schreiner had submitted Vasek's file, along with those of the other diaconate candidates, recommending his ordination.
"Ron had received unanimous consent from those concerned with his formation, including an unqualified recommendation from his pastor. This abrupt and complete turnabout was at best inexplicable to me, and at worst outrageous," Schreiner said, adding that the reasons for the reversal "were unwarranted in my estimation," a viewpoint he expressed during the March 18 meeting.
Schreiner said he was directed by the bishop to review the letter with Vasek and "to stress that Ron needed to be humble and have a servant's heart." A final decision would come after Hoeppner returned from a trip.
After 20 minutes discussing the letter, Schreiner said Vasek warned him and his wife he was about to tell them something "that will break your hearts." In tears, Ron Vasek then said, "I was abused by this diocese 46 years ago, and I'm still being abused by it. But no more."
Schreiner said he left the meeting with two thoughts standing out among a thousand: first, the courage it took for Vasek to tell — and trust — his story to a priest of the diocese, leading Schreiner to resolve "to walk with him on this journey, uncertain to all that it meant."
As for the second thought:
"And second, I believed him," Schreiner said, explaining that in knowing Vasek for two-plus decades, working with him and his wife on retreat teams, in the diaconate program and through their son's own path to priestly ordination, he knew Ron as plainspoken and blunt.
"His profile just doesn't include a pension for or proclivity to lie. His love of the Catholic Church is unwavering, and his faith in Christ Jesus unflinching," Schreiner said.
Asked by a reporter how the situation has impacted his feelings about the church, Vasek replied, "I would not have entered the diaconate program if I had a question about my faith at all, knowing what I knew and knowing what I still had to keep secret. My faith in the Catholic Church has never wavered one bit and never will."
"So I don't want this at all, ever, to be talked about as against the Catholic Church. This is to purify the men in the church by their sinful actions and their unlawful actions. It has nothing to do with the Catholic faith," he said.
Vasek said he knows that the lawsuit has put his ordination as a deacon in jeopardy, but that he could not finish the process without revealing his story, nor swear obedience to Hoeppner, a final part of the process, knowing what he did. He said he hopes to one day complete his ordination with a bishop he can trust; in the meantime, he wants to work with victims of abuse.
"If I'm not ordained a deacon, at least I can be a servant to those who have been abused in some way," Vasek said.
[Brian Roewe is an NCR staff writer. His email address is broewe@ncronline.org. Follow him on Twitter: @BrianRoewe.]
Editor's Note: A previous version of this story misspelled Fr. Robert Schreiner's last name.
A version of this story appeared in the June 2-15, 2017 print issue.