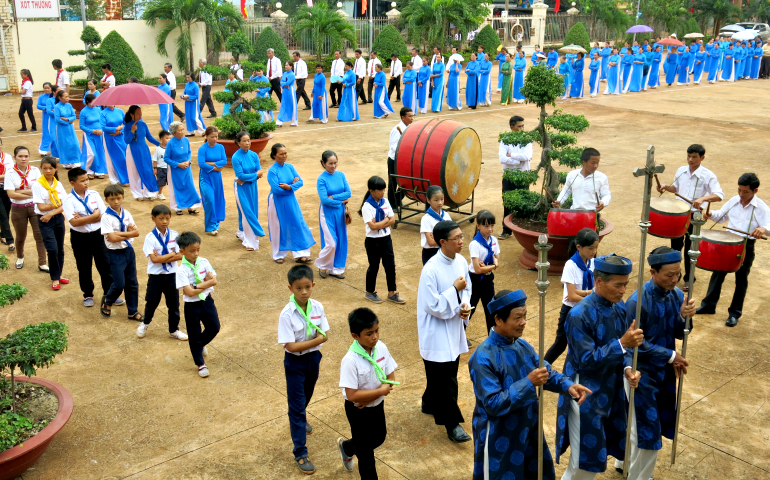 Catholics march in procession into a church in Binh Phuoc province on May 26, when they welcomed a new parish priest. (Contributed photo)
Ho Chi Minh City, Vietnam — December 21, 2016
A Vietnamese bishop has said that a new law on religion fails to meet people's religious needs and reveals the government's doubts about all forms of religion. The bishop spoke Monday at a national meeting between government officials and religious representatives.
"From our views, some negative issues still remain in relationships between the government and religions," Bishop Peter Nguyen Van Kham, secretary general of the Catholic Bishops' Conference of Vietnam, told a meeting held by the government in Ho Chi Minh City Dec. 19.
Fifty-five religious leaders from Buddhism, Catholicism, Protestantism and other faiths throughout the country met with Prime Minister Nguyen Xuan Phuc and other high-ranking officials at the event.
Ho Chi Minh City Archbishop Paul Bui Van Doc and Xuan Loc Bishop Joseph Dinh Duc Dao, head of the Episcopal Commission for Catholic Education, were also present at the meeting.
Kham, who is bishop of the My Tho diocese, said the new Law on Belief and Religion, which was passed by the National Assembly Nov. 18, "fails to properly care about and satisfy people's needs of religious activities."
Some practical suggestions on how to improve religious freedom made by local religious leaders were not put in the law, he added.
He said the first ever law on religious activities since the country was reunified under communist rule in 1975 is seen as a regressive step in comparison with its drafts.
The drafts, composed for two years by the Government Committee for Religious Affairs, had allowed religious organizations to engage in education, vocational training, health care, charitable works and publishing, but the final version left this clause out.
Local religions are only allowed to take part in preschool education.
Those issues show that the communist government has many doubts about religions, Kham said, adding that he hoped the government would change its attitude toward religion in a positive way in the future.
However, Kham said the law, which will take effect on Jan. 1, 2018, has some improvements in religious freedom.
It recognizes the noncommercial legal entity of religious organizations, and allows for detainees and prisoners to "use Scriptures and show their faith."
But the law also regulates legal procedures and conditions regarding people's beliefs.
Faith groups will be required to register with authorities and inform them of their activities, which officials will have the right to approve or refuse.
Banned religious activities include those deemed to infringe on national defense, harm social ethics and disunite the nation.
During the meeting, Kham also called for honest and frank dialogue between civil authorities and religious leaders to deal with tensions between followers and authorities, if both sides "really serve people and work for a just, democratic and civilized society."
He said tensions between local authorities and Catholic communities in the country are not due to political conflicts but to social clashes relating to Catholics' daily lives.
Deputy Prime Minister Truong Hoa Binh promised that, after the law on religion comes into effect in 2018, state agencies will amend regulations to create legal conditions for religious activities.
Prime Minister Phuc asked agencies to work together to ensure legal freedom of religion among followers and avoid an asking-and-granting mechanism in law enforcement.
Phuc warned that acts taking advantage of religion to divide people, causing social disorder and preventing the country's development are banned. Any disputes between government authorities and followers should be dealt with on the basis of mutual respect and understanding, he added.
The Vietnamese government currently recognizes 39 religious organizations from 13 religions, with 24 million followers — more than 6 million of them Catholics — served by 83,000 clergy among the country's population of 90 million. Vietnam ranks as one of the least formally religious countries in the world.