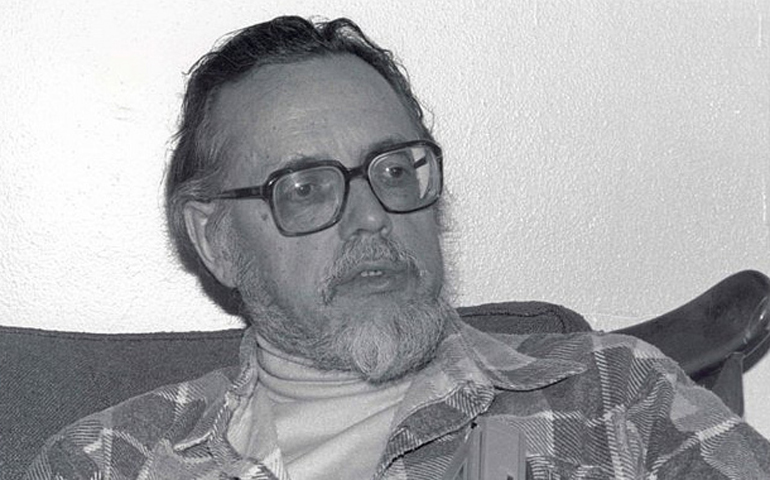 John Howard Yoder (Mennonite Church USA Archives/Carolyn Prieb)
When John Howard Yoder became a full-time professor exclusively at the University of Notre Dame in 1984, he gave a significant boost to the school's theology department. He brought with him international acclaim as a Mennonite theologian, scholar, ethicist and pacifist.
He also brought with him a long history of predatory behavior toward women, especially young female students, described as his "experiments."
Leaders of the Anabaptist Mennonite Biblical Seminary -- formerly Goshen Biblical Seminary, where Yoder taught theology for 24 years -- gathered March 22 this year to apologize to his victims for the first time, publicly taking responsibility for the seminary's neglect that allowed Yoder to abuse more than 100 women. Yoder, who died in 1997, faced 13 charges of sexual abuse in 1992.
But what remains unanswered is who knew what at Notre Dame at the time of his hiring, whether officials there simply ignored his past and what officials on the South Bend, Ind., campus subsequently did as reports of his abusive behavior began to surface.
---
Related: Why write the story of the allegations against John Howard Yoder?
---
Former colleagues of Yoder told NCR they knew very little regarding his history of sexual harassment when he first arrived as a full-time faculty member to Notre Dame. The noted professor finished his 20-year career there in good standing. Documents, though, from Yoder's time at Notre Dame and Goshen Biblical Seminary -- including his personal letters, contracts and alleged victims' testimonies -- suggest his superiors at both schools were at least aware of allegations of his misconduct with young women.
Firsthand records and interviews confirm Yoder's predatory behavior in the name of ethical studies and that it continued at Notre Dame. What follows is a complex depiction of Yoder's troubling past, and how it somehow failed to stimulate bureaucratic concerns at Notre Dame for decades.
When the Mennonite church wanted to open an investigation into Yoder's past, historian Rachel Goossen was asked to study personnel files and correspondence from Yoder's time, a project she undertook with the condition that the files eventually be open to the public. In January, her work -- "Defanging the Beast: Mennonite Responses to John Howard Yoder's Sexual Abuse" -- was published in The Mennonite Quarterly Review. The seminary then organized the reconciliation service.
Goossen told NCR that in an attempt to determine exactly what Notre Dame knew about Yoder's past at the time of his hiring, she sought to interview Fr. Richard McBrien, who was chairman of Notre Dame's theology department in 1984. McBrien, however, was in poor health in late 2014 and unable to do an interview. He died Jan. 25.
To get a better understanding of Yoder's time at Notre Dame, NCR reviewed numerous documents from Yoder's personal files kept in the Mennonite Church USA Archives in Goshen, Ind., recently made available to the public, as well as personal files of Goshen Biblical Seminary's then president, Marlin Miller, and his correspondence with Yoder, board members and staff throughout the 1970s-'90s.
Together, the documents and interviews NCR conducted indicate that Yoder attempted to conceal from Notre Dame the reasons for his departure from the seminary, but that Notre Dame officials became aware of his previous sexual misconduct in the early 1980s, years before alleged victims went public in 1992.
Dennis K. Brown, Notre Dame's assistant vice president for news and media relations, declined multiple requests to be interviewed for this story, saying that "Notre Dame does not comment on personnel matters."
In a Jan. 3, 1984, letter to Goshen Biblical Seminary board chair Evelyn Shellenberger, Miller -- who died in 1994 -- wrote of his 1983 meeting with two Notre Dame students who experienced sexual harassment by Yoder. Miller veiled both students' names in his correspondence.
"Jackie" worked in historic peace church circles, and Yoder recruited her, hoping he'd be a part of her support system. The professor took an interest in "Jackie," calling and visiting her regularly, eventually touching her in ways that made her uncomfortable as they prayed. She told Miller that Yoder would close the door and touch her for long periods of time, not letting her withdraw her hand when she didn't want to hold it any longer.
Another Notre Dame student, "Linda," said that in the winter of 1981 and '82, Yoder would call her three to four times a day for matters unrelated to the scholarly or departmental agenda. She told Miller the conversations would evolve from friendly chats to him talking about being affectionate, the slit in her skirt, and her legs and appearance. She met with a staff psychologist in student services, and after "Linda" confronted Yoder herself, he allegedly accused her of having problems with men and said that he could help her with those problems.
"Linda" and two or three other women, Miller wrote, thought of filing a suit against Yoder, but she dropped the notion since she was finishing up her studies. "Jackie" told Miller that she knew of three other students who also had problems with Yoder.
The scenes at Notre Dame reflected Yoder's past at Goshen Biblical Seminary, where rumors of his "experiments" with female students filled his last nine years at the school.
Yoder was a theology professor at Associated Mennonite Biblical Seminary from 1960 to 1984 and served as dean and president of the Goshen seminary. In 1994, the two seminaries combined, and in 2012 adopted the name Anabaptist Mennonite Biblical Seminary.
After several years abroad, Yoder returned to Goshen in 1976 as a professor. That same year, he agreed to teach full time at Notre Dame, complete with tenure for the summer of 1977.
It was this year that Miller first received complaints about Yoder's sexual improprieties toward his students. Yoder would maintain a full-time relationship with Notre Dame until his death, sharing his time with Goshen Biblical Seminary as an adjunct professor until his termination in 1984.
As an ethicist, Yoder was particularly interested in Christian sexuality in a variety of contexts, such as relationships among single people, how Christians empower married people more than singles, and extramarital relations.
But he took it upon himself to conduct "experiments" with students he mentored and women he met at conferences, among others, despite being married with six children. He called them his "circle of sisters." Never mind consent: Yoder believed he shouldn't be bound to Christian conventions, as ethicists were meant for far-reaching, cutting-edge thinking -- a defense he stuck with for the next 20 years.
In her article, Goossen cited a December 1979 letter from Yoder to Miller:
Intellectually the great challenge -- is how to deal with a basic challenge to an entire cultural mind set. ... Numerous of your [arguments] represent simply an appeal to the consensus of our respectable culture. I know what that consensus teaches, for I am its product and its victim. I knew its teachings before I began testing an alternative set of axioms. I did not come to reject them through simple rebellion or disdainful superiority. I knew at the outset that I am' "voted down." Therefore any appeals to that consensus ... or otherwise documenting its hold on our minds, is at best circular, and at worst it supports my analysis.
In an earlier December 1979 letter, Yoder admitted to Miller that his interactions with young women included:
• Closed door meetings, with hand-clasping, lap-sitting and kissing;
• "Token" partial disrobing;
• Total disrobing;
• Touching of genitals;
• Exploration of partial arousal;
Others had reported intercourse, though Yoder questioned what constituted intercourse.
By 1980, Miller had established the first of seven disciplinary task forces, all of which had ultimately grown weary of Yoder's consistent justifications and inability to reconcile, Goossen told NCR.
According to Goossen, Miller's initial concern was concealing these allegations to preserve Yoder's international influence and his 27-year marriage. But growing awareness throughout the student body and among Mennonite women of Yoder's behavior put more pressure on Miller to deal with the matter.
Eventually, Yoder was quietly forced to resign as adjunct professor at the seminary, leaving him to continue his employment solely at Notre Dame.
In "Defanging the Beast," Goossen cited a Feb. 3, 1984, letter where Miller warned Yoder that his behavior had become common knowledge among the Notre Dame student body, with students telling each other to "look out for Professor Y," and Miller cautioned him not to continue this behavior so as not to jeopardize his employment.
In a Feb. 6, 1984, letter to McBrien, Yoder vaguely hinted that controversy surrounded his exit from the seminary:
It would not have been appropriate for the GBS administration to ventilate the question with you earlier, in view of the delicate dimensions which such a matter has in a small school serving a small church. There are issues on many levels which made it seem best to terminate my dual employment rather than trying to work them on the level of public due process. I and others in the Mennonite context would be grateful if you could avoid giving the matter unnecessary prominence.
When Miller wrote to Yoder a week later saying that "the minimal courtesy suggests that I pick up a conversation with [McBrien]," Yoder responded that he saw no reason for that. "It would only seem to encourage him to ask for more information, which he is otherwise not inclined to do." Miller wrote to McBrien in June 1984 with no mention of Yoder's controversial past.
And so continued Yoder's untouched career at Notre Dame. Vic Stoltzfus, then president of Goshen College, where Yoder also taught classes, told NCR he remembered faculty at Notre Dame "spoke of him with awe; they were proud of him," being an internationally famous scholar on campus.
While Stoltzfus said he was aware of Yoder's misconduct in general terms, with Miller informing him that this behavior spanned three continents, he thought contacting Notre Dame was Miller's business.
By 1992, Yoder's career and the Mennonite community experienced a turning point. Yoder was invited as a guest speaker at Bethel College in North Newton, Kan., provoking a protest. Eight of Yoder's victims came forward that February with a statement detailing how Yoder had manipulated their student-professor relationship -- the first time his sexual improprieties became public. Their official statement described the following accounts:
• His attempts to establish secrecy, providing special addresses for them to reach him;
• Attempts to be alone, often shutting the door or showing up uninvited to their apartments;
• Probing questions regarding their sexual lives, asking, "How do you, as a single woman, find sexual gratification?" in personal surveys;
• "Physically assaultive" acts, such as sharing a couch with a woman in her house when her husband was away and laying his head on her lap, eventually shaking violently, as if experiencing an orgasm;
• Trivializing and blaming the women's protests and/or fear by saying "I thought you were more mature" or "I thought you were more sophisticated";
• Discussion of nudity;
• Graphic sharing of his fantasies, including an unsolicited letter where he described watching one of the women undressing in his bedroom;
• Intellectually intimidating rationalization, including theological justification and belittling of the women's arguments.
A flood of news stories followed, with coverage in publications ranging from The Bethel Collegian and The Mennonite Weekly Review to the Chicago Tribune and The New York Times.
After Bethel College disinvited Yoder as speaker for its Peace Lecture Series, Stanley Hauerwas -- Yoder's colleague in Notre Dame's theology department and close friend, now a professor at Duke University -- took his place. At the series, Yoder's sister and brother-in-law told him about Yoder's misconduct, Hauerwas recalled.
"I didn't, quite frankly, understand the extent of it at the time, nor did I think it was happening at Notre Dame," Hauerwas told NCR. "I probably didn't take it as seriously as I should have."
When he confronted Yoder, he was also met with intellectual rationalization, arguments Hauerwas said he didn't find convincing.
"It was just so absurd; I just assumed it wasn't happening [at Notre Dame]. ... I know that people think Notre Dame is engaged in some kind of cover-up. I just don't know if that's true or not."
Ruth Krall, a clinical counselor who taught at Goshen College, told NCR that throughout the late 1970s and '80s, she and colleagues met with women from both Notre Dame and adjacent St. Mary's College regarding Yoder's sexual abuse. Krall said that their strategy was to deal with this "not as a victim problem, but as a church management problem."
From the time she first heard rumors of Yoder's behavior beginning in the late '70s, she informed Miller in a Sept. 9, 1982, letter that the network of Mennonite women knew about Yoder, adding pressure for him to take action. Eventually, Miller met with "Jackie" and "Linda," whose contemplation of a lawsuit helped prompt Yoder's forced resignation.
Krall also took the issue to Notre Dame in the early '80s, she said. She sent one Notre Dame student with whom she had been working to speak to Kathleen Weigert, a professor who led the university's Center for Social Concern alongside Yoder. Weigert is now a professor of women and leadership, and assistant to the provost for social justice initiatives at Loyola University Chicago.
"We do know that in the early stages, Notre Dame was notified because I called them; [Weigert] promised me," Krall told NCR.
Weigert, however, told NCR that she would be "stretching" her memory to say she remembers having a conversation with a student regarding Yoder's behavior.
"I wouldn't make any claim one way or the other," she said, adding that she while can't deny Krall's memory, she has no recollection of this exchange.
But Krall recalls that Weigert "said 'I will pass this message up the line.' So I know they know."
"And what we know from former students," Krall added, "was that this was known in the student body. So it's very hard for me to believe that the department didn't know."
Lawrence Cunningham was chairman of Notre Dame's theology department when Yoder's misconduct was being investigated in the Mennonite community in 1992. He told NCR that Yoder approached him that year to inform him of the investigation with the Mennonites, and the two met several times every three or four months with updates on the investigation. Cunningham is currently a professor emeritus at the university.
"I don't think anyone in the department at that time knew anything about this investigation that was going on at another institution except for myself," Cunningham said. "I wouldn't have known unless he had come in and talked to me about it. ... He came to me in confidence, so I said I would observe his confidentiality."
"As far as I know, there was no stuff going on at the level of this central administration because it was not a Notre Dame affair," said Cunningham, who had joined the Notre Dame faculty four years after Yoder's 1984 resignation from the Goshen seminary.
There was "no question of him being disciplined at Notre Dame," Cunningham said. "As far as I know, this had to do with his behavior at another institution at an earlier time."
"I think that had there been any indication that he was behaving wrongly while he was at Notre Dame, I would've gone to the dean, but I had no reason to think that," Cunningham said, adding that Yoder "assured me at that time that none of this had involved Notre Dame. So I said, 'Fine.' "
When Yoder died in 1997, he did so in good standing with Notre Dame.
[Soli Salgado is an NCR Bertelsen intern. Her email address is ssalgado@ncronline.org.]
A version of this story appeared in the June 19-July 2, 2015 print issue under the headline: Yoder case extends to Notre Dame.