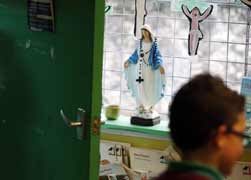 A young boy walks past a statue of the Mary, which stands on the windowsill of a classroom at a school in Cushendall, Ireland. (CNS/Cathal McNaughton, Reuters)
DUBLIN, Ireland -- Although the sexual abuse crisis has been devastating for the Catholic church everywhere it's erupted, the meltdown in Ireland is fairly unique in scope and scale. Catholicism was effectively the state church, running the country's schools, hospitals and orphanages. As a result, when the church served people well, it had a massively positive social impact – and when the church failed and abused people, the damage was correspondingly immense.

Add accumulated Irish resentments over clerical power and privilege, plus a generalized backlash against all social institutions related to the recent economic collapse and failures of the political class, and you have a prescription for real angst.
Read Allen's full report here: On Anger, Reform and Diarmuid Martin in Ireland
Advertisement