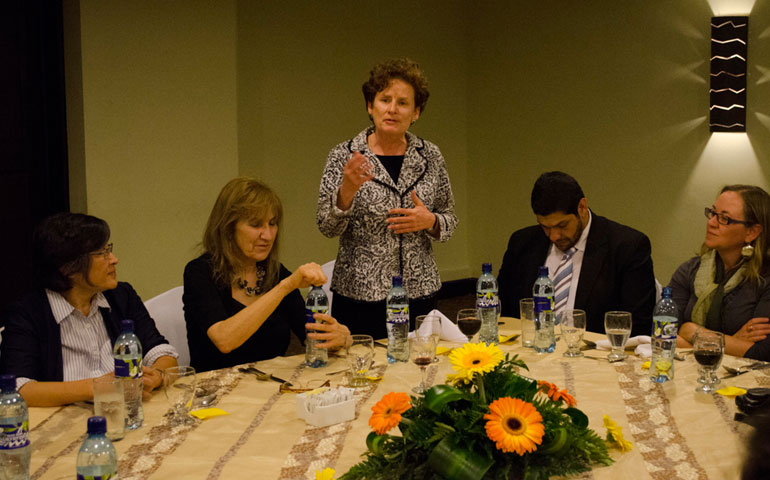 Pamela Merchant speaks to international jurists and human rights activists at an April 2013 event hosted by the Center for Justice and Accountability in Guatemala City during the trial of Efraín Ríos Montt. (Werner Monterroso)
San Francisco — October 11, 2014
Pamela Merchant, director of the Center for Justice and Accountability, sat in the hallowed chamber of the Supreme Court on a winter morning in 2010, feeling awestruck but also afraid. As a lawyer, watching a case on which she had worked long and hard proceed before the black-robed justices was a dream come true. But she feared "what it would mean to lose." Somali torture victims, her clients, sat nearby. Human rights advocates nationwide depended on the outcome.
Like David picking up the stone against Goliath, the Center for Justice and Accountability, a small nonprofit law office, was challenging the government. Federal policy protected foreign officials residing in the United States who had committed atrocities in their home countries. The center said the individuals should not enjoy immunity, that torture and political killing were not protected "official acts." Former Somali Prime Minister Mohamed Ali Samantar, living in the U.S., should be charged. Or would the U.S. continue to be a safe haven for war criminals?
"I don't think we left the courtroom feeling we had won," Merchant said in an interview at her San Francisco office. On the walls hung a map of the world, photos of clients, weavings, and posters from communities touched by the center's work.
Merchant, 56, will step down Oct. 15 after nine years as executive director. With collaboration from world-class attorneys working pro bono, the center has taken on some of the most remarkable human rights accountability cases to unfold in recent years, including against a Haitian death squad leader and against Salvadoran officers for the murder of Jesuit priests.
Sipping a latte in a paper cup as sun streamed in through office windows, Merchant recalled months of sleepless nights waiting for the Somalia verdict. "You think about it all the time because the stakes are so high." The Supreme Court decided unanimously in the center's favor. To date, the center has won all its cases that have reached judgments, making a major impact on the human rights movement.
Last year, I watched Merchant in a tense Guatemala courtroom observing a genocide trial that her team had helped develop for years. I watched her furiously working her cell phone outside, tracking U.S. court decisions affecting other cases. I have seen her shining and vivacious at events among donors and center honorees such as Nobel Prize winner and Guatemalan activist Rigoberta Menchú and Egyptian activist Ahmed Salah.
In San Francisco, dressed "casual Friday" style in jeans and crisp white shirt, Merchant showed another side, revealing a deep connection to plaintiffs -- torture survivors and families of the politically murdered or disappeared.
"For me, the takeaway from this job is the resilience of the clients and how it affects us," she said, speaking of rights advocates. "It makes us more resilient."
Ask about a war crime case against two retired generals from El Salvador, and Merchant speaks of the "incredibly articulate" plaintiff Dr. Juan Romagoza, who attended the rural poor. His left hand was deliberately shot by torturers to prevent him from performing surgery again, but he survived to run community clinics in Washington, D.C., and El Salvador.
Ask about the trial of Khmer Rouge war criminals in which the center represented Cambodians who fled to the U.S., and Merchant talks about plaintiff Sophany Bay, a San Jose, Calif., social worker whose three children died in the violence. Bay counsels other survivors and wants to build a school in Phnom Penh, Cambodia, so her children's memory might live.
"Would we be like that? Is that what we would want? Or would we want to do something violent, outside the law?" Merchant asked, as if she is asking the questions of herself. "That's part of what you learn. You learn more about grace. They have all chosen the rule of law." To work alongside such clients means "you are really fortunate."
Clients appreciate Merchant in return. Aldo Cabello's brother Winston, a government economist in Chile, was murdered in 1973 with other political prisoners by a squad called the "Caravan of Death," after Gen. Augusto Pinochet's coup against President Salvador Allende. The center won a civil case against one of the assassins who had "retired" to the U.S., Armando Fernández Larios, using two U.S. laws that protect survivors no matter where the crime was committed.
Years later, Cabello discovered that former Chilean officer Pedro Pablo Barrientos Nuñez, believed to have killed the iconic Chilean singer Victor Jara, had become a U.S. citizen and was living in Miami. Jara also died during the coup.
"I presented the information to Pamela and her reaction was positive," said Cabello. "She said 'great' and the rest is history. She is beautiful -- high energy."
The center filed charges last year against Barrientos.
Human rights and the extradition
Before coming to the center, Merchant was a U.S. Justice Department trial lawyer prosecuting complex white-collar crimes. The trajectory places her in a historical line of jurists and prosecutors who have moved between government and human rights work, beginning with Supreme Court Justice Robert Jackson and federal prosecutor Thomas Dodd, who both served on the Nuremberg war crimes tribunal.
"She brought a wealth of knowledge about legal issues and litigation," said Matt Eisenbrandt, a former Center for Justice and Accountability colleague who is now the legal director of the Canadian Centre for International Justice in Vancouver. "She also brought an ability for fundraising and advancing development of the organization to a level where it's able to be a very effective voice for accountability."
Founded not by lawyers but by clinician and social worker Gerald Gray, who worked with survivors of rights abuses, the Center for Justice and Accountability charges no fee to clients, depending entirely on donations.
In 2004, the center obtained a judgment against a member of the death squad that killed Salvadoran Archbishop Oscar Romero, the only case so far pertaining to his assassination to reach the courts of any country. The officer had been managing a used car lot in Modesto, Calif.
Currently, the center's team, with a Madrid human rights defense organization, the Asociación Pro Derechos Humanos de España, leads the prosecution at the Spanish National Court against the accused killers of six Jesuit priests, their housekeeper and her daughter in 1989, during El Salvador's civil war. The crime, suggests Merchant, marked a turning point in Cold War-era U.S. policy in Central America.
"If you are a Catholic in the United States, you remember where you were when you heard that the priests were killed," she said.
A report by U.S. Rep. Joe Moakley (D-Mass.) tied the U.S.-supported military directly to the crime, contributing to a peace process. Attempts to extradite officers have failed, but the center located one of the accused conspirators in Boston, former Vice Minister of Public Safety Inocente Orlando Montano. Last year, a U.S. court found Montano guilty of immigration fraud and lying about his role in the massacre. He is serving a 21-month sentence in federal prison in Massachusetts.
"We want him extradited to Spain to stand trial there," said Merchant. "Our government hardly ever extradites human rights abusers -- we do it all the time for drug crimes, business crimes, anti-trust crimes, but we don't in the human rights context. So we've been laying the groundwork for years now for what we think is the ideal case for our government to honor [such] an extradition."
The potential for developing rights policy, Merchant said, is "huge." Extradited former Nazi guards, for instance, have been low-level actors, while Montano "would be the highest-level person extradited from the U.S. for a human rights issue."
A sense of justice
Born in Ohio, a graduate of Georgetown University and Boston College Law School, Merchant's sense of justice and fair play appears to have emerged early. "As a little person, I thought it was unfair that I couldn't be a priest," she said. The eldest of five children, she credits further development to her "Catholic upbringing" and Jesuit education "with its sense of social justice."
"You can have a Muslim upbringing, or Buddhist, and have this same feeling," she said. "I'm more saying that liberation theology was the active idea when I was a young person. To me, it was about the question of what is our responsibility to each other."
Reading Gandhi, the teenage Merchant sensed that in the face of unfairness, "you as an individual can do something about it."
As fog rolled over the city and rendered light in the office softer, Merchant spoke of other influences. "Growing up gay in the United States gives you a sense of what it is like to be the other, and a person that's oppressed. So I think that it helps with making some of the connections."
Too young to participate in the civil rights and women's movements of the 1960s, Merchant said she nevertheless came of age with "those ideas, this idea of a more just society and using the courts for social change -- that was the dominant culture." Law school was a natural path.
Merchant intends to "take some time to reflect" and return to the field "re-energized." She leaves the Center for Justice and Accountability with a "very hopeful feeling" about the direction of legal justice for human rights crimes, yet troubled by U.S. failure to examine its own recent violations.
"The fact that we have not had a truth commission is very distressing to me," she said, calling for a public, nonpartisan examination of abuses, especially at Guantánamo, Abu Ghraib, Bagram "and all the other prisons where we had a hand in the post-9/11 context to allow torture."
"It would be controversial and it would open old wounds and it would be hard for people," she said. "But there would be more positive than negative. I believe that the people who participated in the torture are hurting, and they also need to heal."
Merchant suggests that investigating and, if warranted, prosecuting responsible officials is not only a moral duty but a legal obligation, given the Senate's 1994 ratification of the United Nations Convention Against Torture.
"We can only truly move forward as a society when the veil of secrecy is lifted and those responsible for human rights abuses are held to account," she wrote in a center email in August, the 12th anniversary of a "torture memo" that outlined the government's legal framework for abusing CIA detainees.
One of Merchant's tasks during her tenure at the center has been to take delegations to places where the rule of law is not yet firm and local advocates might take a measure of protection from the spotlight thrown on their work by the presence of foreigners -- a way of showing that the world is watching. One year, Merchant found herself in El Salvador with several others in the small apartment where Romero had lived. She remembers the moment as transcendent.
Delegation participant Jesuit Fr. J. Donald Monan, chancellor of Boston College, "blessed us all as people working for justice," Merchant said. "I hadn't ever thought that that was something you'd be blessed for. It was extraordinarily moving."
[Mary Jo McConahay is the author of Ricochet: Two Women War Reporters and a Friendship Under Fire.]
A version of this story appeared in the Sept 26-Oct 9, 2014 print issue under the headline: Clients' resilence bolsters lawyer's human rights work.