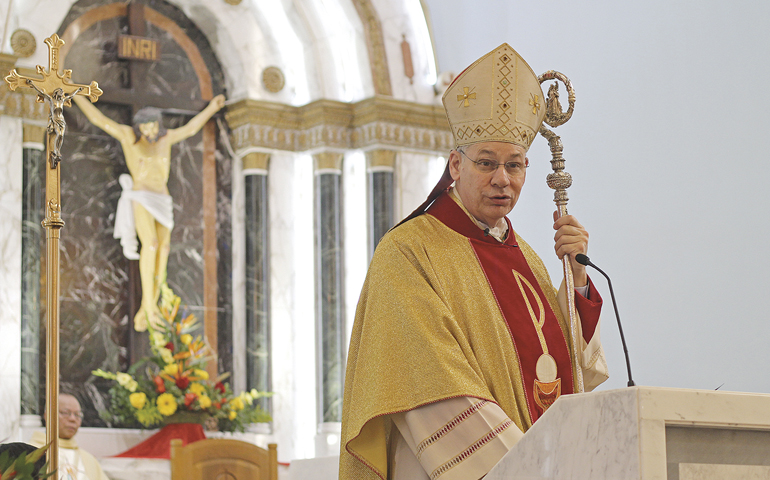 Bishop Robert Finn gives a homily at Church of the Holy Martyrs in Kansas City, Mo., Feb. 8, 2013. (NCR photo/Eloisa Perez-Lozano)
The resignation of Robert Finn as bishop of the diocese of Kansas City-St. Joseph, Mo., is a bitter but necessary moment of reckoning for leaders of the Catholic church if they hope to begin to deal seriously with their long betrayal of the community's trust.
Let's be clear that this is only a beginning. Finn was removed for cause, we have been told. Finn was criminally convicted for failing to report Fr. Shawn Ratigan, who ultimately pleaded guilty to possessing and producing child pornography. Ratigan received a 50-year prison sentence.
Finn also violated the Charter for the Protection of Children and Young People, commonly called the Dallas Charter, which the U.S. bishops themselves wrote to guide their response to the violation of children by clergy.
Upholding the Dallas Charter is the one clear signal the bishops can use to ensure deeply skeptical Catholics, not to mention the general public, that they have broken with the despicable practices of the past, when they hid and covered up sexual predators. The Dallas Charter is an imperfect document, but it is the only yardstick the bishops have for measuring their integrity on this issue. That is why Finn became the test case of church resolve to hold bishops accountable.
It may seem unfair that Finn had to take this role. Bishops and cardinals who should have faced criminal prosecution for covering up crimes more extensive and horrible by many degrees than those ignored by Finn have avoided, via legal technicalities, such scrutiny and gone quietly to either retirement or the grave.
Bishops overseeing the crisis dismissed themselves for decades from any responsibility in the scandal. It was a brazen attempt to sidestep the mountains of evidence revealing that they had long ignored the plight of child victims while engaging in elaborate schemes to hide the heinous behavior of thousands of priests. Any lack of fairness is the result of nothing more or less than the clerical culture that looked first to protect itself and its privileges. Only when forced by legal processes and public pressure did bishops deign to consider the deep wounds inflicted on the most vulnerable in the Catholic family.
Finn's example shows how easily those in authority can ignore even the most basic steps in prevention. The church has made tremendous strides in such areas as requiring background checks, educating both adult ministers and children appropriately regarding proper boundaries, and creating safe environments for children. However, the recently released annual Report on the Implementation of the Charter for the Protection of Children and Young People makes clear that continued diligence is essential -- but is in some places lacking.
"While substantive progress has been made, it should not be concluded that the sexual abuse of minors is a problem of the past that has been adequately addressed," wrote Francesco Cesareo, chairman of the National Review Board. He warns against "Charter drift," referring to instances of laxity in some dioceses of upholding the standards of the bishops' charter. Any bishop who thinks he can relax on this issue should look carefully at Kansas City.
Cesareo also particularly notes that the Lincoln, Neb., diocese and five eparchies stubbornly refuse to cooperate with auditing procedures. Herein lies the final lesson in the Finn case.
Finn has resigned, and we are told it's because of his mishandling of a child abuse case, but we don't know that for certain. We don't know that, because there are no established procedures for removing a bishop who mishandles child abuse cases. If there were such procedures, all the provisions of the Dallas Charter could be enforced, and the Lincoln diocese would either comply or its bishop would be sanctioned.
Now we've been told that under the auspices of Pope Francis' sex abuse commission such procedures are being worked on, and we were told last month that Francis' Council of Cardinals has put the issue of bishops' accountability "on the table," but we've seen no concrete evidence of this yet. Until we see actual procedures in writing and actual cases prosecuted, we'll remain skeptical.
The Council of Cardinals needs to hear from Teresa White, an abuse survivor who was part of a 2008 settlement with the Kansas City-St. Joseph diocese.
She said on April 21, the day of Finn's resignation, that it is important to know the process that led to that resignation. "I want full accountability, I don't want partial accountability," she said. "I don't want any more smoke and mirrors with the church. I want them to own up to their responsibilities to protect children and young people."
For 30 years, we've heard these same sentiments from many other survivors. It is long past time for the church to have in place a clearly delineated process to hold bishops responsible for their actions and inactions in this tragedy.