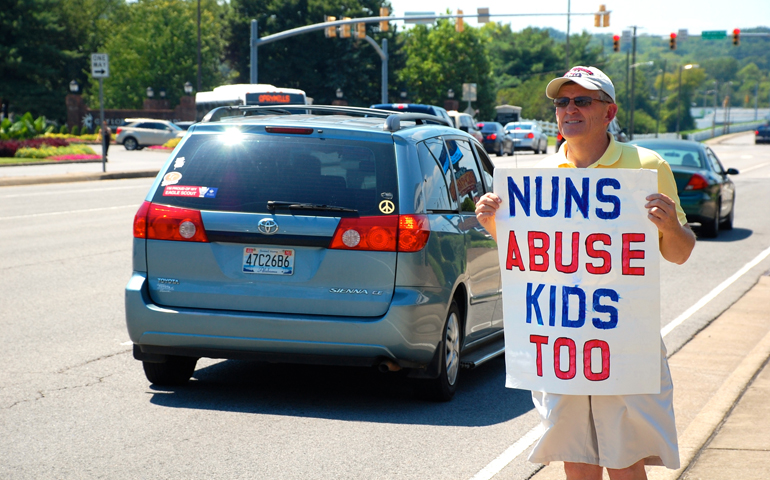 Former priest Bob Hoatson, now president of Road to Recovery in Livingston, N.J., protests Thursday across the street from where the Leadership Conference of Women Religious is meeting in Nashville, Tenn., saying the LCWR must confront sex abuse by women religious. (Dan Stockman)
Nashville, Tenn. — August 15, 2014
The gathering of nearly 800 religious sisters here drew one protester Thursday.
Bob Hoatson, president of advocacy organization Road to Recovery, based in Livingston, N.J., stood outside the convention center where the Leadership Conference of Women Religious is holding its four-day assembly holding a sign that said, "Nuns abuse kids too."
Hoatson said there had been another local protester with him, but he had left.
Hoatson said while abuse by priests may be more visible, it is a problem for women religious, too, and -- more importantly -- they have failed to address it.
"I'm dealing with a good number of men and women abused by nuns," Hoatson said. "The nuns have been much better at burying it than the bishops."
LCWR spokeswoman Sr. Annmarie Sanders issued a statement in response to the protest, noting the efforts LCWR has made to prevent abuse.
"The Leadership Conference of Women Religious expresses deep sorrow for any pain that has been endured by survivors of sexual abuse," the statement said. "We appreciate the efforts that survivors of sexual abuse have made to heighten our awareness of the long-term effects of sexual misconduct. We agree that women religious need to keep working for the healing of victims and the prevention of further abuse."
LCWR worked with the Center for Applied Research in the Apostolate at Georgetown University to develop resources for religious communities to use to strengthen their policies, practices and procedures.
Hoatson said LCWR has not done enough.
"They say it's internal to each religious order. Well, they're all here [in Nashville]," he said. "They could have a roundtable, a panel discussion, anything, but they won't."
LCWR is made up of Catholic women religious who are leaders of their orders in the United States, and represents about 80 percent of the nation's 51,600 women religious. The group's assembly concludes Friday.
MORE: All stories from the LCWR 2014 assembly
[Dan Stockman is national correspondent for Global Sisters Report. His email address is dstockman@ncronline.org. Follow him on Twitter: @DanStockman.]