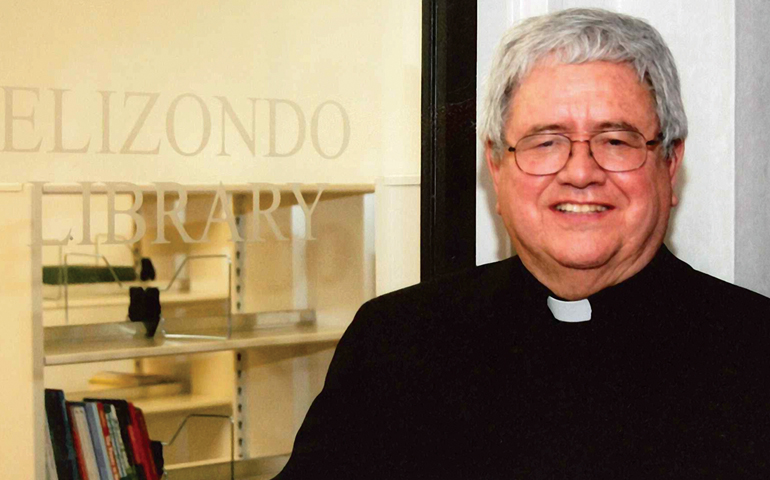 Fr. Virgilio Elizondo, in an undated image. (CNS/courtesy Archdiocese of San Antonio)
San Antonio — March 15, 2016
Fr. Father Virgilio Elizondo, a nationally known professor of pastoral and Hispanic theology at the University of Notre Dame and founder of what is today the Mexican American Catholic College in San Antonio, was found dead in his home the afternoon of March 14. He was 80.
The Bexar County Medical Examiner's Office verified his death late that night. The priest reportedly died from a self-inflicted gunshot wound. A longtime friend and administrative assistant, Janie Dillard, told the San Antonio Express-News that the priest, who was 80, "died of a broken heart."
Elizondo was widely recognized as "the father of U.S. Latino religious thought." He pursued scholarly work in Latino theology, evangelization, faith and spirituality, and culture, and was the author of many books. He was rector of San Fernando Cathedral in San Antonio in the late 1980s and early 1990s.
"I join the priests of the Archdiocese of San Antonio as we are deeply saddened and stunned by the news of the death of Father Virgilio Elizondo on March 14. This is an occasion for great sorrow, as his death was sudden and unexpected," San Antonio Archbishop Gustavo Garcia-Siller said in a statement released by the archdiocese.
"At this devastatingly sad time for Father Virgil's family -- especially his sister -- as well as his brother clergy, co-workers and friends, we offer our most profound sympathies," the statement said. "Our thoughts and prayers are with them all. I pray for all those who mourn Father Virgil and for the repose of his soul."
No details about funeral are arrangements were released.
In May 2015, Elizondo was named secondarily in a lawsuit filed by a John Doe in Bexar County District Court in San Antonio. The suit also named former priest Jesus Armando Dominguez and the San Antonio Archdiocese.
The suit alleged that as a boy, John Doe was sexually abused from 1980 to 1983 while he was living in an orphanage and was being mentored by Dominguez, then a student at Assumption Seminary in San Antonio. John Doe claimed that when he went to report the abuse to Elizondo, the priest kissed and fondled him.
Elizondo vigorously denied the charges in a public statement and in conversations with friends, and said he was prepared to fight the allegation legally.
"It could never be [true]," Dillard told the San Antonio Express-News, which reported the news late Monday as word of Elizondo's death began circulating through Catholic circles from Texas to Notre Dame.
A native of San Antonio and the son of Mexican immigrants, Elizondo was ordained a priest for the Archdiocese of San Antonio in 1963. As a young priest, he worked in parishes, but in 1965, Archbishop Robert Lucey, then head of the archdiocese, appointed him archdiocesan director of religious education.
He was an advocate for underpaid and exploited Mexican-American laborers in the Archdiocese of San Antonio during the early 1970s. Elizondo was active in television work and video productions and is considered the foremost interpreter of U.S. Latino religion by the national and international media.
As pastor of the San Fernando Cathedral in San Antonio, Elizondo presided over a Sunday Spanish Mass that was broadcast to more than 1 million households.
In 1972, he was a co-founder with then-Archbishop Patrick Flores of the Mexican American Cultural Center in San Antonio and served as its first president. It was renamed a few years ago as the Mexican American Catholic College.
He joined the Notre Dame faculty in 2000. Among his many books are The Future Is Mestizo, Galilean Journey and The Human Quest.
Editor's note: This story was updated at 12:30 p.m. CST to include reporting from Catholic News Service.