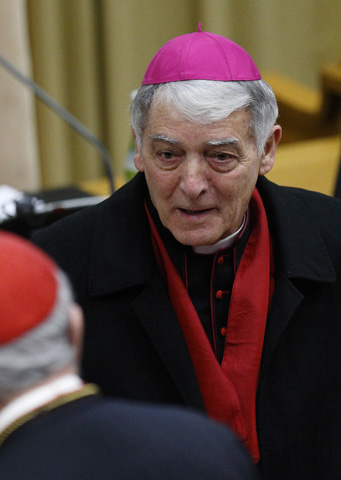 Cardinal-designate Edoardo Menichelli of Ancona-Osimo, Italy, arrives for a meeting with cardinals and cardinals-designate in the synod hall at the Vatican Feb. 12. The pope, cardinals and cardinals-designate were meeting for two days to discuss the reform of the Roman Curia in advance of a Feb. 14 consistory. The pope will create 20 new cardinals at the consistory. (CNS photo/Paul Haring)
Vatican City — February 12, 2015
Instead of accepting the letter of resignation that the archbishop of Ancona-Osimo, Italy, submitted in October, Pope Francis named him a cardinal.
Cardinal-designate Edoardo Menichelli is 75 -- the age church law requires bishops to submit their resignations -- but he still kicks a soccer ball around with other priests and seminarians.
Francis announced Jan. 4 that he would make the archbishop a cardinal Feb. 14. Like many of the 19 other churchmen whose nominations were announced by pope, he said it was a complete surprise and, in fact, he only found out when his sisters burst into his room.
At an evening Mass Jan. 4 to formally commission lay pastoral workers, the cardinal-designate said he had been working that morning on his homily for the Mass, but it was not going well, so he went to his room.
"I heard squeals like those of children," he said. "It was my sisters who, without knocking, entered without even knowing if I was dressed -- but I was -- and they said, 'The pope's made you a cardinal!'"
He said he did not believe them and told them to go back to what they were doing, and "I continued to write."
Then the phone calls began and he knew it was true.
The story of his family came up during his recent Christmas homily. He told the congregation Dec. 25 that the year he turned 11 his father died and then, not long after, his mother died as well; one of his sisters was 4 and the other was just six days old when they lost their mother.
"I'm speaking with pain right now because a mother in my hometown killed her 13-year-old son," he said, referring to a situation in San Severino where, on Christmas Eve, a woman allegedly stabbed her son to death. News reports said the woman, under treatment for mental health issues, was afraid she was about to lose custody of the boy to her ex-husband.
"Dear fathers and mothers," he told the congregation, "stay together whatever the cost or sacrifice; your children need you."
The cardinal-designate told the Christmas congregation that they needed to take seriously the fact that Jesus was born into a family and that the church has something to say about the sacredness of the family and of parenthood.
"There's too much silence around the responsibility" of parenthood, he said, "and if bishops, the pope or the church talk about it, we're labeled dinosaurs. What kind of a society is that?"
"Christians are not better than other people, but they must exercise the gift of prophecy," the cardinal-designate said. "Christians who are silent are useless; they might as well be atheists."
The secretary of the Italian bishops' commission for the family, Menichelli was appointed by Francis to last October's extraordinary Synod of Bishops on the family.
In an interview with Vatican Radio during the synod, he said a key message from the participants was that "we as a church need to listen more. We live in a world that is so complex that we cannot pigeonhole everything with the certain precise terms or concepts we have been used to using. Today many realities escape us."
The church's pastoral workers are called to accompany Catholic laity "with intelligence, love, passion and a pinch of humility -- or maybe more than a pinch," he said. "Being married today is as difficult as being a priest."
For 23 years, the cardinal-designate worked at the Vatican in the Apostolic Signature, the church's highest court, and he spent two years after that at the Congregation for Eastern Churches. Simultaneously, he helped out at a Rome parish, served as a chaplain at a Rome clinic and as a collaborator with the family counseling program of the faculty of medicine at Rome's Gemelli hospital.
Pope John Paul II named him archbishop of Chieto-Vasto in 1994 and transferred him to Ancona 10 years later.
Long before Francis spoke about how upset he gets when he sees a priest driving a fancy new car, Menichelli was known for driving a very old, small Fiat Panda, and for living with great simplicity.
At a Mass with workers at a factory in Ancona in April 2013, he said the global economic crisis will not be overcome and another crisis cannot be prevented unless everyone takes responsibility for bringing ethics back to their own economic life.
"The first thing," he said, "is to recover simplicity. I'll give you an example: Is my episcopacy more valid if I wear a gold ring? Is it worth more if I wear a gem-encrusted cross? Or would it no longer be a service to people?"
Born Oct. 14, 1939, in San Severino, he did his high school studies in the seminary there before moving to the regional seminary in Fano. Sent to Rome, he earned a degree in pastoral theology from the Pontifical Lateran University.
After his ordination as a priest in 1965, he worked for three years as an assistant pastor while also teaching religion in a state school. He was assigned to the Apostolic Signature in 1968.