Environmental activist and campaigner Mya-Rose Craig, 18, holds a cardboard sign reading "youth strike for climate" as she sits on the ice floe in the middle of the Arctic Ocean, hundreds of miles above the Arctic Circle, Sept. 20. (CNS/ Reuters/Natalie Thomas)
EarthBeat is more than a year old now, and our stories have spanned the globe and many facets of the climate crisis facing our common home. As 2020 ends, we're taking some time to look back on the stories that resonated most with our readers.
Here are the top 10 stories on EarthBeat in the past year, ranked in order of the amount of time readers spent on the page. In a year in which the world as we knew it changed completely, readers turned to our Burning Questions to understand environmental justice as the United States experienced a social uprising and to learn more about the connections between the coronavirus pandemic and climate change.
Readers also looked to Catholic sisters for leadership, spending a total of 61 days reading our reporting on the efforts of women religious to provide major funding for climate reporting and solutions.
1. Burning Question: What is environmental justice?
Poor air quality from an oil well. Contaminated drinking water from a chemical plant. Low-income housing located in a floodplain. These are all examples of environmental injustice.
2. How the University of Dayton divested from fossil fuels — and what happened to its bottom line
In June 2014, the University of Dayton ventured into fairly uncharted territory for any U.S. academic institution, much less a Catholic college. Now the university has been completely divested from fossil fuels for more than three years.
3. A sermon on COVID-19 and climate change
Mark Silk, professor and director of the Greenberg Center for the Study of Religion in Public Life at Trinity College, writes, "As a congregation, we can be as political as we need to when it comes to issue advocacy. And on this issue, we need to a lot, because the only real solution will come with changes in national policy."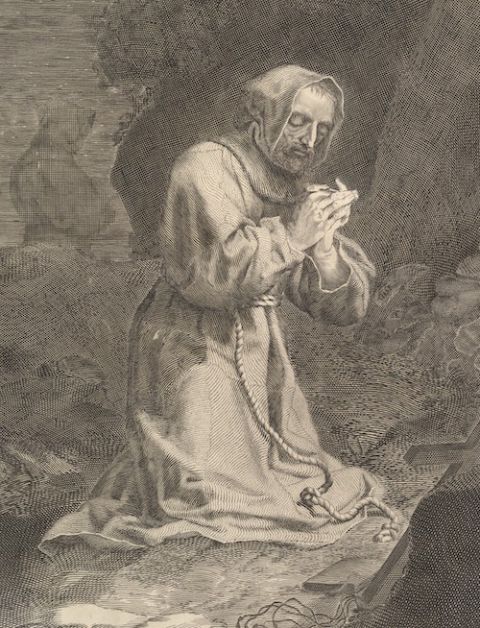 Detail of engraving, "St. Francis of Assisi" by Nicolas Bazin, 1633-1710, after Claude Mellan, 1598-1688 Paris (Metropolitan Museum of Art)