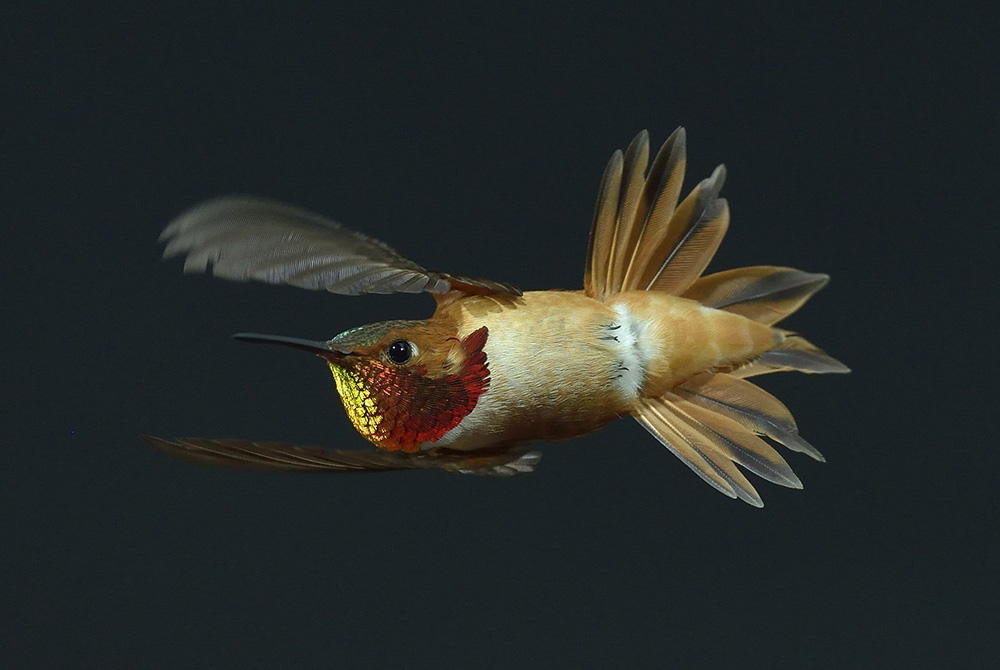 Colibrí rufo macho (Paul Jeffrey)
Nota del editor: Durante este Tiempo de la Creación el fotógrafo Paul Jeffrey nos lleva por el mundo "Enfocando la Creación" con su cámara y su fe. Inscríbase aquí para recibir sus reflexiones por correo electrónico cada lunes, miércoles y viernes desde el 31 de agosto hasta el 4 de octubre.
Me emociona la llegada de los colibríes en primavera. De vuelta de su larga migración hacia el sur, de repente aparecen zumbando en las plantas nativas de mi jardín en Oregón, sorbiendo néctar como si no hubiera mañana.
Para algunos colibríes, como este rufo macho, "mañana" será problemático.
El cambio climático les hace la vida difícil a los colibríes. El néctar constituye el 90% de su dieta, y su migración se ajusta al florecimiento de ciertas plantas. Conforme el clima se calienta, las floraciones de plantas con néctar se producen antes de tiempo, y las aves deben cambiar su migración para adaptarse. Para que sigan latiendo sus corazoncitos, buscan alimento constantemente, y no pueden descansar durante las tardes cada vez más calurosas que se encuentran en ciertas regiones. Si no encuentran alimento, morirán, y las plantas que dependen de los colibríes para su polinización también sufrirán.
Las personas que hemos tenido el privilegio de observar los colibríes en un bosque o en nuestro jardín encontramos alarmantes las amenazas que ellos enfrentan. Estas aves diminutas son inolvidables, tanto para nosotros como para Dios. En el Evangelio de Lucas, Jesús dice de los pájaros que "Dios no se olvida de ninguno de ellos".
Nos fijamos en los colibríes porque son particularmente vistosos. No se nos ocurriría hacerles daño. Sin embargo, creo que Dios ama toda la Creación por igual, y el mismo asombro que sentimos al observar un colibrí deberíamos sentirlo también al contemplar las serpientes, las arañas, las abejas y la hiedra venenosa. Sin embargo, una de cada tres especies de plantas y animales en el planeta corre el riesgo de extinguirse en los próximos 50 años por el cambio climático.
¿Cómo podemos cambiar nuestra forma vivir, nuestra forma de ser, para contemplar toda la Creación con el mismo asombro que sentimos al ver un colibrí?
---
Para la reflexión y la acción:
Da un paseo al aire libre, por un parque o dando la vuelta a la manzana de tu barrio. ¿Cuál es la cosa natural más pequeña que encuentras? ¿Un pajarito? ¿Una hoja? ¿Un insecto? Aun las cosas más chiquititas son muy importantes para Dios. ¿Qué puedes hacer para honrar las cosas pequeñas?
[Paul Jeffrey es co fundador de Life on Earth Pictures. Vive en el estado de Oregon, EEUU. Se puede seguirlo en Instagram.]
This story appears in the
Lens on Creation — Enfocando la Creación
feature series.
View the full series
.