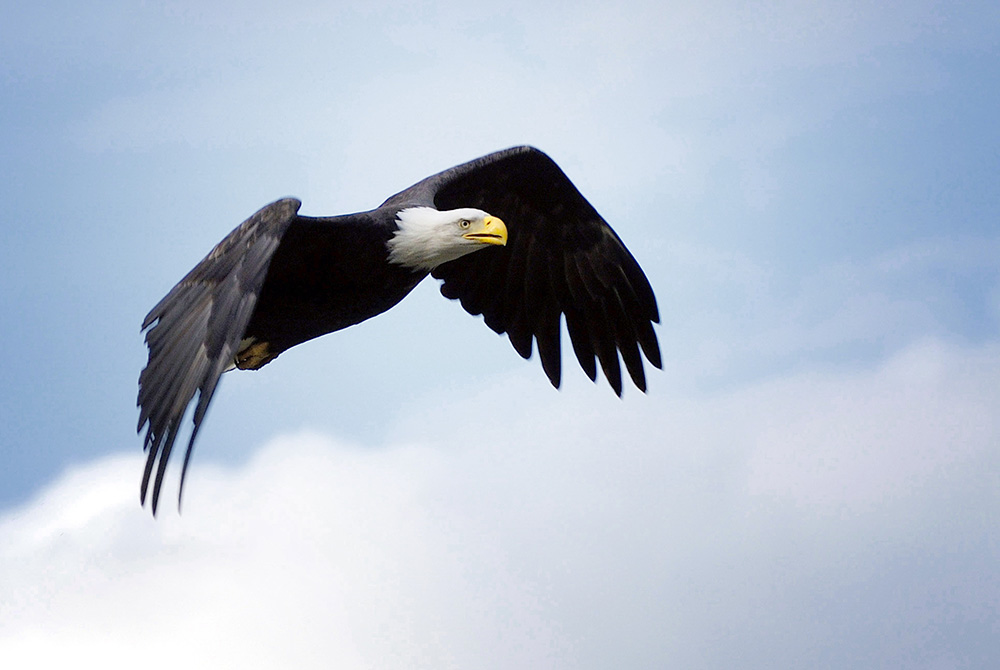 El águila calva se ha salvado de la extinción y su población ha crecido desde los años 60. (Paul Jeffrey)
Nota del editor: Durante este Tiempo de la Creación el fotógrafo Paul Jeffrey nos lleva por el mundo "Enfocando la Creación" con su cámara y su fe. Inscríbase aquí para recibir sus reflexiones por correo electrónico cada lunes, miércoles y viernes desde el 31 de agosto hasta el 4 de octubre.
Cuando era niño en los años 50, me encantaba ir en bicicleta en verano detrás del camión que pasaba por nuestro barrio rociando una fresca niebla de DDT para matar los zancudos. No era el único en ese entonces que amaba el DDT. Sin embargo, ese romance con los pesticidas tuvo consecuencias devastadoras, como lo documentó Rachel Carson en su libro "Primavera silenciosa", publicado en 1962.
A pesar de haber crecido en el noroeste de los Estados Unidos, de niño nunca vi un águila. Las aves de rapiña en general fueron menospreciadas durante décadas, y a menudo perseguidas con campañas de exterminio, pero las águilas en particular, encaramadas en la cima de la cadena alimenticia, sufrían los efectos del uso indiscriminado del DDT. Las águilas calvas, el símbolo nacional, estaban en peligro de extinción.
Tenemos una capacidad aterradora de estropear la Creación de Dios. Pero también tenemos la capacidad de confesar nuestro pecado ambiental y trabajar para restaurar la integridad del planeta que compartimos con una asombrosa variedad de animales y plantas.
En los Estados Unidos, lo hicimos con la Ley de Especies en Peligro, e internacionalmente con la Ley del Tratado de Aves Migratorias, que otorgó protección a las águilas calvas. Los Estados Unidos también prohibieron la mayoría de los usos del DDT en 1972, lo que suscitó una dramática recuperación de la población del ave. En 1963, había tan sólo 487 parejas reproductoras de águilas calvas en los 48 estados contiguos de los Estados Unidos. En 2016, había más de 16,000 parejas reproductoras en el mismo territorio.
Ahora veo águilas con mucha frecuencia. Cada vez que lo hago, recuerdo mi infancia sin águilas. Las magníficas aves se han convertido para mí en un símbolo de esperanza: esperanza de que podamos enmendar nuestros caminos destructivos, en el espíritu de un Jubileo restaurador para la Tierra. Espero que podamos ser fieles cuidadores de la Creación de Dios. Espero que podamos tomar en serio el desafío que el Papa Francisco nos propone en "Laudato Si'": "Cuando uno lee en el Evangelio que Jesús habla de los pájaros, y dice que 'ninguno de ellos está olvidado ante Dios' (Lc 12,6), ¿será capaz de maltratarlos o de hacerles daño?"
---
Para la reflexión y la acción:
El documento final del sínodo para la la Amazonía, celebrado en 2019, definió el pecado ecológico como "una acción u omisión contra Dios, contra el prójimo, la comunidad y el ambiente. Es un pecado contra las futuras generaciones y se manifiesta en actos y hábitos de contaminación y destrucción de la armonía del ambiente". ¿Dónde se encuentra el pecado ecológico en tu barrio, comunidad o región? ¿Cómo se puede hacer una restitución?
[Paul Jeffrey es co fundador de Life on Earth Pictures. Vive en el estado de Oregon, EEUU. Se puede seguirlo en Instagram.]
This story appears in the
Lens on Creation — Enfocando la Creación
feature series.
View the full series
.