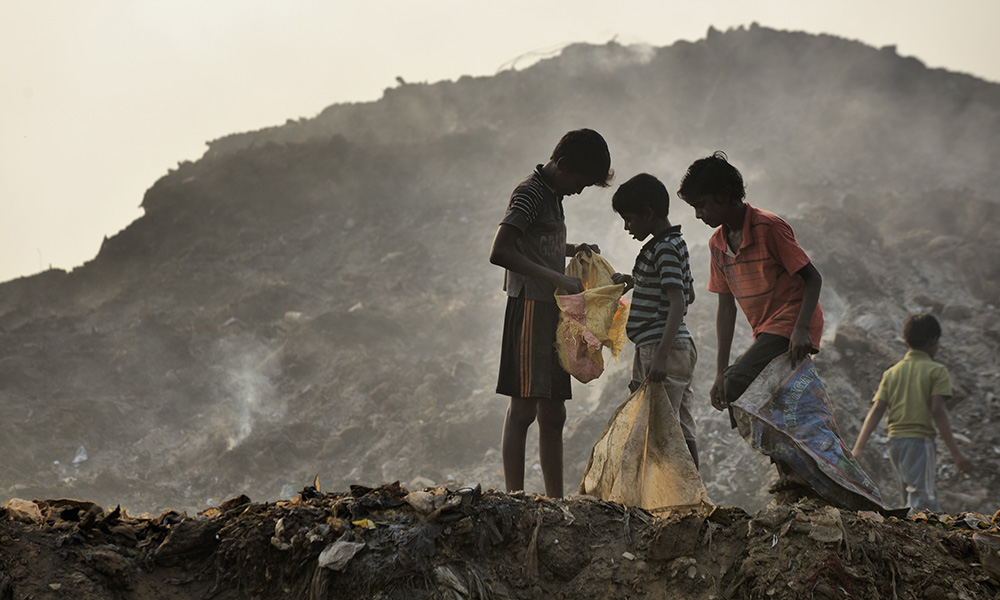 Niños pasan el día en el basurero de Chennai, India, buscando chatarra para vender y — de paso — alimentos. (Paul Jeffrey)
Nota del editor: Durante este Tiempo de la Creación el fotógrafo Paul Jeffrey nos lleva por el mundo "Enfocando la Creación" con su cámara y su fe. Inscríbase aquí para recibir sus reflexiones por correo electrónico cada lunes, miércoles y viernes desde el 31 de agosto hasta el 4 de octubre.
Conocí a estos chicos una noche en un albergue de la Iglesia en Chennai, India. La mañana siguiente me llevaron al lugar donde pasan sus días: el basurero de la ciudad, con sus cerros de basura humeante. Los periodistas no están autorizados a entrar, así que los chicos se unieron para meterme de contrabando.
Ese estilo colaborativo es parte de su vida como chatarreros. Mientras escarban en la basura, comparten con entusiasmo las noticias de pistas prometedoras para encontrar chatarra, que alcanza un precio más alto, o incluso alimentos que todavía son comestibles. A menudo cavan juntos, ayudándose entre sí a revolver la basura.
En muchas partes del mundo, son los pobres los que viven de nuestra basura, incluso la que exportamos a otros continentes. Mientras buscan el sustento en nuestros excesos, suelen ser invisibles para nosotros e —igual que nuestra basura— desechables.
En su crítica a la difusión de la "cultura del desecho", el Papa Francisco escribió en Evangelii Gaudium, "Se considera al ser humano en sí mismo como un bien de consumo, que se puede usar y luego tirar". En los Estados Unidos, cada persona produce 2 kilos de residuos sólidos comunes cada día. Nuestro planeta gime bajo el peso de lo que Laudato Si' caracteriza como nuestro "deseo desordenado de consumir más de lo que realmente se necesita", y nuestra vida espiritual gime bajo el peso de nuestro egoísmo.
¿Cómo sería un Año Jubilar para estos niños en el basurero? ¿Con qué sueñan, más allá de las montañas de basura? ¿Cómo podemos cambiar nuestras vidas para que ellos también puedan vivir? Para sanar el planeta, debemos reducir nuestro consumo a niveles que sean sostenibles para todos.
---
Para la reflexión y la acción:
En un cuaderno, anota todo lo que tu hogar desecha durante una semana. Registra qué tipo de residuo es y su peso, si tienes balanza. ¿Cuánto consiste en restos de comida? ¿Plástico? ¿Papel? ¿Otros artículos? ¿Cómo podrías reducir todo esto? Sigue llevando el registro durante todo el Tiempo de la Creación. ¿Puedes reducir tus residuos domésticos?
[Paul Jeffrey es co fundador de Life on Earth Pictures. Vive en el estado de Oregon, EEUU. Se puede seguirlo en Instagram.]
This story appears in the
Lens on Creation — Enfocando la Creación
feature series.
View the full series
.