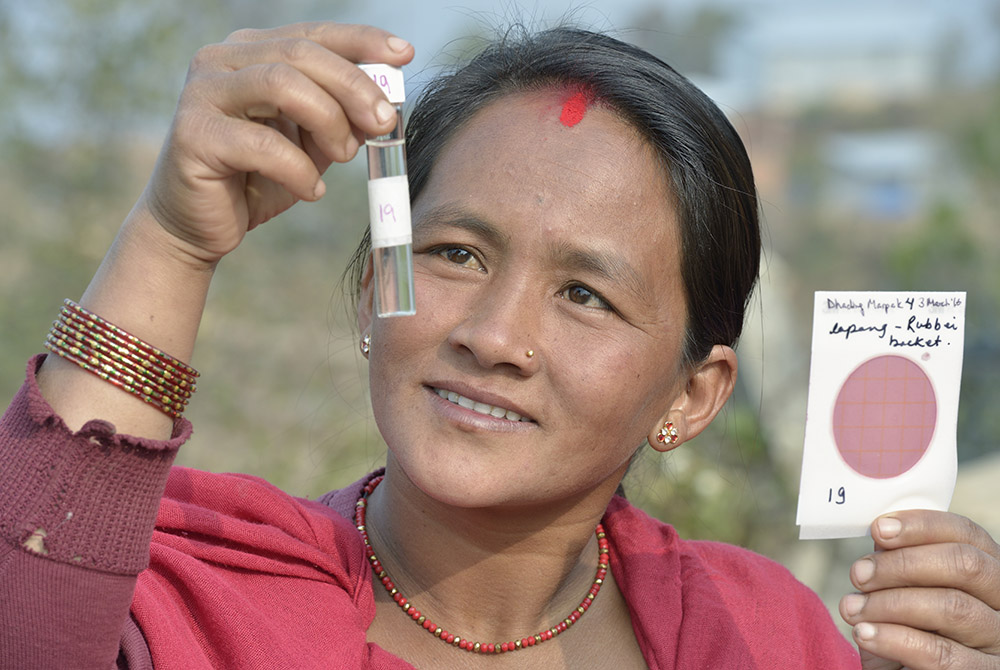 Una mujer en Nepal examina una muestra de agua tomada en su comunidad. (Paul Jeffrey)
Nota del editor: Durante este Tiempo de la Creación el fotógrafo Paul Jeffrey nos lleva por el mundo "Enfocando la Creación" con su cámara y su fe. Inscríbase aquí para recibir sus reflexiones por correo electrónico cada lunes, miércoles y viernes desde el 31 de agosto hasta el 4 de octubre.
Nunca he visto a nadie entusiasmarse tanto al encontrar la bacteria E. coli en el agua que consume como las mujeres de Marpak, Nepal. Como muchas mujeres humildes en el mundo, ellas y sus hijas pasan una cantidad desmesurada de tiempo recogiendo agua para sus familias. En su comunidad, se notaba claramente que el agua estaba contaminada, y querían saber por qué.
Fui a Marpak con un misionero que apoya a las mujeres en el control de sus fuentes de agua. Utilizando una tecnología sencilla, las ayudó a recoger y analizar el agua de los manantiales locales y los sistemas de almacenamiento casero. Las mujeres identificaron los problemas y se organizaron para solucionarlos.
Las mujeres de Marpak están sanando el planeta para que ellas y sus vecinos puedan disfrutar de la vida abundante que les promete el Evangelio. En vez de ser consumidoras pasivas de agua contaminada, se han convertido en implacables defensoras del agua limpia y segura.
Nuestro planeta tiene una cantidad limitada de agua dulce, pero en muchos lugares le hemos dado un mal manejo, contaminándola con agroquímicos, efluentes industriales, residuos mineros peligrosos o aguas servidas. Al talar los bosques, hemos reducido la capacidad de la Tierra para almacenar el agua dulce. Muchas veces no hemos dado importancia al agua limpia hasta que se ha agotado, o hasta que grandes empresas han obtenido grandes ganancias vendiéndonos agua. Esto se vuelve aún más crítico a medida que se cambian los patrones climáticos, dejando regiones enteras de gente humilde con menos acceso al agua que da vida.
En "Laudato Si', sobre el Cuidado de la Casa Común," el Papa Francisco nos recuerda que "el acceso al agua potable y segura es un derecho humano básico, fundamental y universal, porque determina la sobrevivencia de las personas, y por lo tanto es condición para el ejercicio de los demás derechos humanos."
Ni nosotros ni nuestros hermanos y hermanas en el mundo entero podemos vivir sin agua. Cuidar la Creación de Dios significa proteger y ampliar el acceso al agua potable para todos.
---
Para la reflexión y la acción:
¿De dónde proviene el agua que tomamos? El agua que sale de nuestros grifos ¿es libre de tóxicos y contaminantes? ¿Qué tratamiento recibe para que sea así? Toda la gente de nuestra comunidad ¿tiene agua potable suficiente y de buena calidad? ¿Dónde y de qué manera han copado grandes empresas las fuentes de agua? ¿Cómo podemos cuidar mejor el agua?
[Paul Jeffrey es co fundador de Life on Earth Pictures. Vive en el estado de Oregon, EEUU. Se puede seguirlo en Instagram.]
This story appears in the
Lens on Creation — Enfocando la Creación
feature series.
View the full series
.