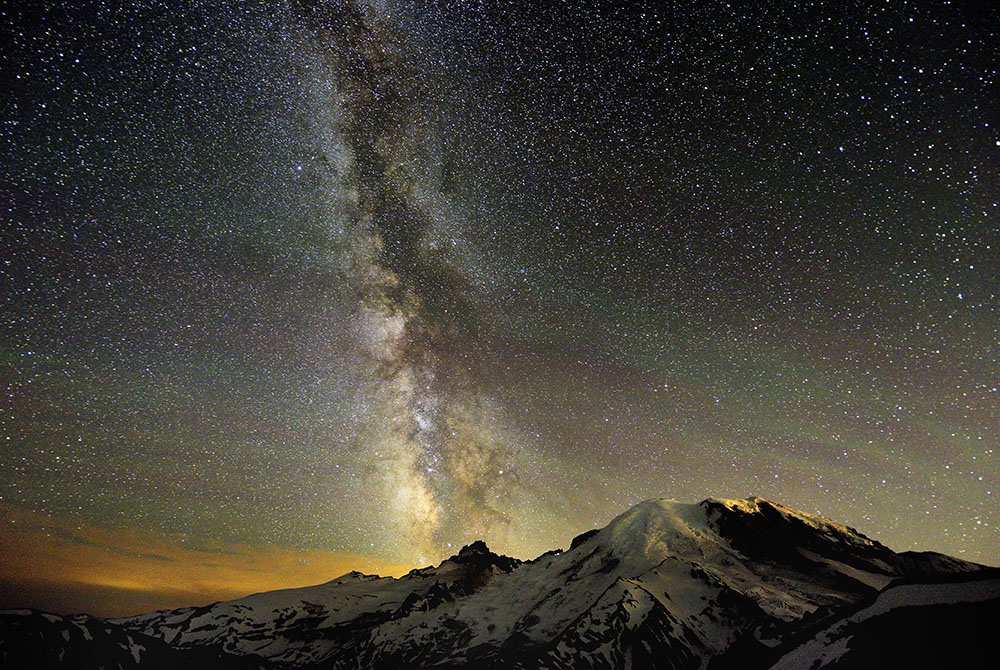 Una vista detallada del cielo nocturno sólo se encuentra lejos de la contaminación lumínica de las áreas urbanas. (Paul Jeffrey)
Nota del editor: Durante este Tiempo de la Creación el fotógrafo Paul Jeffrey nos lleva por el mundo "Enfocando la Creación" con su cámara y su fe. Inscríbase aquí para recibir sus reflexiones por correo electrónico cada lunes, miércoles y viernes desde el 31 de agosto hasta el 4 de octubre.
"Los cielos cuentan la gloria de Dios, el firmamento proclama la obra de sus manos. Un día transmite al otro la noticia, una noche a la otra comparte su saber. Sin palabras, sin lenguaje, sin una voz perceptible, por toda la Tierra resuena su eco, ¡sus palabras llegan hasta los confines del mundo!"
A la mayoría de la gente en los Estados Unidos le cuesta entender estas palabras del Salmo 19, porque no puede ver las estrellas. Según un estudio publicado en 2016 por un equipo internacional de investigadores, el 80% de la población no puede ver la Vía Láctea de noche por la luz que emiten las ciudades del país.
Para captar esta imagen de la Vía Láctea sobre el monte Tahoma (también conocido como monte Rainier) en el estado de Washington, tuve que ir manejando dos horas desde mi casa y luego caminar tres horas por rocas y nieve. Después del ocaso, me senté a tiritar en la oscuridad y esperar a que el núcleo galáctico se elevara sobre la montaña. Lejos de considerar la gloria de Dios, deseaba haberme abrigado mejor. Pasada la medianoche, volví a mi vehículo, caminando en la oscuridad.
Desafortunadamente, ver la Vía Láctea se ha convertido en un privilegio de aquellos que tienen acceso a cielos oscuros. Se están haciendo esfuerzos para reducir la iluminación urbana innecesaria, así como para cambiar el balance de colores de esta luz para disminuir su impacto ambiental. La contaminación lumínica afecta no sólo a los observadores de estrellas, sino también los hábitos de los pájaros y otras criaturas que dependen de la oscuridad. Para muchos de nosotros, el cuidado de la creación puede comenzar con apagar las luces innecesarias en la noche.
---
Para la reflexión y la acción:
Mira la imagen giratoria de la Tierra de noche de la NASA. ¿Qué nos dice la imagen sobre la desigualdad en el mundo? ¿Qué dice sobre el consumo de energía por los seres humanos? ¿Qué medidas puedes tomar, o puede tomar tu comunidad de fe, para ayudar a reducir la cantidad de luz nocturna que se escapa hacia arriba en tu comunidad? ¿Cómo reduciría eso el consumo de energía?
[Paul Jeffrey es co fundador de Life on Earth Pictures. Vive en el estado de Oregon, EEUU. Se puede seguirlo en Instagram.]
This story appears in the
Lens on Creation — Enfocando la Creación
feature series.
View the full series
.