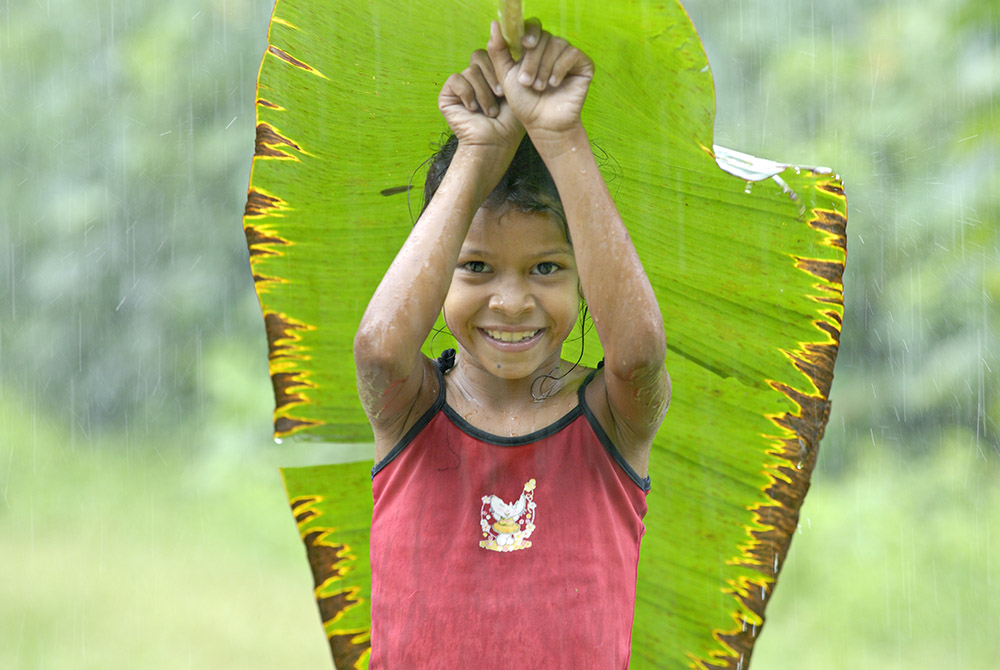 Yulimara Machin da Silva, 8, se cubre con una hoja gigante para protegerse de la lluvia. (Paul Jeffrey)
Nota del editor: Durante este Tiempo de la Creación el fotógrafo Paul Jeffrey nos lleva por el mundo "Enfocando la Creación" con su cámara y su fe. Inscríbase aquí para recibir sus reflexiones por correo electrónico cada lunes, miércoles y viernes desde el 31 de agosto hasta el 4 de octubre.
Yulimara Machin da Silva, una niña de ocho años, cubre su cuerpo con una hoja gigante mientras corre bajo la lluvia en las tierras del Proyecto de Desarrollo Sostenible Esperança, en el norte de Brasil. Esta comunidad encarna la visión de la Hna. Dorotea Stang, de la congregación de Notre Dame de Namur, que consideraba que los mejores defensores de la Amazonia son las personas que viven en ella. Para la Hna. Dorotea, la selva no era un bosque sin habitantes humanos, sino una red de interconexiones en la que los seres humanos pueden vivir de manera sostenible.
La primera vez que viajé a la región donde Stang fue martirizada, en una comisión para National Catholic Reporter, me recibieron la familia de Yulimara y otras familias humildes con las que Stang había trabajado. Mientras me mostraban sus casas sencillas y sus parcelas, era obvio que se consideraban parte integral de la Creación. Ellos eran la selva, y por lo tanto estaban dispuestos a defenderla con sus vidas.
Personas que consideraban la Amazonia y otras grandes extensiones de bosque una mercancía a explotar para beneficio propio se vieron amenazadas por la Hna. Dorotea y los humildes agricultores a los que ella acompañaba. Esas personas ordenaron su asesinato en 2005. Sin embargo, su caso no fue una anomalía. En 2019, según la ONG Global Witness, al menos 212 defensores de la tierra y el medio ambiente fueron asesinados en todo el mundo, un promedio de cuatro por semana.
Para muchas personas en los países del norte global, la palabra "naturaleza" evoca imágenes de casacas Gore-Tex y equipos de campamento de último modelo. Sin embargo, para la gente humilde de muchas partes del mundo la naturaleza es su hogar. Para ellos, cuidar la Creación significa defender sus medios de vida. Sanar la Tierra no es un mero lema; significa la supervivencia de ellos y de todos los que compartimos este planeta.
---
Para la reflexión y la acción:
¿Con qué lugar te identificas más estrechamente, el lugar donde te sientes más "en casa"? ¿Qué sentirías si ese lugar estuviera bajo amenaza de destrucción? ¿Cómo responderías? ¿Cómo pueden tú y tu comunidad de fe manifestar su solidaridad con personas cuyas vidas corren peligro por defender sus tierras?
[Paul Jeffrey es co fundador de Life on Earth Pictures. Vive en el estado de Oregon, EEUU. Se puede seguirlo en Instagram.]
This story appears in the
Lens on Creation — Enfocando la Creación
feature series.
View the full series
.