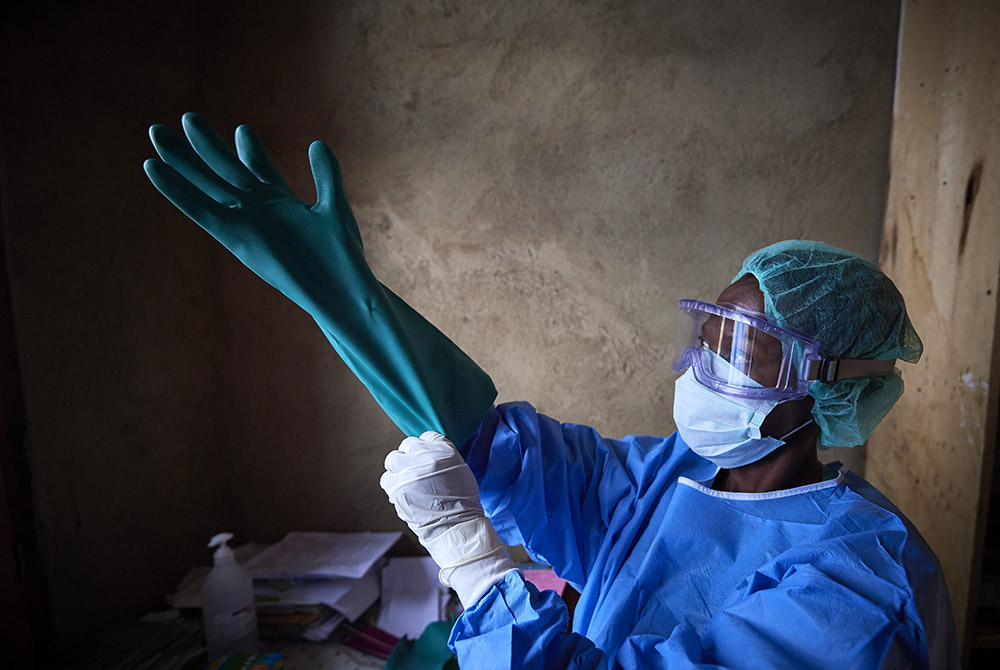 La enfermera Adele Kavira Saasita se pone equipo de protección para atender a pacientes que sufren del Ébola. (Paul Jeffrey)
Nota del editor: Durante este Tiempo de la Creación el fotógrafo Paul Jeffrey nos lleva por el mundo "Enfocando la Creación" con su cámara y su fe. Inscríbase aquí para recibir sus reflexiones por correo electrónico cada lunes, miércoles y viernes desde el 31 de agosto hasta el 4 de octubre.
La enfermera Adele Kavira Saasita se pone su equipo protector en Beni, ciudad en el este de la República Democrática del Congo. La conocí el año pasado cuando hacía un reportaje sobre el brote del virus de Ébola que surgió en el 2018. Beni fue el epicentro del brote, y Saasita trabajaba en una clínica apoyada por la Iglesia en la primera línea de la batalla contra la mortal enfermedad.
El cambio climático es una mala noticia para Saasita y otros que luchan contra enfermedades como la malaria, el dengue, el Zika y el Ébola. En combinación con la deforestación, un clima más húmedo y cálido fomentará la propagación de enfermedades transmitidas por zancudos. Además, el riesgo de brotes de ébola, que probablemente surgió debido al contacto humano con murciélagos frugívoros, aumentará a medida que los murciélagos, debido al cambio climático, se adapten a un entorno más amplio, y los agricultores, en un esfuerzo por contrarrestar la menor productividad de sus cultivos, se adentren más en el bosque en búsqueda de alimentos.
Desde hace mucho tiempo, los seguidores de Jesús somos llamados a sanar. En el mundo entero, las iglesias apoyan clínicas y hospitales y acompañan con amor sanador a las personas que sufren enfermedades y dolencias. Sanar el planeta es la misma vocación evangélica. Combatir la crisis climática significa, literalmente, salvar vidas.
Para la reflexión y la acción:
Por más trágica que sea, la actual pandemia de coronavirus nos brinda la oportunidad de reconsiderar, de tomar decisiones distintas con respecto a nuestro uso de los recursos de la Tierra. Piensa en un tema clave para el cambio climático, como la energía, el transporte o la producción de alimentos. ¿Qué propuestas de cambio existen en tu localidad? ¿Cómo puedes participar en promover soluciones que reduzcan las emisiones de gases de efecto invernadero?
[Paul Jeffrey es co fundador de Life on Earth Pictures. Vive en el estado de Oregon, EEUU. Se puede seguirlo en Instagram.]
This story appears in the
Lens on Creation — Enfocando la Creación
feature series.
View the full series
.