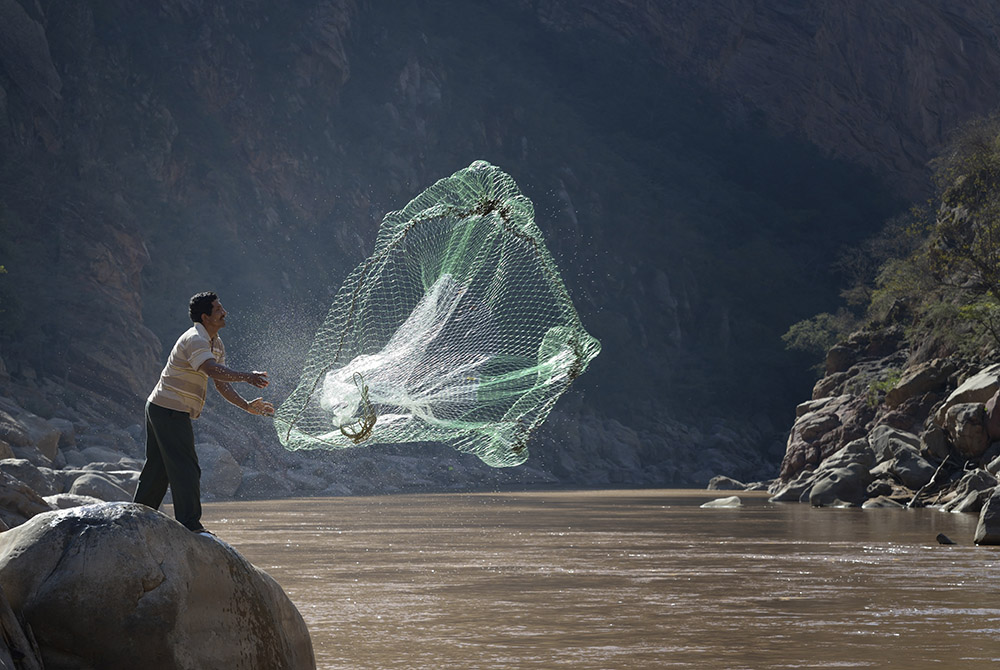 Tomás Rivero lanza su red para pescar en el río Pilcomayo, Bolivia. (Paul Jeffrey)
Nota del editor: Durante este Tiempo de la Creación el fotógrafo Paul Jeffrey nos lleva por el mundo "Enfocando la Creación" con su cámara y su fe. Inscríbase aquí para recibir sus reflexiones por correo electrónico cada lunes, miércoles y viernes desde el 31 de agosto hasta el 4 de octubre.
Odio el viejo dicho de que si quieres alimentar a un pobre para siempre, enséñale a pescar.
El problema, como he visto en todo el mundo, es que los ricos pueden obstaculizar el ingreso a las zonas de pesca, o una fábrica puede contaminar el agua, dejando a los peces enfermos o muertos.
Es el problema al que se enfrenta Tomás Rivero. Lo encontré pescando en el río Pilcomayo, en las afueras de Villamontes, Bolivia. Dirigente de la Unión de Pescadores del Río Pilcomayo, se ha convertido en un luchador por la limpieza del río, que está plagado de contaminación por la minería y la construcción de carreteras aguas arriba, a pesar de que el lugar donde pesca se encuentra dentro de un área protegida, el Parque Nacional Aguaragüe.
La contaminación no respeta fronteras arbitrarias, y poco pudo hacer Rivero para detener la contaminación, que se originó, en algunos casos, a cientos de kilómetros río arriba.
Afortunadamente, otros sí podían hacer algo. Un año después de haberlo conocido, viajé a las minas cercanas a Potosí, Bolivia, donde un grupo de activistas de la Iglesia se había unido a científicos de la Universidad Tomás Frías para monitorear algunas minas abandonadas. Cuando encontraron altos niveles de escorrentía de ácidos tóxicos, alertaron a las autoridades. Cuando la situación no cambió, publicaron los nombres de los contaminadores, obligando a varios propietarios de minas —por vergüenza— a tomar medidas para mitigar la peligrosa contaminación.
Cuidar nuestro ambiente amenazado a menudo implica trabajar en conjunto con otras personas que viven lejos. Compartir el planeta nos acerca unos a otros mientras trabajamos para sanar la Tierra.
---
Para la reflexión y la acción:
La contaminación de sitios industriales —como minas, refinerías de petróleo, granjas industriales y fábricas— tiene impactos desproporcionados en las personas de color y las personas cuyos ingresos no les permiten alejarse de la contaminación. En este mapa de sitios tóxicos, ubica el lugar donde vives. ¿Hay cerca algún sitio contaminado del que no tenías conocimiento? ¿Hay personas que viven cerca de ese sitio? ¿Están conscientes del peligro? ¿Qué medidas puedes tomar o qué puede hacer tu comunidad de fe para apoyarlas?
[Paul Jeffrey es co fundador de Life on Earth Pictures. Vive en el estado de Oregon, EEUU. Se puede seguirlo en Instagram.]
This story appears in the
Lens on Creation — Enfocando la Creación
feature series.
View the full series
.