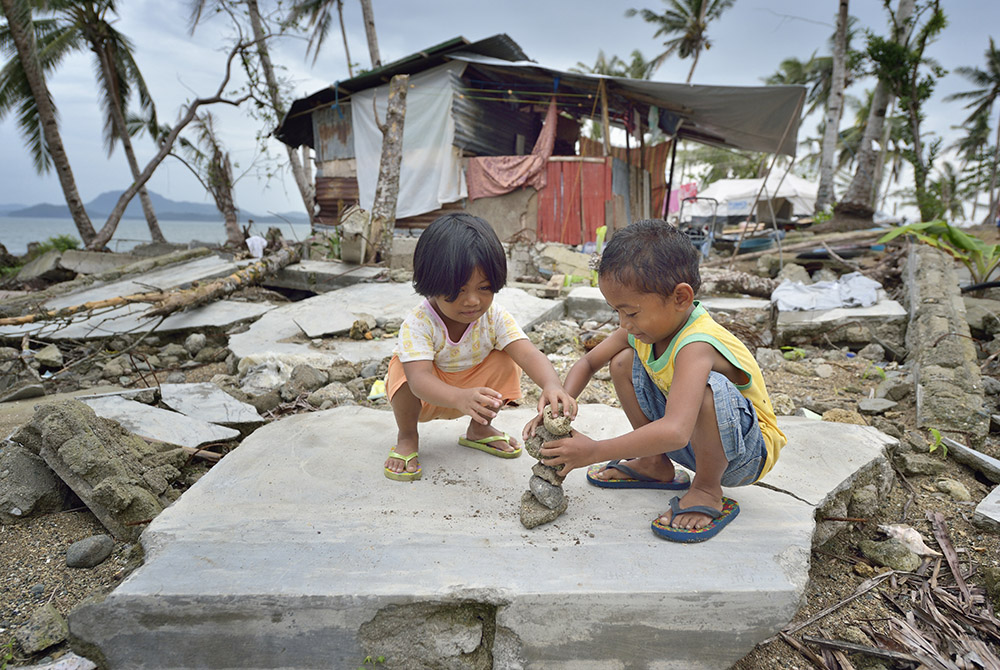 Nicole y Gilbert Adona comienzan a reconstruir su casa después de un tifón en Filipinas. (Paul Jeffrey)
Nota del editor: Durante este Tiempo de la Creación el fotógrafo Paul Jeffrey nos lleva por el mundo "Enfocando la Creación" con su cámara y su fe. Inscríbase aquí para recibir sus reflexiones por correo electrónico cada lunes, miércoles y viernes desde el 31 de agosto hasta el 4 de octubre.
Durante décadas he hecho reportajes sobre desastres, y muchas veces he encontrado a personas como Nicole y Gilbert Adona, que comenzaron la reconstrucción de su casa en Filipinas poco después de que fuera arrasada por un tifón. Son increíblemente resilientes los seres humanos, tanto los adultos como los niños.
Sanar la Tierra comienza por no culparle a la Madre Naturaleza por lo que no es su culpa. Hay que reconocer que lo que a menudo caracterizamos como "desastres naturales" no son del todo "naturales". Más bien, los desastres suelen ser un encuentro desafortunado entre la amenaza natural y la vulnerabilidad humana. Es poco lo que podemos hacer con respecto a la primera, aunque hay evidencia convincente de que el cambio climático (por ejemplo, el aumento de las temperaturas de la superficie del mar) hace más intensos los huracanes y los tifones.
Pero hay mucho que podemos hacer con respecto a la vulnerabilidad. Podemos trabajar por la justicia, para ayudar a las comunidades a ser más resilientes y, por ende, capaces de resistir las inevitables amenazas naturales que enfrentan. Eso significa varias medidas, desde apoyo para la organización comunitaria hasta una mejor aplicación de los códigos de construcción, y asegurar que las mujeres participen plenamente en la planificación de las respuestas a las emergencias y las actividades de mitigación.
Cuidar la Creación también significa cuidar a los seres humanos, especialmente los más vulnerables. En un mundo que se enfrenta al desafío de la crisis climática, estamos llamados a una acción evangélica que pueda superar el deterioro del medio ambiente con nuevas formas de solidaridad más eficaces. Si necesitamos inspiración, no tenemos que mirar más allá de la resiliencia de los pobres que luchan diariamente por sobrevivir al desastre de la pobreza y la marginación que viven hoy en día.
---
Para la reflexión y la acción:
¿Qué fenómeno natural podría causar un desastre en el lugar donde vives? ¿Quiénes serían más afectados? ¿Qué se puede hacer para que sean menos vulnerables? ¿Hay grupos o entidades gubernamentales que trabajan para ello?
This story appears in the
Lens on Creation — Enfocando la Creación
feature series.
View the full series
.