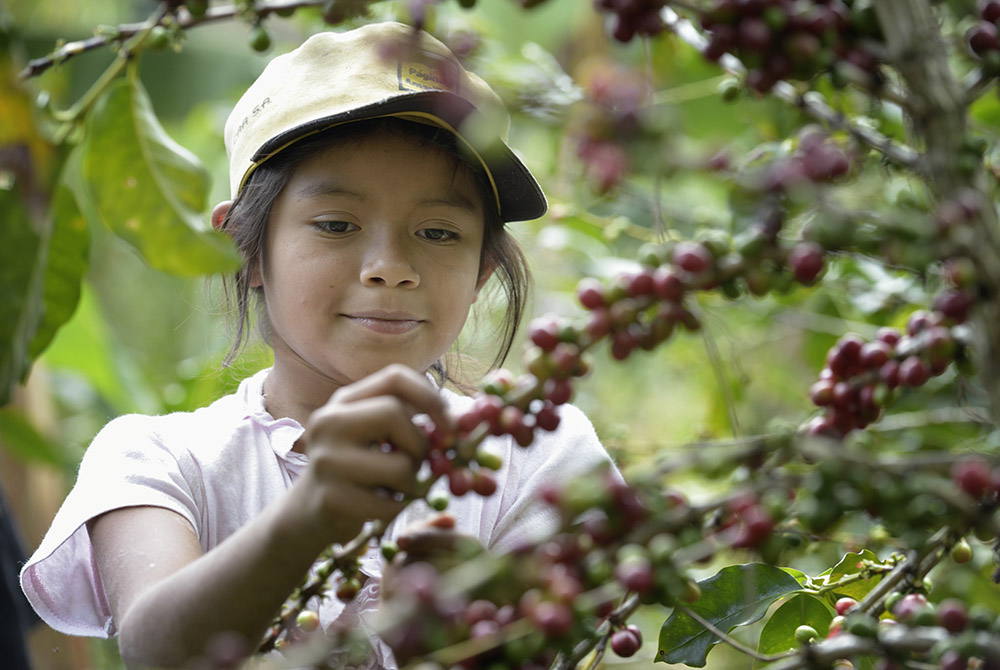 Carmen Elvira Taywho, nueve años, recoge café en Guatemala. (Paul Jeffrey)
Nota del editor: Durante este Tiempo de la Creación el fotógrafo Paul Jeffrey nos lleva por el mundo "Enfocando la Creación" con su cámara y su fe. Inscríbase aquí para recibir sus reflexiones por correo electrónico cada lunes, miércoles y viernes desde el 31 de agosto hasta el 4 de octubre.
Conocí a Carmen Elvira Taywho en una parcela en San Martín Jilotepeque, Guatemala. Esta niña maya kaqchikel de nueve años estaba recogiendo café que sería exportado y terminaría en una taza como la que yo acaricio cada mañana.
Desde hace muchos años, el café ha sido un importante cultivo de exportación para América Central, pero la crisis climática está llevando a la bancarrota a los pequeños productores, y moviendo a muchos a migrar hacia el norte para sobrevivir.
Debido a un aumento en la temperatura en las últimas décadas, un hongo conocido como la roya del café ha invadido las plantaciones de la región. Las hojas amarillas y marrones moteadas señalan la llegada de la enfermedad, que antes se mantenían a raya por las bajas temperaturas nocturnas. Las grandes empresas pueden arrancar las plantas infectadas y sembrar híbridos resistentes a la enfermedad, pero los pequeños agricultores rara vez tienen el capital necesario. Así que pierden sus cultivos.
Entre la roya y los cambios en los patrones de precipitación pluvial, también ocasionados por el cambio climático, la agricultura se ha convertido en un negocio precario en América Central. Parece que a los dirigentes políticos les interesa más enriquecerse, a veces en colaboración con los narcotraficantes, que apoyar la agricultura sostenible.
Si deseamos cuidar la Creación, debemos preocuparnos por los problemas ambientales en todas partes del mundo. Como consumidores, tenemos un vínculo muy directo con Carmen y otros pequeños productores de café. ¿Cómo podemos usar nuestra influencia para sanar el planeta, para que ella y otros puedan vivir dignamente?
---
Para la reflexión y la acción:
¿Cuánta atención le prestamos a la cadena alimenticia que se extiende desde los campos de cultivo hasta nuestra mesa? ¿Qué alimentos podemos conseguir de proveedores éticos u orgánicos, disminuyendo nuestro impacto en el planeta y asegurando que los trabajadores que producen nuestros alimentos obtengan un ingreso justo? El café y el té que tomamos después de la misa ¿llevan una etiqueta de comercio justo o provienen de organizaciones que promueven la justicia como Equal Exchange? ¿Apoyamos a los agricultores locales que venden en los mercados locales o a través de programas de Apoyo Comunitario a la Agricultura?
[Paul Jeffrey es co fundador de Life on Earth Pictures. Vive en el estado de Oregon, EEUU. Se puede seguirlo en Instagram.]
This story appears in the
Lens on Creation — Enfocando la Creación
feature series.
View the full series
.