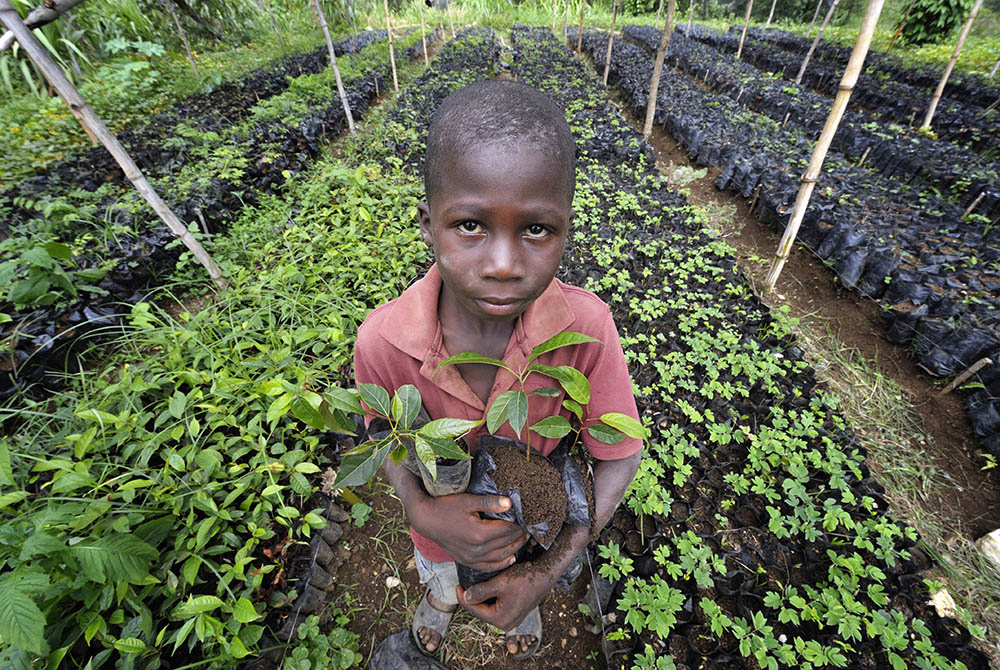 Jeslaine Adolf muestra plántulas en un vivero comunitario en el sur de Haití. (Paul Jeffrey)
Nota del editor: Durante este Tiempo de la Creación el fotógrafo Paul Jeffrey nos lleva por el mundo "Enfocando la Creación" con su cámara y su fe. Inscríbase aquí para recibir sus reflexiones por correo electrónico cada lunes, miércoles y viernes desde el 31 de agosto hasta el 4 de octubre.
Jeslaine Adolf sostiene unas plántulas en un vivero comunitario en Despagne, una comunidad remota en el sur de Haití donde una agencia de la Iglesia trabaja con los residentes para mejorar su calidad de vida.
Haití estuvo una vez cubierto de magníficos bosques. Sin embargo, bajo el dominio colonial español y francés, los árboles se talaron para ser exportados a Europa o para dar paso a enormes plantaciones de azúcar. Hoy en día, muchos de los árboles que quedan se están talando para producir carbón que se transporta a Puerto Príncipe y otras ciudades para usarse como combustible de cocina. Como resultado, tanto los habitantes de las zonas rurales deforestadas como los que respiran el humo de sus fogones al cocinar sufren en un país que se ha convertido en un ejemplo de cómo la destrucción del medio ambiente conduce a la pobreza y a la mala gestión pública.
¿Cómo sería un tiempo de sanación del planeta en Haití? Significaría lluvias que no arrastrarían la capa superior del suelo por las laderas deforestadas hasta el mar. Significaría campos de cultivo con irrigación durante todo el año. Significaría niños como Jeslaine creciendo en un país donde cada uno podría sentarse bajo su propio árbol, en paz y sin miedo.
Jeslaine tiene muchos árboles para plantar. ¿Cómo podemos ayudarla?
---
Para la reflexión y la acción:
¿Cómo podemos sanar la Tierra en nuestros propios barrios y regiones? ¿Necesitamos plantar árboles en nuestro propio jardín? ¿Cómo podemos apoyar la vida abundante en otras partes del mundo que han sufrido la deforestación?
[Paul Jeffrey es co fundador de Life on Earth Pictures. Vive en el estado de Oregon, EEUU. Se puede seguirlo en Instagram.]
This story appears in the
Lens on Creation — Enfocando la Creación
feature series.
View the full series
.