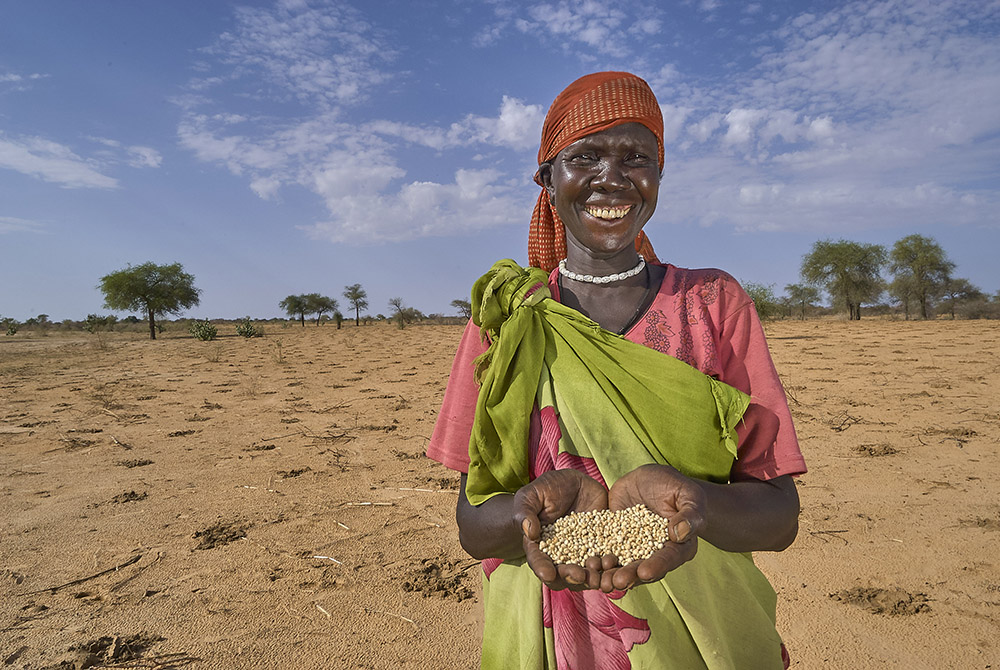 Adel Dut muestra las semillas de sorgo que siembra a pesar de de la sequía y la guerra. (Paul Jeffrey)
Nota del editor: Durante este Tiempo de la Creación el fotógrafo Paul Jeffrey nos lleva por el mundo "Enfocando la Creación" con su cámara y su fe. Inscríbase aquí para recibir sus reflexiones por correo electrónico cada lunes, miércoles y viernes desde el 31 de agosto hasta el 4 de octubre.
Adel Dut fue expulsada de su hogar por los conflictos armados en la región sudanesa de Darfur, pero una organización de la Iglesia le proporcionó algunas semillas de sorgo para sembrar en las afueras de la aldea de Ferdous, donde vive en un campamento para familias desplazadas.
Para algunas personas, el conflicto en Darfur es la primera guerra impulsado por el cambio climático. Si bien hacía tiempo que existían conflictos entre los nómadas y los agricultores en la región, la prolongada sequía y expansión del Sahel hacia el sur —provocada por el cambio climático— han hecho que estos dos grupos en pugna intenten ocupar el mismo espacio. El gobierno apoya con armas a una facción, haciendo aún más letal esta lucha por la tierra.
En medio de la violencia, agricultores como Dut hicieron lo que Jeremías aconsejó siglos antes, cuando la esperanza en su mundo se desvanecía: sembrar semillas. A pesar de la sequía y el conflicto, enterró semillas en la tierra y la transformó. Cuando la conocí, ella no se presentaba como víctima. Estaba orgullosa de poder sanar un rinconcito de su tierra natal, sembrando semillas.
Cuando nos abruma la violencia en el mundo que nos rodea, haríamos bien en acordarnos de Dut.
---
Para la reflexión y la acción:
La pandemia de coronavirus ha cambiado nuestra vida personal y comunitaria, alterando nuestra manera de vivir, rendir culto e relacionarnos con los demás. Muchas personas se sienten aisladas, estresadas y solas. ¿Qué semillas podemos sembrar para ayudar a transformar esta experiencia desértica en un jardín de la esperanza?
This story appears in the
Lens on Creation — Enfocando la Creación
feature series.
View the full series
.