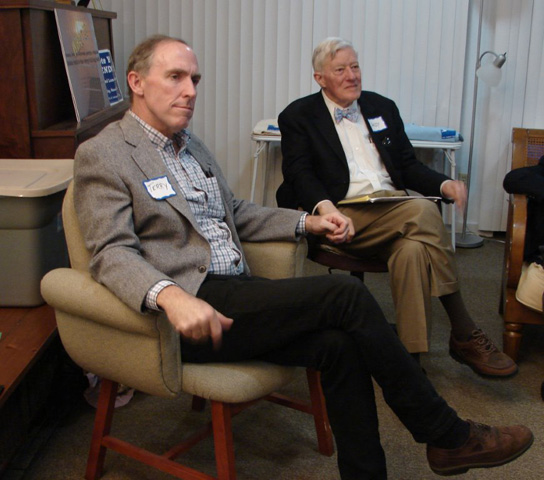 Terry Coonan, left, and Sandy D'Alemberte answer questions after their presentations to a rally against the death penalty Oct. 24 in Tallahassee, Fla. (Pax Christi/John Stewart)
Tallahassee, Fla. — October 29, 2014
Pope Francis called for an end to capital punishment the day before an Oct. 24 rally that drew those opposed to the death penalty to demonstrate in front of the Old Capitol here. The weekend assembly was sponsored by Pax Christi Florida, Tallahassee Citizens Against the Death Penalty, and Floridians for Alternatives to the Death Penalty (FADP).
At the juncture of two of the busiest streets in Tallahassee, loud honks from people in cars who supported those demonstrating cut through the speakers' words, but it was noisy encouragement for those holding signs and banners. Nearly 100 advocates from around the state embraced the pope's words to galvanize their position.
Florida has exonerated the highest number of death row prisoners in the nation. However, FADP director Mark Elliott said the current Florida governor, Rick Scott, "is in a horse race with Texas Gov. Rick Perry to see who wins for the most executions." Texas leads with nine executions so far this year, followed by Missouri with eight and Florida with seven. Chadwick Banks is scheduled to die by lethal injection in Florida on Nov. 13. If it goes through, Banks will become the 20th person to die by lethal injection in Scott's four years, the highest of any Florida governor.
Since Florida reinstituted capital punishment in 1979 after the U.S. Supreme Court lifted the ban against state-sponsored killing, 88 inmates have been executed in the state. There are approximately 400 inmates awaiting execution on Florida's death row. According to FADP, the cost to the state's taxpayers is $1 million a week versus $750,000 for extended life imprisonment.
Three exonerated death row prisoners were among those at the Oct. 24 rally. David Keaton was the first to be found innocent in Florida. Recently exonerated Seth Penalver, who spent 18 years on death row, and Herman Lindsey spoke eloquently and without rancor about their experiences. The men have not had their voting rights restored because of new restrictions under Scott.
All three are African-American. In Florida, 15 of the 24 death row inmates who have been exonerated since 1973 are black; four are Latino.
Democrat state Rep. Michelle Rehwinkel Vasilinda is a vocal opponent of capital punishment. She has introduced legislation to repeal capital punishment for four years in a row, but it has yet to be heard in the Republican-controlled legislature.
Fr. Phil Egitto of Our Lady of Lourdes parish in Ormond Beach, Fla., protests outside the Florida State Prison walls in Starke, Fla., with a group of parishioners each time an execution takes place.
"We are there to pray to change the minds and hearts of people who come from a culture of violence," Egitto said. "Abortion is a person's decision, but when the state kills in our name, it is not our choice."
"Going to ground zero is important," he added. "Bringing the presence of love, we combat violence that begets violence. We stand as the first disciples stood, at the foot of the cross."
Fr. Tim Holeda of Blessed Sacrament Parish in Tallahassee asked those listening to "imagine a world where the death penalty isn't racist or costs anything. It is still unacceptable. Ask your friends, 'When is it acceptable for the state to kill someone?'"
"We need to be a people of love, of peace and mercy," he said.
The Rev. Brant Copeland, pastor of First Presbyterian Church in Tallahassee and a longtime social activist, had a list of why he opposes the death penalty.
"It offends my faith," he said. "It doesn't deter crime, and it puts vengeance ahead of justice. It is an international embarrassment. I don't enjoy sharing the spotlight with human rights abusers like Iraq, Iran, China and Saudi Arabia."
The weekend wrapped up with presentations by two human rights activists. Terry Coonan, director of Florida State University's Center for the Advancement of Human Rights, said, "One hundred and 40 countries have stopped the death penalty. This is a human rights issue and very expensive retribution."
The other activist was former president of the American Bar Association, former state legislator and retired FSU president Sandy D'Alemberte, who founded the Innocence Project of Florida, which works with wrongfully convicted prisoners.
"The way we administer the death penalty in Florida is arbitrary," he said. "People who get the death penalty are not the worst people who commit the worst crimes, but those who get the worst lawyers."
D'Alemberte said he advocates boycotting Florida by European countries that advise tourists to avoid the state.
"If countries treated Florida and the U.S. as they did apartheid in Africa, the death penalty would end," he said.
[Judy Gross writes from Tallahassee.]