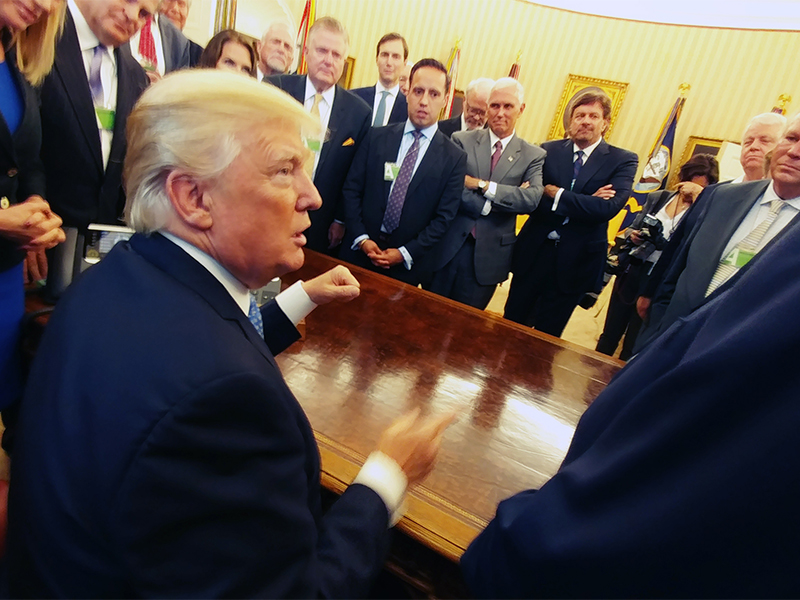 President Donald Trump meets with faith leaders inside the Oval Office on May 3, 2017. (Photo by Pastor Mark Burns)
Washington — September 5, 2017
They're invited to meetings at the White House. They exchange calls, texts and emails with administration staffers. And they occasionally pray with the president.
Here's a list of some of the key evangelical leaders — mostly men but also one woman — who were on President Donald Trump's campaign evangelical executive advisory board and/or have served in an advisory role since his inauguration.
Gary Bauer — president, American Values; former president of Family Research Council; former chief domestic policy adviser in the Reagan administration
Mark Burns — co-founder and CEO of The NOW Television Network in Easley, S.C.; spoke at the 2016 Republican National Convention
Tim Clinton — president, American Association of Christian Counselors
James Dobson — author, psychologist and host, "Family Talk"
Jordan Easley — pastor of Englewood Baptist Church in Jackson, Tenn.; chairs Southern Baptists' Young Leaders Advisory Council
Jerry Falwell Jr. — president, Liberty University in Lynchburg, Va.
Ronnie Floyd — author and senior pastor, Cross Church in northwest Arkansas; former Southern Baptist Convention president
Jack Graham — author and pastor of Prestonwood Baptist Church in Plano, Texas; former Southern Baptist Convention president
Rodney Howard-Browne — co-founder of The River at Tampa Bay Church and Revival Ministries International in Florida
Harry Jackson — senior pastor, Hope Christian Church in Beltsville, Md.; co-founder of The Reconciled Church: Healing the Racial Divide
Robert Jeffress — senior pastor, First Baptist Church of Dallas; hosted Fourth of July event at Kennedy Center featuring Trump as a speaker
Richard Land — president, Southern Evangelical Seminary in Matthews, N.C.; former president, Southern Baptist Convention Ethics and Religious Liberty Commission
Greg Laurie — author and senior pastor of Harvest Christian Fellowship in Riverside, Calif.
Eric Metaxas — author and host, "The Eric Metaxas Show"; speaker, 2012 National Prayer Breakfast
Johnnie Moore — author, religious freedom advocate and public relations executive; serves as unofficial spokesman for group of evangelicals advising Trump administration
Frank Page — president and CEO, Southern Baptist Convention Executive Committee; former Southern Baptist Convention president; former member of President Obama's Advisory Council on Faith-based and Neighborhood Partnerships
Tony Perkins — president, Family Research Council
Ralph Reed — founder, Faith and Freedom Coalition; former executive director, Christian Coalition
Tony Suarez — executive vice president, National Hispanic Christian Leadership Conference
Paula White — senior pastor, New Destiny Christian Center in Apopka, Fla.; first clergywoman to give an invocation at an inauguration