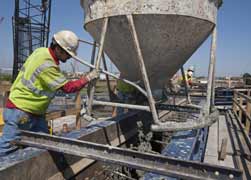 Contractors for the Army Corps of Engineers build a flood wall in Harvey, La., in 2009. (CNS/Jim West)
WASHINGTON – "Workers need a new 'social contract,'" says the 2010 Labor Day statement of the U.S. Conference of Catholic Bishops.
It compares the massive changes in today's global economy with the social upheavals of the 19th-century Industrial Revolution that led to Pope Leo XIII's famous 1891 social encyclical, Rerum Novarum, on capital and labor.

It suggests that Pope Benedict XVI's encyclical, Caritas in Veritate ("Charity in Truth") offers a similar 21st-century response to the challenges of globalization, putting the life and dignity of the worker at the center of economic renewal.
The millions of long-term unemployed and underemployed mark "a pervasive failure of our economy today," it says.
Bishop William F. Murphy of Rockville Centre, N.Y., chairman of the USCCB Committee on Domestic Justice and Human Development, wrote this year's statement, which was released two weeks before Labor Day. The five-page statement is titled "A New 'Social Contract' for Today's 'New Things'" – a reference to the Latin title of the 1891 encyclical.
Murphy said many believe "that this is a crucial moment in American history in which America is undergoing a rare economic transformation, shedding jobs and testing safety nets as the nation searches for new ways to govern and grow our economy."
In the 19th century, he said, Pope Leo found the ideologies of capitalism and socialism inadequate, and instead "insisted on the value and dignity of the worker as a human being endowed with rights and responsibilities. He commended free association or unions as legitimate and he insisted on a family wage that corresponded to the needs of the worker and family. He opened the way to humanize the Industrial Revolution" through Catholic principles about the person in society.
"That encyclical provided moral, and even spiritual, guidance for many of the great social reforms of the last century, including advances in public health, the banking system, public education, living wages, unions and income security" he said.
"Then as today, the church was concerned about the balance between capital and labor, between owners and workers, when new technologies … disrupt the balance and put economic justice and the social contract up for renegotiation," he said.
He said Pope Benedict's encyclical reminds people "that a key, perhaps the key, to overcoming the current economic situation is to unleash the creative forces of men and women. People, not things, must be at the center."
He quoted from the encyclical: "Unemployment today provokes new forms of economic marginalization, and the current crisis can only make this situation worse. Being out of work or dependent on public or private assistance for a prolonged period undermines the freedom and creativity of the person and his family and social relationships. … I would like to remind everyone, especially governments engaged in boosting the world's economic and social assets, that the primary capital to be safeguarded and valued is man, the human person in his or her integrity."
"Pope Benedict links three interrelated components of society in a way that offers a hint at a new way or renewed way to think about a better future," Murphy said. "They are the market, the state, and civil society."
While most of the focus in today's economy is placed on the roles of government and the market, he said, "perhaps the most undervalued and overlooked sector in this framework is that of civil society."
"Could a reawakening and new development of the roles of intermediary institutions, including voluntary associations and unions, be a force to call the market to greater understanding of the centrality of the worker?" he asked. "Could they be a means to restrain, mediate or hold accountable both the state and the marketplace?"
"Pope Benedict believes this," he said. "He suggests that the various components of civil society can work, along with those in the market and the state, to introduce elements in favor of an economy of gift and gratuitousness."
Murphy explained that in introducing "the spirit of gift" into the equation of economic life, the pope was articulating "a Christian understanding that the world and all of creation is a gift from God" and suggesting that this "theological concept" should have a role in shaping deliberations about life in the marketplace.
He quoted from the encyclical: "Economic life undoubtedly requires contracts, in order to regulate relations of exchange between goods of equivalent value. But it also needs just laws and forms of redistribution governed by politics, and what is more, it needs works redolent of the spirit of gift."
The pope, Murphy said, regards economic life as a "multilayered phenomenon" and "believes that introducing a sense of fraternity and gift can become a humanizing and civilizing force for the common good and for greater justice and peace."
Murphy suggested that wage fairness might be a good starting point for a new social contract.
"In too many places across America, workers are not being fully paid for their labor," he said. He cited reports of factory workers whose time starts not when they arrive at work, but when the conveyor belt starts, waiters whose employers do not give them their tips, retail workers who have to clock out and then stay on to restock shelves or take inventory.
"Families struggling to make ends meet cannot have wage earners shortchanged on overtime or not get paid for all the hours they work," he said.
A new social contract for the common good of all humanity "begins by honoring work and workers," he said.
[Jerry Filteau is NCR Washington correspondent.]
Advertisement