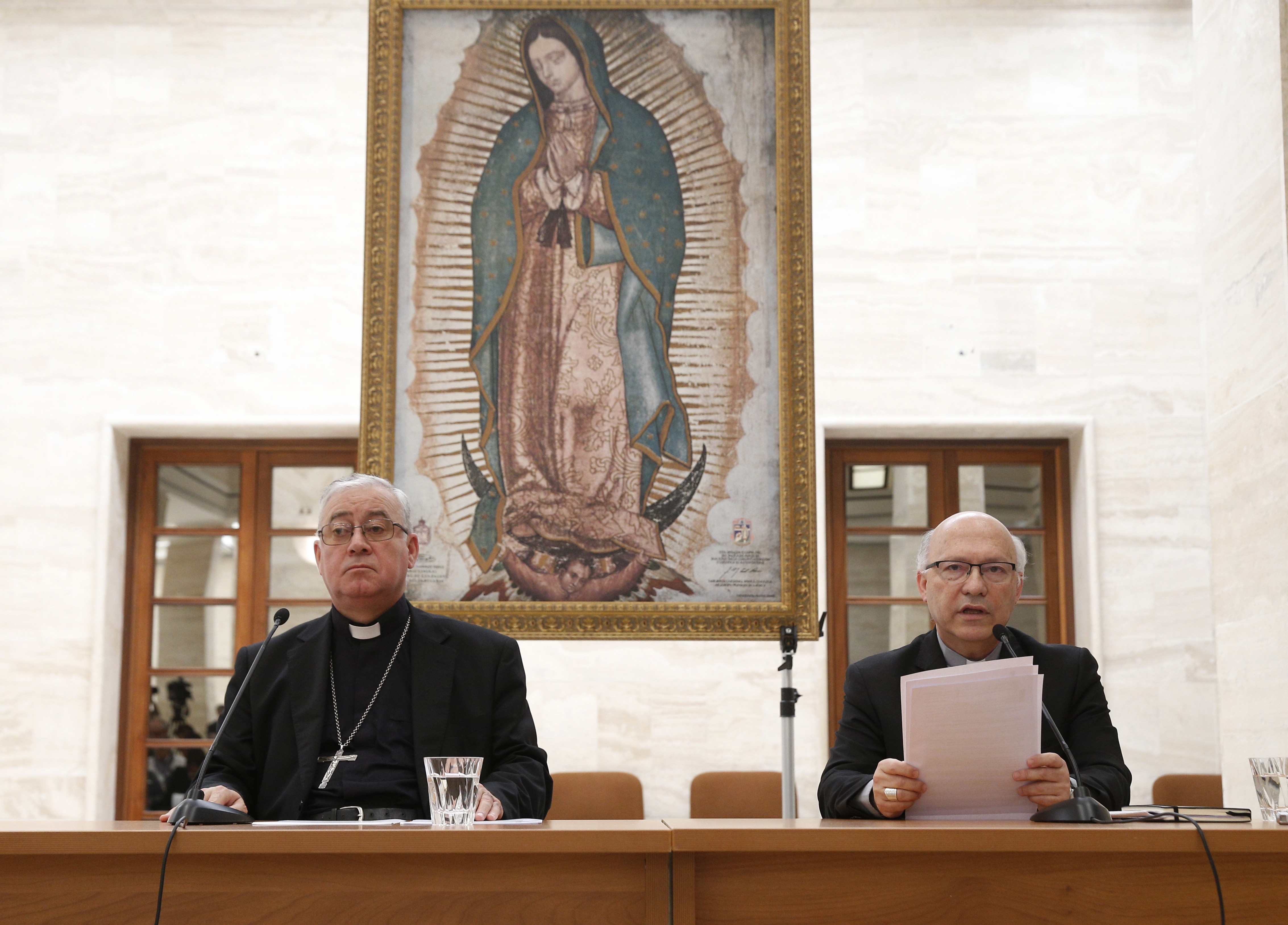 Bishop Juan Ignacio Gonzalez Errazuriz of San Bernardo, Chile, and Auxiliary Bishop Fernando Ramos Perez of Santiago, Chile, attend a press conference in Rome May 18. Bishop Gonzalez said every bishop in Chile offered his resignation to Pope Francis after a three-day meeting with him at the Vatican. (CNS/Paul Haring)
Under increasing scrutiny about the handling of clergy sexual abuse cases over decades, Chile's Catholic bishops said that Pope Francis' emotional meetings at the Vatican with three abuse victims "shows us the path that the Chilean Church is called to follow." Shortly after releasing this statement, the Chilean bishops in Rome announced they have submitted their resignations to Francis en masse and will await his decision for which of their dismissals he will accept.
On the show today:
Joshua J. McElwee, Vatican correspondent
Fr. James Connell, a retired priest in the Milwaukee Archdiocese, canon lawyer, and a founding member of Catholic Whistleblowers
Background reading:
How do I listen?
We can let you know when new podcast episodes are published. Sign up for emails here.
From your iPhone or iPad: Open the preloaded app called "Podcasts." It has a purple icon. If you're reading this from your phone, tap this link, which will take you straight there. (You can also use the magnifying glass icon to search; type "NCR in Conversation.") Once you're on the series page, you can tap on an episode title to play it. Tap on the "subscribe" button to have new episodes sent to your phone. If you prefer another podcast player, you can find "NCR in Conversation" there. (Here's the RSS feed.)
From your Android phone or tablet: You can listen and subscribe using the preloaded Google Play app. If you're reading this from your phone, tap this link to play the latest episode and learn more about the app.
From your desktop or laptop: You can also simply press the play button above to listen on this page. Make sure to keep this window open on your browser, or the audio will stop. You can always find the latest episode of NCR in Conversation at NCRonline.org/podcast.