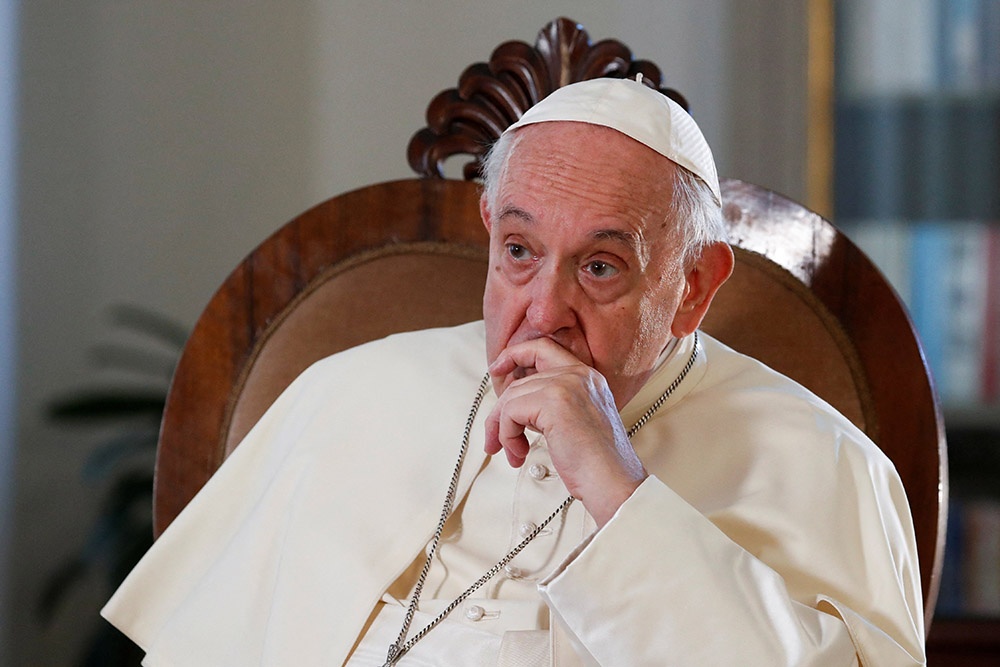 Pope Francis looks on during an exclusive interview with Reuters at the Vatican July 2. (CNS/Remo Casilli)
Author and columnist George Weigel's analysis of the Catholic Church remains stuck in the last century, but he is still syndicated to diocesan newspapers. Therefore, when he writes something really egregious, it is necessary to respond. And last week he wrote a really egregious article, "The War of the Conciliar Succession, continued," which seeks to cram post-conciliar history into his ideological narrative, offering a caricature, not an analysis.
It is true, as he writes, that in the wake of the Second Vatican Council (1962-65), much of the theological debate about the implementation of the council, at least in Western Europe and the U.S., occurred in the pages of two theological journals, Concilium and Communio. This binary was never exhaustive, and it certainly did not subsume theological developments in the Global South, which shaped the current pope's theology and pastoral praxis.
Besides, important though theology is, receiving a council is not as propositional a process as Weigel's binary reduction suggests. Most of being a Catholic has nothing to do with the "profound issues" Weigel claims characterized the Concilium/Communio debates.
Weigel's characterization of the "profound issues" is also more revealing about him than about the issues. He writes:
Is divine revelation real and binding over time, or does contemporary experience authorize the Church to change or modify what God has declared to be true in Scripture and tradition (about, for example, the permanence of sacramental marriage, or the proper expression of human love, or the priesthood of the New Covenant and those who may be ordained to it)? Is the Catholic Church a loose confederation of local Churches who may legitimately follow their own doctrinal and moral paths? Or is the Church truly "catholic," meaning that local expressions of Catholicism must always confess "one Lord, one faith, one baptism" (Ephesians 4:5) with the universal Church? Is Jesus Christ the unique savior and redeemer, such that all who are saved are saved through Christ, even if they do not know him? Or is Jesus one among many expressions of a generic divine will-to-save that manifests itself through various spiritual masters over time? Is the Church's basic task the sanctification of the world or a dialogue with the world?
All these "either/or" propositions are not very Catholic. The Catholic intellectual tradition is humanistic; it seeks to combine and connect; it is characterized by "both/and" thinking; it seeks synthesis.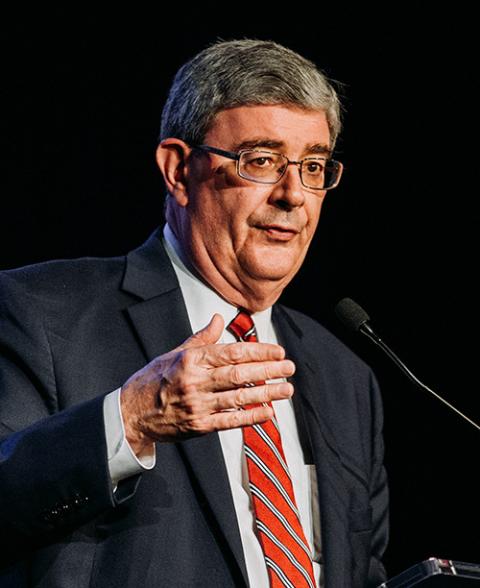 George Weigel speaks at the Napa Institute's 2019 Summer Conference in California. (CNS/Courtesy of Napa Institute)
These propositions are also not very profound. I believe that Jesus Christ is "the unique savior and redeemer" and that in some meaningful way, "all who are saved are saved through Christ," but I do not presume to limit the Godhead's ability to reach beyond the walls of the church to save and redeem whom he wishes to save and redeem. What does it mean to be "saved through Christ" when we also believe that all is created in Christ?
Surely the mysteries of redemption cannot be reduced to Weigel's bumper stickers. He is like Job's friends who claim to be able to explain the mystery of suffering, but God upbraids them, and then turns to Job and gives him a lesson in humility: "Were you there when I founded the earth? Tell me if you have understanding. Who determined its size? Surely you know" (Job 38:4-5).
Weigel claims that the authentic magisterium embraced the Communio interpretation of the council and made it authoritative. He writes, "[Joseph] Ratzinger would eventually see the Communio interpretation of Vatican II — a council of reform within tradition that developed Catholic tradition — vindicated by the Synod of Bishops in 1985 and by the magisterium of Pope John Paul II, which Ratzinger later amplified in his own papal teaching."
Does this mean Weigel is going to renounce his own work on economic and political theory? After all, the leading, and most interesting, Communio theologian in the United States, David Schindler (père), delivered a devastating critique, on Communio grounds, of the political and economic ideas held by Weigel and his colleagues Michael Novak and Fr. Richard John Neuhaus in his book Heart of the World, Center of the Church. You can read my review of that book here.
The real issue in the church in the U.S. today is not whether the Communio or Concilium school of thought has had the greatest impact on Catholic theology. The real issue stalking Weigel's article, which fails to even mention Francis while repeatedly citing his two predecessors, is whether theologians — and some bishops! — who were closely aligned with the thinking and style of St. Pope John Paul II and Pope Emeritus Benedict XVI will accept the magisterial teaching of Pope Francis as an authentic development of conciliar teaching.
It is regrettable that some bishops have taken such a hostile stance toward Francis, too. According to a report in the National Catholic Register, Archbishop Joseph Naumann of Kansas City, Kansas, recently said he was "sad" about the way Francis handled the issue of pro-choice Catholic politicians.
"I think the pope doesn't understand the U.S., just as he doesn't understand the church in the U.S.," he told the German newspaper Die Tagespost. "His advisers and the people surrounding him have completely misinformed him on this."
Silly me. I thought it was the job of a bishop to understand the pope, as much as it was the pope's job to understand the local church. Only Americans think it is everyone else's job to understand us.
Still, I never remember an American archbishop complaining publicly that John Paul II or Benedict XVI failed to understand the U.S. And is that derogatory remark about the pope's advisers an attack on Cardinal Sean O'Malley, the U.S. representative on the Council of Cardinals that advises the pope?
Naumann is a metropolitan archbishop. When he presides at Mass within the province of Kansas City, he wears a pallium, a vestment that is given to all metropolitan archbishops by the bishop of Rome as a sign of both their jurisdiction and their closeness to the see of Peter. Perhaps Naumann should consider surrendering his pallium.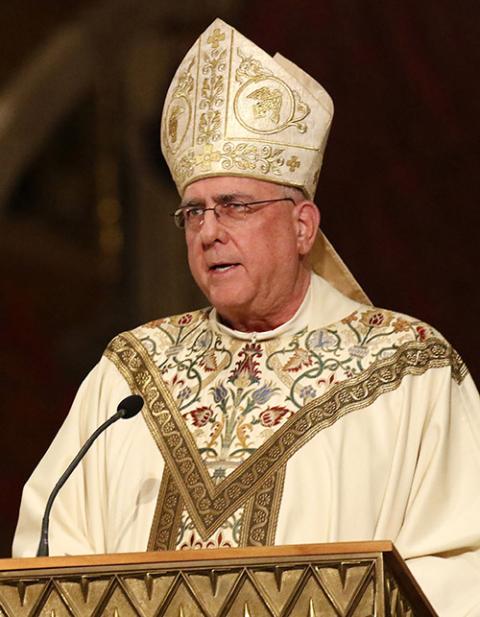 Archbishop Joseph Naumann of Kansas City, Kansas (CNS/Gregory A. Shemitz)
I do not mean to question his integrity; indeed, I know him to be a man of integrity. It is his ecclesiology that is at issue.
Naumann, like many conservative U.S. Catholics, seems to think that being a good Catholic amounts to subscribing to a set of ethical propositions. But as Benedict XVI wrote in the encyclical Deus Caritas Est, "Being Christian is not the result of an ethical choice or a lofty idea, but the encounter with an event, a person, which gives life a new horizon and a decisive direction."
Those pro-choice politicians who Naumann thinks should be denied Communion may, or may not, have experienced this sense of encounter with an event, a person. I do not know. Like Naumann, I think that pro-choice politicians are wrong and that pro-choice Catholic politicians have adopted an "incoherent" position, as Francis recently said.
But using the sacraments to coerce those politicians out of their incoherence and refusing to think that such a person is capable of an encounter with the Lord are presumptuous in the extreme, not only regarding the person but regarding the reach of the Holy Spirit.
The problem with Weigel and Naumann is not only that their vision is crimped, that Weigel is stuck in the theological categories of last century and that Naumann is stuck in a political understanding of Catholic identity.
No, the problem is that these two men are part of a concerted opposition to the Holy Father that is eating away at the ecclesial bonds our church has developed through the centuries and, centered on the successor of St. Peter, guarantee that the church continues to proclaim the Gospel to all nations. Weigel and Naumann care more about their ideological blinders. But here is the thing.
If you always look at the world through the same lens, after a while, it is hard to know if you are actually seeing the world, or just seeing your lens. Jesus came to heal the blind, but pride is the thing that keeps us all at times from asking for healing.