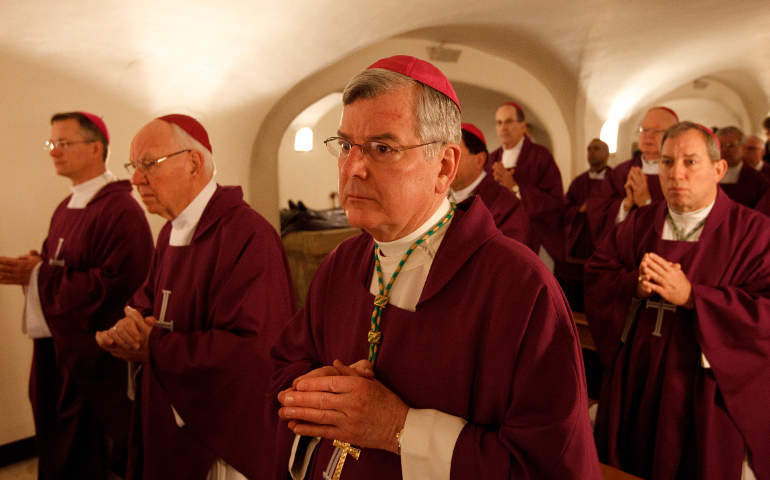 Archbishop John C. Nienstedt of St. Paul and Minneapolis resigned June 14. (CNS)
Vatican City — June 15, 2015
U.S. Archbishop John Nienstedt, a Catholic prelate in the American Midwest whose mismanagement of clergy sexual abuse cases led to his chancellor reporting the archdiocese to authorities more than two years ago, has resigned.
The move comes 10 days after prosecutors in his archdiocese of St. Paul-Minneapolis brought criminal charges against the archdiocese "for its failure to protect children."
In a rare double move, the Vatican also announced Monday the resignation of Auxiliary Bishop Lee Piché, who was tasked last year with investigating allegations of sexual misconduct against Nienstedt himself.
The Vatican announced the two resignations in a note in its daily news bulletin Monday.
Pope Francis has appointed Newark, N.J., Coadjutor Archbishop Bernard Hebda to serve as the apostolic administrator of the Minnesota archdiocese until appointment of a new residential archbishop. Hebda, a canon and civil lawyer, served as the bishop of a diocese in Michigan before he moved to Newark in 2013.
In a statement released by the Minnesota archdiocese Monday, Nienstedt said he resigned his post "in order to give the Archdiocese a new beginning amidst the many challenges we face."
"The Catholic Church is not our Church, but Christ's Church, and we are merely stewards for a time," the archbishop said. "My leadership has unfortunately drawn attention away from the good works of His Church and those who perform them. Thus, my decision to step down."
Piché in his own statement said the people of the archdiocese "need healing and hope. I was getting in the way of that, and so I had to resign."
The resignation of the two Minnesota bishops comes just five days after the Vatican announced that Francis had approved a new set of guidelines for accountability for bishops who do not appropriately respond to clergy sexual abuse, which are to include the creation of a new tribunal to judge bishops at the Congregation for the Doctrine of the Faith.
Vatican spokesman Jesuit Fr. Federico Lombardi told reporters Monday that he did not have information as to whether Nienstedt and Piché were or would be judged according to that new process, but said, "You can ask the question. It is a valid question."
The resignations also come on the same day the Vatican announced that disgraced former papal nuncio Jozef Wesolowski, accused of misconduct with children while he was the pope's ambassador to the Dominican Republic, will be tried at the Vatican with international legal cooperation.
The criminal charges against the Minnesota archdiocese stem from its handling of former priest Curtis Wehmeyer, who is in jail serving a five-year sentence after pleading guilty in 2012 to three felony counts of criminal sexual misconduct with two minors and 17 felony counts of possession of child pornography.
In January, the archdiocese filed for bankruptcy, citing specifically "the scourge of sexual abuse of minors." At the time of the filing for Chapter 11 reorganization, it estimated assets between $10 million and $50 million, liabilities between $50 million and $100 million, and listed between 200 and 1,000 creditors.
The archdiocese remains in mediation with all parties, as ordered by a bankruptcy judge, who in April placed an Aug. 3 deadline on any new claims of sexual abuse. The new deadline moved up by nine months the filing period established by the Minnesota Child Victims Act, which in May 2013 opened a three-year window.
Ramsey County Attorney John Choi announced multiple indictments against the archdiocese June 5 for its alleged role "in failing to protect children and contribution to the unspeakable harm" in Wehmeyer's case. The charges, which include six different counts and a civil petition, allege that many people warned archdiocesan officials about Wehmeyer, but their warnings were not appropriately heeded. Choi's investigation remains ongoing.
The archdiocese was set to appear in court Friday in regard to the criminal charges, but Ramsey County Judge Teresa Warner granted Thursday a joint request for continuance of the civil and criminal charges against the archdiocese to July 17.
Wide complaints about Nienstedt's mishandling of sexual abuse by clergy trace to April 2013, when then-archdiocesan chancellor of canonical affairs Jennifer Haselberger resigned her position and came public, saying she had discovered unreported allegations of clergy sexual abuse and lapses in investigations.
The following news reports of Haselberger's claims led the archbishop in October 2013 to appoint a commission to do an independent lay review of the archdiocese's handling of sexual abuse allegations.
Among the "serious shortcomings" uncovered the following April by the task force of seven lay members commissioned by the archdiocese was "a flawed organizational structure with little oversight and accountability" that employed outdated reporting policies and restricted crucial information from relevant decision-makers and boards.
Nienstedt himself came under investigation in July 2014 for allegations that he had inappropriate sexual conduct with adult priests, seminarians and other men. The archdiocese tasked Piché to oversee an investigation into the allegations and hired prominent area law firms to lead the process. The archbishop has denied the claims, and the status of the investigation remains unclear.
Piché had previously taken over Nienstedt's public duties after the archdiocesan leader removed himself from ministry in December 2013 as an investigation led by Choi examined an allegation that Nienstedt inappropriately touched a boy during a 2009 confirmation photo. The archbishop came back to full-time duty in March 2014 after that investigation found no evidence against him.
Each new report triggered outcry in the Twin Cities, often along with it a call for Nienstedt's resignation. Nienstedt answered adamantly in reply that he would not step down. In a court deposition, former vicar general Fr. Peter Laird, who himself resigned in October 2013, said he had twice suggested the archbishop resign in the wake of the tide of alleged mishandled clergy sex abuse accusations. According to Laird, Nienstedt offered little reaction to either suggestion.
"A bishop's role is more like that of a father of a family than that of a CEO. I am bound to continue in my office as long as the Holy Father has appointed me here," Nienstedt said in a July 30, 2014, column in his archdiocesan newspaper, echoing comments he made to NCR earlier in the month.
The Minnesota archdiocese's second auxiliary bishop, Andrew Cozzens, remains in his position following Nienstedt and Piché's resignations. Hebda said in a statement Monday that he wanted to work with Cozzens and prayed he could be "of some service to you, the priests and faithful of the Archdiocese, as you prepare for the appointment of a new Archbishop."
Nienstedt's resignation comes after unconfirmed rumors that he had abruptly and unexpectedly left the annual spring meeting of the U.S. bishops' conference, held last week in St. Louis. The archbishop may have traveled to Rome to meet with Vatican officials.
The Minnesota resignations follow the resignation in April of Kansas City-St. Joseph, Mo., Bishop Robert Finn, who in September 2012 became the first bishop criminally convicted of mishandling an abusive priest.
Like Finn's resignation, Monday's announcement did not specify new roles for either Nienstedt or Piché, an unusual circumstance in a Catholic church where bishops normally serve in public roles until at least the traditional retirement age of 75. Nienstedt is 68; Piché, 57*.
A prelate known for his more conservative viewpoints, Nienstedt previously served as the bishop of New Ulm in western Minnesota and as an auxiliary bishop in the archdiocese of Detroit before coming to St. Paul-Minneapolis in 2008. He also spent time in Rome in the 1980s, working at the Vatican's Secretariat of State.
Before the abuse scandal surfaced, Nienstedt had become a lightning rod in Minnesota for his leading public role in the push against same-sex marriage. A constitutional amendment he and other Minnesota dioceses supported that would define marriage as solely between one man and one woman failed in November 2012, and six months later, the state legalized same-sex marriage.
This story was updated at 9 a.m. Central time.
*A previous version of this story misstated Auxiliary Bishop Lee Piché's age as 65.
[Joshua J. McElwee is NCR Vatican correspondent (jmcelwee@ncronline.org). Follow him on Twitter: @joshjmac. Brian Roewe is an NCR staff writer (broewe@ncronline.org). Follow him on Twitter: @BrianRoewe.]
A version of this story appeared in the July 3-16, 2015 print issue under the headline: Archbishop and auxiliary step down.