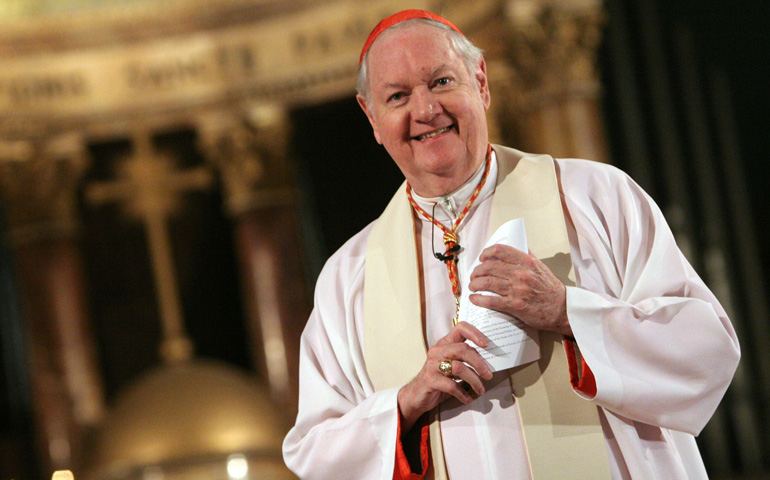 Cardinal Edward Egan presides at a ceremony for opening the cause for canonization of Paulist Father Isaac T. Hecker on Jan. 27, 2008, in New York. (CNS/Gregory A. Shemitz)
Cardinal Edward Egan, who served as archbishop of New York through the trauma of the 9/11 terror attacks and the clergy sex abuse scandal but was best known for administrative acumen that helped solidify the finances of the sprawling archdiocese, died on Thursday. He was 82.
Egan suffered a heart attack right after lunch at his apartment and was rushed to NYU Langone Medical Center, where he was pronounced dead at 2:20 p.m., Cardinal Timothy Dolan said.
"Join me, please, in thanking God for his life, especially his generous and faithful priesthood," Dolan said in a brief statement.
Egan was appointed archbishop in May 2000, shortly after the death of the legendary Cardinal John O'Connor. When Egan retired in February 2009 -- making way for Dolan -- he was the first archbishop of the city to leave office while still living.
Egan was always viewed as something of an outsider to the outsize role of what St. John Paul II once called "archbishop of the capital of the world."
He was born in the Chicago suburb of Oak Park, Ill., in 1932 and raised in well-to-do circumstances, unlike the working-class background of many other bishops. A childhood bout with polio left Egan with a slight limp for the rest of his life.
After entering the seminary, Egan was tapped to study in Rome, and he returned there after his ordination as a Chicago priest to work for several years as a canon lawyer. During those stints at the Vatican and in later posts as an aide to senior churchmen, Egan developed many of the connections that would ensure his name was in the mix when new bishops were named.
In 1985, he was made an assistant bishop to O'Connor, and just three years later, he was named bishop of Bridgeport, Conn., before returning to New York as archbishop and then cardinal. The capstone of his career was hosting Pope Emeritus Benedict XVI for his 2008 visit to New York, including Mass at Yankee Stadium.
Egan was always known for his refined tastes and his love of classical piano, and he had a sonorous baritone that made him come off as stuffy, especially compared with the gregarious, down-to-earth cardinals who preceded him and followed him.
Egan also faced intense criticism for his track record in fighting claims of clergy sexual abuse.
But if Egan was never beloved by priests or parishioners the way other archbishops were, he also had a tough job to do.
When he took over, the 3 million-member New York archdiocese reportedly had a $20 million annual operating deficit and an outdated, outmoded infrastructure that needed a serious overhaul.
Egan tackled that unpopular task and, through layoffs and restructuring and fundraising, quickly improved the situation.
Egan ministered to the injured and buried the dead after the 9/11 attacks on Lower Manhattan, but he also had to travel to Rome shortly afterward to help preside over a major Vatican conference.
He pleaded with John Paul to be allowed to return, and finally succeeded in getting back to the city. But the episode, combined with his struggle to connect with his flock as a pastor, dogged his reputation.
That time, when his loyalty to the city was questioned, was "the worst thing that ever happened to me in my life," Egan told The Associated Press in a 2011 interview.
"I feel that whatever grace I gained by going through that, I said to the Lord, use for anybody who was hurt in this tragedy," Egan said.