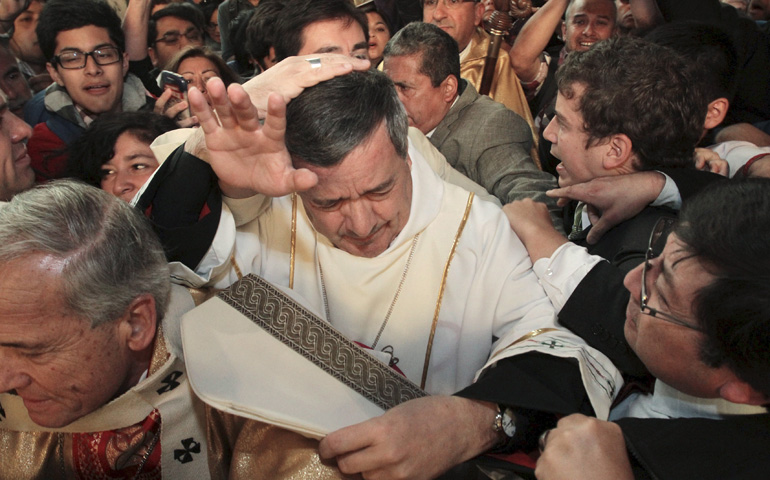 Bishop Juan Barros Madrid, center, attends his first religious service as citizens protest against him March 21 at the cathedral in Osorno, Chile. (Newscom/Reuters/Carlos Gutierrez)
Santiago, Chile — July 7, 2015
Back home among his own in Latin America this week, Pope Francis is evangelizing from the peripheries, challenging the world from the standpoint of the disenfranchised and the marginalized.
Yet to a small diocese 500 miles south of the Chilean capital, Santiago, the pope's gestures and words ring somewhat hollow. The priests and laypeople of Osorno, a remote town not far north from Puerto Montt, remain reluctant to criticize Francis openly, preferring to believe he has been badly informed. But there is no doubting their anger and bewilderment at the way their local church has been steamrollered and their appeals ignored.
This week, three delegates of the Organization of Lay People of the diocese, which has just 23 parishes, are traveling to Santa Cruz, Bolivia, in the hope of presenting a letter to Pope Francis during the World Meeting of Popular Movements, which Francis is to address Thursday.
They have been protesting since January, when it became clear that the Vatican would press ahead with the installation of Juan Barros Madrid as Osorno's new bishop, a move as unpopular with Chile's other bishops as it was with the clergy and laypeople of the diocese.
Their anger was vividly displayed during Barros' installation March 21 after weeks of candlelit vigils and demonstrations. The scenes at the cathedral that day were deeply shocking: Members of the congregation yelled at each other across the aisles; protesters with black balloons heckled and shoved the new bishop, who was forced to cut the Mass short. There were doubts later that the Eucharist had been validly celebrated.
Most of Chile's bishops stayed away -- something unheard of at a bishop's installation Mass -- including its two cardinals.
When I visited Chile a few weeks later for the Spanish-edition launch of my biography of Pope Francis, I struggled to answer the same question in countless media interviews: What is the pope up to?
I knew from private conversations with Cardinal Ricardo Ezzati Andrello and others of the extent of the pope's involvement in the decision and Ezzati's own efforts to get him to rescind it. Francis refused. He was not just well-informed, but wholly behind it.
The question is, and remains, why.
The shadow of Karadima
In letters to Rome via the nuncio over many weeks, 30 of Osorno's 41 priests and 1,500 of its lay Catholics made the same point: Barros' baggage made him unsuitable to lead a diocese.
Barros was for decades part of a close-knit priestly society based in the upper-class Santiago parish of El Bosque. The charismatic founder of the so-called Asociación Sacerdotal, Fr. Fernando Karadima, was a dynamic and well-connected priest close to the military government of Gen. Augusto Pinochet and to the then-nuncio, later Pope John Paul II's secretary of state, Angelo Sodano.
Karadima turned out to be also a deeply manipulative abuser who used a powerful cocktail of sexual guilt and secrecy to gain a psychological grip on his victims, who were young seminarians at the time.
The evidence of Karadima's abuse in the 1980s and '90s detailed by four of his victims was verified by Chile's judicial court, but the statute of limitations meant Karadima escaped prosecution. A separate Vatican investigation found him guilty, and since 2011, he has been condemned to a life of prayer and penance in a convent outside Santiago. Citing abuse of authority and irregularities, Rome ordered the dissolution of his association.
The parallels with the case of Marcial Maciel Degollado in Mexico -- down to the friendship with Sodano -- are obvious: Both priests were manipulative geniuses who ran authoritarian, secretive sects and exploited their pious standing among the elite to conceal their depravity. In fact, it was a TV documentary about Maciel that encouraged Karadima's victims to step forward in 2003, although it would be many years before their stories were made public or acted on, partly because the then-archbishop of Santiago, Cardinal Francisco Errázuriz, found the stories hard to accept.
Since the revelations exploded in 2010, Chilean society -- in which the church is in many ways a conservative, aristocratic institution -- has been reeling from their implications. El Bosque de Karadima, a fictional reconstruction of the scandal based on the testimony above all of one of the victims, James Hamilton, has been playing to packed houses in Chilean cinemas in recent weeks. One of the characters, whom the movie's director says represents Barros, energetically covers up for Karadima.
The role of Barros
No canonical or civil case has ever been brought against Barros. But the Catholics of Osorno say the baggage he brings objectively disqualifies him in canon law from being their shepherd.
They point to his being cited in the victims' testimonies as having been present during sexual acts. One of the victims, Juan Carlos Cruz, describes in detail how Barros himself was part of Karadima's sex games. Later, as secretary to the then-cardinal archbishop of Santiago, Juan Fresno, Cruz and others said Barros covered up for Karadima by destroying correspondence.
None of these allegations has been the subject of an inquiry, and Barros denies them, saying that the first he knew of Karadima's abuse was in 2010. Yet the weight of testimonial evidence, upheld by Chile's courts, is hard to ignore.
"When Bishop Barros says he saw nothing, it's not that we don't believe him, it's that the burden of proof is against him, according to the conclusions of the judicial authorities," says Juan Carlos Claret, a 21-year-old law student who is spokesman for the organization of laypeople in Osorno.
Claret is one of three Osorno delegates traveling to Bolivia in the hope of putting their concerns to Pope Francis.
For Fr. Peter Kleigel, a German-born priest who has spent 49 years in Osorno, the issue is Barros' apparent lack of remorse or self-awareness.
"In 35 years of a close relationship, he simply cannot say he knew nothing," he told NCR in a telephone interview. "He still defends Karadima and has never asked forgiveness. That is why we object to his nomination."
A diocese divided
The Chilean media describe Kleigel -- who has been leading the protest on behalf of the clergy -- as Osorno's "illustrious son" for his role in creating the dignified dwellings of the St. Maximilian Kolbe township, the fruit of decades of grass-roots efforts imbued by the Gospel and patient community-building centered on the parish.
It is hard to imagine, in fact, a priest more in the mold of Pope Francis than Padre Pedro: an austere missionary wholly bonded with his community after years of dedicated pastoral service.
For the last few months, since the Osorno church was outraged to discover that Barros would be their bishop, Kleigel, who retired as parish priest in 2011, has found a new mission speaking on their behalf, writing to the nuncio, speaking to the media, and even meeting Barros himself -- both alone and with local clergy -- in an attempt to reverse the decision.
"We have been treated like stupid sheep. Yet, in fact, our people are very well educated in their duties and rights in the church as result of the work of the former bishops," he said in lightly German-accented Spanish. "It is an offense to the community to say to them, 'We have no other bishop, take this one.' This is what our community won't accept. The pope can be wrong about this."
Since Barros' installation, the anger in Osorno has if anything gotten worse. Parishioners have been withholding weekly donations, walking out of churches if the bishop appears by surprise there, and asking the bishop to send a delegate to perform confirmations rather than do them himself.
The campaign is not personal, Kleigel said -- "We wish Barros well and wish to be reconciled with him" -- but about his suitability to be the ordinary. A bishop, he said, should be "a factor of unity, not division and scandal."
Asked if his campaign leads logically to a local veto over a nomination -- in effect, the right of a diocese to reject its pastor -- Kleigel does not demur.
"Well, that comes later," he said. "We're at the beginning of the church waking up, and that's good."
A reawakening in Osorno
One of the unforeseen effects of the controversy has been the galvanizing of the laity in Osorno, who now regularly meet for discussion and to study church documents.
"What we want is respect, participation, and to be listened to," Kleigel said. "We're not saying the system has to be changed, just modified so we are not ignored."
The Osorno awakening has spread to other dioceses, some of which sent delegates to a 300-strong meeting organized by Claret and Kleigel in mid-June. In its agreed statement following the meeting, the Osorno Catholics said the Barros transfer "has produced scandal, division and desertion among not a few of the faithful, at both local and national levels." The statement calls for "opening up broader spaces of lay participation in the mission of the Church."
The gathering led to a three-hour meeting with Barros and the archbishop of Puerto Montt, Cristián Caro Cordero. According to Claret, Barros continued to insist he had been given his mission by the pope while Caro insisted that there was no canonical or civic obstacle to the appointment and everyone should move on. The five Osorno delegates insisted on the objective impediments and urged Barros to resign. There was little scope for agreement or compromise.
Accounting for Francis
What is the pope up to? The transfer of Barros to Osorno appears to torpedo a number of his objectives. Imposing Barros over the local bishops flies in the face of collegiality, and steamrollering a small diocese in southern Chile does little for restoring the voice of the margins. Ignoring the claims of abuse victims, meanwhile, undercuts the pope's own Commission for the Protection of Minors, which has energetically complained to Francis via its chairman, Cardinal Sean O'Malley.
One answer is that the pope's hands were tied. Barros, already a bishop and legally innocent, had to be given a diocese. If Francis had suspended him, the guns would soon be out for the three other bishops who were close to Karadima in their time.
Alternatively, it was a deliberate, personal decision by the pope, who met Barros at the end of February for an hour. Barros had spent the previous month in a Madrid retreat led by a Jesuit close to Francis, Fr. Germán Arana Beorlegui, who was reported to be satisfied.
Whatever the explanation, Francis appears discerned and in full possession of the facts, following energetic efforts by Ezzati to dissuade him.
But whatever the pope's reason for naming Barros, down in Osorno, they are not giving up or slowing down.
As long as Barros does not resign, Claret said, they will continue to organize protests and actions because the Gospel does not allow them to accept the "revictimization and impunity" that Barros represents.
"We are convinced that God is speaking from the south of Chile," Claret told NCR.
It sounds like something Pope Francis himself would say.
[Austen Ivereigh is author of The Great Reformer. Francis and the Making of a Radical Pope (Henry Holt), which will be published shortly as a Picador paperback.]
A version of this story appeared in the July 17-30, 2015 print issue under the headline: Chilean locals resist bishop's appointment.