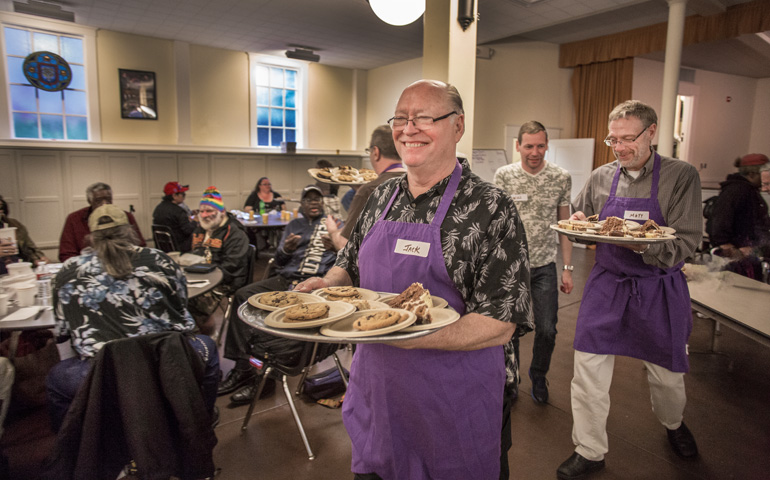 Precious Blood Frs. Jack McClure, center, and Matt Link, right, serve dessert during a Wednesday supper at Most Holy Redeemer Parish in San Francisco. (Dennis Callahan)
San Francisco — March 10, 2015
This is the first in a five-part series about San Francisco's Most Holy Redeemer Church. Each day this week, we will publish one part of this story. Find all parts here.
On a damp and chilly Saturday morning, a dozen men and women converge on Most Holy Redeemer Church at 18th and Diamond in the heart of the Castro. Entering, they peel off gloves, remove their hats and take a place in pews near a wooden altar that sits on a platform in the center of the church.
Mostly in their 60s or 70s, these parishioners have come to church for the 8 a.m. Mass. They're familiar with each other, offering a greeting of nods or quiet "good mornings" as they settle in.
Precious Blood Fr. Jack McClure, standing near the altar, is preparing for Mass. He kisses a stole, places it over his shoulders, and then sits down in the front pew with the group.
Several men next to the altar struggle to cut hardened wax from the tips of altar candles as they look for wicks large enough to light. One man fetches the cruets; another, the altar missal. One in the group announces the opening hymn: "O Come, All Ye Faithful."
The Mass has an intimacy lasting less than a half hour, punctuated by McClure's homily. Coming two days after Christmas, he references the Nativity story and Mary and Joseph's search for shelter.
"Everyone needs shelter; everyone needs a protective environment," McClure notes, adding this is precisely what Most Holy Redeemer attempts to do -- provide shelter. He talks about the need to maintain an open and accepting parish.
"And just as our parish is an accepting parish," he adds, "each of us needs to be accepting people. But sometimes the most difficult thing about being accepting is accepting ourselves."
His words, hardly idle, seem to have special application to those gathered for the liturgy. They listen intently. A few nod.
Most Holy Redeemer Parish has earned a reputation locally -- and beyond -- for being a distinctly open and accepting parish. It actively welcomes everyone, no questions asked. The parish motto is "God's inclusive love proclaimed here." A banner hanging above two large doors that open up into the church is inscribed with these words.
But this isn't what makes Most Holy Redeemer, or "MHR," as the locals call it, one of the nation's most distinctive parishes. The parish has the reputation of likely being the "gayest" Catholic parish in the nation. Eighty percent of its parishioners are LGBT people.
MHR draws its parishioners not only from within the Castro, but also from throughout the San Francisco Bay area. Furthermore, most lesbian, gay, bisexual and transgender Catholics who visit this West Coast city know of its welcoming reputation, and so the pews at Sunday services invariably are filled with Catholics from across the nation.
The parish's "gayness" isn't the only thing that makes it unusual. MHR, unlike most other local parishes its size, has two priests who work as a team. Other San Francisco parishes its size, with some 400 single or family units, struggle to keep even a single priest.
McClure and Precious Blood Fr. Matt Link, his associate, or formally his parochial vicar, came to Most Holy Redeemer in July 2014, volunteering to fill a vacancy. McClure, 70, came out of semiretirement from Liberty, Mo., following heart surgery; Link, 52, left a parish north of the Golden Gate Bridge in Tiburon, Calif. Current plans call for Link to succeed McClure as pastor in July.
In a few short months, the priests have settled into parish life.
George Woyames, a parishioner going back decades, has seen many priests come and go. He says McClure and Link complement each other, describing the former as a strong man with a clear vision, "a Paul Bunyan with a cross," and Link as a man "filled with the spirit."
Listening to stories
The story of Most Holy Redeemer is best understood within the context of the pain and rejection its parishioners (and the wider LGBT Catholic community) have experienced at the hands of the Catholic church. It cannot be fully understood without listening to stories heard within the parish of torturous self-reflection, confusion and loneliness, stories of banishment and long searches for a place that could provide comfort and community.
The Gospels reveal Jesus had close relationships with men and women and taught nothing specifically about sexuality. Early Christian communities, influenced by Greek stoicism, infused the church with some of its earliest negative attitudes about sex. So negative were views on sex that concessions were made to sexual intercourse as a necessity to maintain human propagation. Indeed, the church has taught that original sin was passed down through the sex act.
Some of this negativity lifted from Catholic sexual ethics after Thomas Aquinas settled on understandings of nature and natural law theology as a moral guide in matters of sexuality. Insights gathered from 20th-century natural and social sciences in terms of what it means to be fully human have struggled to gain a foothold in official Catholic teachings on moral theology, but with limited success.
The institutional church professes that all expressions of sexual intimacy must be limited to marriage and must always be open to procreation. These teachings eliminate gays and lesbians from having any licit intimate relations. The Catholic hierarchy has routinely rebuffed efforts by Catholic theologians to introduce a more pastoral moral theology.
While rigid Catholic teachings that condemn all gay sex acts have held steadfast for centuries, wider public attitudes toward LGBT lifestyles have undergone revolutionary change in just a few decades, especially in the West. In the 1990s, for example, most Americans said they knew no one who was gay. Today, 60 percent say someone close to them is gay. A majority of Americans now support legally recognizing same-sex marriage.
Official church teachings call for LGBT tolerance and acceptance, but church practice belies this. Countless stories continue to be recorded of lesbian and gay Catholics who are fired from parish or diocesan jobs simply for going public that they live in a same-sex relationship.
When applied to religious or clerical life, the virtue of chastity is viewed as a gift given to a relative few -- those who enter religious communities or become priests. When applied to LGBT people, there is no talk about chastity as a "gift." Rather, the institutional church teaches, it is a demand, an obligation, across the board, for all. LGBT people, the church teaches, must refrain from all sexual intimacy.
This seemingly impossible demand and concomitant threat of serious sin has sent countless young LGBT Catholics into confusion and self-loathing and even to suicide.
Reaffirming official church teachings, a 1986 Congregation for the Doctrine of the Faith document signed by its head, Cardinal Joseph Ratzinger (the future Pope Benedict XVI), famously called the gay inclination "objectively disordered."
The next year, San Francisco Archbishop John Quinn, a reform-minded prelate, tried to soften the blow, writing in America magazine that "every person has disordered inclinations." By then, however, too much damage was done, and many LGBT Catholics who had already written off the church as uncaring and judgmental had even more reason to do so.
Catholic sexual morality took on a more distinct political form in the last decade. In 2003, responding to a growing call for the legalization of civil same-sex marriage, the Vatican denounced such unions, saying it found "absolutely no grounds" to support them. Gay rights groups, in turn, denounced the Vatican statement, calling it misdirected and hurtful.
The Catholic institutional church standoff against LGBT people and their supporters and, in turn, their views toward Catholicism, held steady for a decade or more -- until July 29, 2013. That was the day Pope Francis, not yet four months into his pontificate, answered a reporter's question about gay priests in the Vatican, saying: "If a person is gay and seeks God and has goodwill, who am I to judge?"
Francis' words quickly defined his pontificate as one that would be less judgmental and more focused on the mercy of God. His humility and pastoral outreach stirred countless millions of Catholics, but landed perhaps most welcomingly among LGBT Catholics.
Part two of this story will be published on Tuesday, March 17.
[Thomas C. Fox is NCR publisher. His email address is tfox@ncronline.org.]
Editor's note: It is with deep regret that we have decided to end commenting on this series of stories. We gave a fair hearing to those who object or question aspects of this story, but too often, the same few points were being raised multiple times, which is against our user guidelines and was disrespectful to some of the people portrayed in the article. We encourage respectful discussion in our comments threads but reserve the right to close them when discussion is no longer productive, which has happened in this case.
A version of this story appeared in the March 13-26, 2015 print issue under the headline: God's community in the Castro.