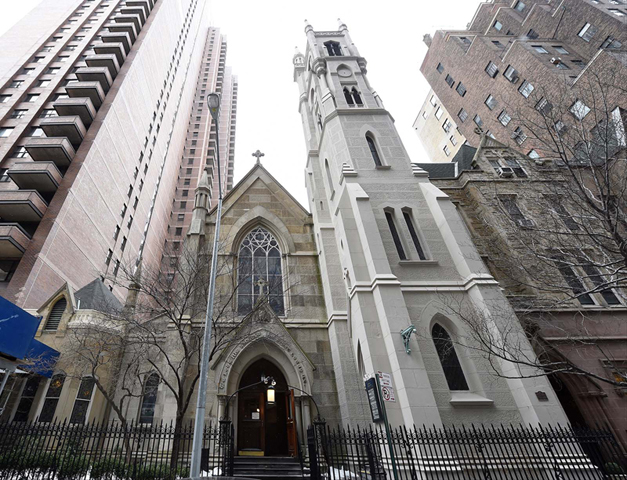 St. Thomas More church in New York City (RNS/USA Today/Robert Deutsch)
Our Lady of Vilnius Church, built by families of immigrant Lithuanian longshoremen, started out a century ago as a beloved worship space. Now, it's a coveted real estate asset.
In 2013, six years after the church was closed, it was sold for $13 million to one of the city's biggest developers. The following year, that company flipped it like a pancake to another developer for $18.4 million.
Now the yellow brick church near the entrance to the Holland Tunnel awaits demolition to make way for an 18-story luxury apartment house.
"It makes you cynical," says Christina Nakraseive, a former parishioner who supported the legal case against the church closing until it was rejected by the state's highest court. "It seems like it's all about real estate."
The issue has taken on added significance since the Catholic archdiocese of New York, citing declining attendance, rising costs and a looming priest shortage, announced plans to merge scores of parishes and close dozens of churches this year.
The move raises an issue that has been faced by thousands (no one seems to know exactly how many) of shuttered houses of worship across the Northeast and Midwest: what to do with buildings that are often architecturally important and always sentimentally important, especially since a church's shape, age and location make the building hard to reuse.
The booming residential real estate market in parts of Manhattan and Brooklyn offers a solution, albeit controversial: Demolish them -- or even convert them -- to allow for housing.
Several closed churches have been torn down to make way for apartment houses, including Mary Help of Christians in the East Village, which preservationists failed to save.
A few have been converted to apartments. A developer who paid $13.8 million in 2011 for St. Vincent de Paul Church in the Williamsburg section of Brooklyn turned it into the Spire Lofts, a 40-unit apartment house. A former Pentecostal church in the Greenpoint section was converted into three apartments, each renting for about $100,000 a year. Wood-beamed ceilings and peaked windows remind residents of the building's ecclesiastical roots.
Several other such projects are in the works. The Episcopal Church of the Redeemer in Brooklyn probably will be torn down, and St. Mark's Evangelical Lutheran Church in the same borough will be converted into apartments, with a triplex in the steeple.
There are worries that real estate values might undercut gospel ones.
Robert Corti worships at Our Lady of Peace, whose red brick 1866 building will close when the parish merges with another on the East Side under the archdiocesan program called "Making All Things New" (which skeptics have dubbed "Making All Things Condo" or "Making All Things Revenue").
Our Lady of Peace was established by Italian immigrants who felt unwelcome in other parishes. Corti's grandparents were married there; he, his mother, his aunt, his sister and his grandchildren were all baptized there. He walks eight blocks to go there, even though another church is closer.
Corti, a former CFO of Avon Products, understands cost-cutting and downsizing. But he says closing a church in good physical and fiscal condition will alienate its loyal and generous parishioners.
The church sits in an official city historic district. Its façade is protected, but the building could be sold and its interior changed or demolished. Corti notes that the ongoing five-year renovation of the 137-year-old St. Patrick's Cathedral in Midtown Manhattan will cost $180 million, of which about $70 million has yet to be raised.
"That's a big gap," he says. As for a possible connection between his church's real estate value and the decision to close it, he wonders, "Could it be a factor? They say not."
The archdiocese says some churches in merged parishes will not totally close (Our Lady of Peace may be used on unspecified "special occasions"); those that are closed will not be sold anytime soon; and any sale proceeds will be used to endow things such as Catholic schools and religious education -- not for archdiocesan operating expenses or St. Patrick's.
A church closing is not a quick way to turn real estate into cash, if only because it takes time to deconsecrate a church when the process is contested. The 2007 closing of St. Vincent de Paul in Manhattan is still on appeal to the Vatican.
About a mile uptown from Our Lady of Peace, St. Thomas More parish also finds itself endangered, even though it's not yet clear the parish will be merged with another or what might happen to its buildings, which are not city landmarks.
St. Thomas More is a rich church in a rich neighborhood. Jacqueline Kennedy Onassis worshipped there, and it was the site of John F. Kennedy Jr.'s memorial service. Its building, which has a 19th-century pastoral elegance, is usually filled on Sunday.
It's also the parish of The Wall Street Journal's Peggy Noonan, who wrote a testy column in which she reported that parishioners wonder if "the archdiocese is driven by what drove Henry VIII, politics and real estate."
She wrote that the church and its land "could bring in $50 million, maybe $100 million," adding: "Any developer would jump at the chance." Instead, she suggested that Cardinal Timothy Dolan sell his palatial residence on Madison Avenue.
In a testy rebuttal, Bishop John O'Hara, a Dolan aide who has supervised the consolidation, wrote that "the process has nothing to do with real estate."
Dolan says his archdiocese can't keep spending $40 million a year to support "unneeded" parishes. "We have too many parishes!" he wrote in a pastoral letter. "We no longer need 368 parishes in their current locations! ... There are 29 parishes in the South Manhattan Vicariate alone -- all concentrated on 14th Street or below!"
It's not just money, Dolan says. The archdiocese will soon face a critical shortage of priests to administer its parishes.
They no longer include Our Lady of Vilnius, once a touchstone of Lithuanian Catholic identity and closed in 2007 because of what the archdiocese described as a dwindling congregation, a weak roof and a pastor who could not "understand, read or speak Lithuanian."
Former parishioners such as Chris Nakraseive still gather occasionally on Sunday to pray outside their old church's locked front doors. They came Thursday, the eighth anniversary of its closing, to display icons, burn candles, sing hymns in Lithuanian and say the "Hail Mary."
They're not the only ones who mourn the church. A neighborhood resident, Laura Barker, also stopped by. "I still miss the sound of the bells," she said.