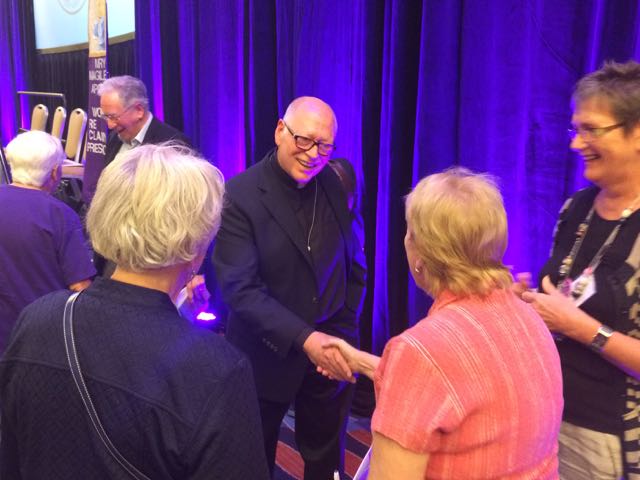 Fr. Jack McClure greets women after WOW panel. (NCR photo/Tom Fox)
Two days after appearing at a women's ordination conference in Philadelphia, Precious Blood Fr. Jack McClure said today he has been told he can no longer celebrate Mass at Most Holy Redeemer parish in San Francisco where he has been pastor and parochial vicar for the past 15 months.
According to McClure, he was informed by Precious Blood Father and Most Holy Redeemer pastor Matthew Link that the secretary for San Francisco Archbishop Salvatore Cordileone said McClure can no longer celebrate Mass beyond the end of this month.
McClure said his last Mass will be Sunday, Sept. 27.
"I feel bad about this. I feel bad for the parish. I feel bad about this silencing," said McClure. "But I want to make it known I appreciate the generosity Archbishop Cordileone has shown me and my religious community for allowing us to serve in his archdiocese. However, in conscience I needed to break my silence."
The result of this new development, McClure said, is not all bad. "I feel the pain of being silenced," he said, "and in this silencing I am beginning to feel the deep pain women feel all over the church."
He said he came to the Philadelphia conference in the spirit of the dialog he said Pope Francis had called for in the church. "I really feel I want to participate in this dialog," he said.
McClure and Link began their ministry at Most Holy Redeemer parish, located in the San Francisco Castro district, in July 2014. The parish had been looking for priests, and Link approached the archdiocese with the idea of allowing him and McClure to come to Most Holy Redeemer to serve as a team.
Most Holy Redeemer has a history of being a "welcoming" parish, and over the years it has attracted many gay, lesbian, bisexual and transgender Catholics, some of whom have felt unwelcome in other Catholic parishes.
McClure, 70*, initially served as pastor at Most Holy Redeemer. Link took over as pastor last July 1. Since then McClure has served as parochial vicar.
Just before traveling to Philadelphia, McClure submitted a resignation letter to Link, relinquishing his position as parochial vicar. His intention had been to move across the San Francisco Bay, live in Berkeley, and help out on weekends at Most Holy Redeemer, offering support to Link as he could. The Precious Blood Fathers have a residence and small community in Berkeley.
"I am no longer able to be 'on call' during the week for MHR pastoral needs as required of a Parochial Vicar," McClure wrote Link Sept. 17. "As you know, [Precious Blood Provincial] Fr. Joe Nassal has asked me to have a presence in our CPPS Berkeley Community."
However, following conversations Link said he had with San Francisco archdiocesan staff over the weekend, McClure will no longer be able to celebrate Mass at any time at Most Holy Redeemer beyond the end of this month.
Link said he had spoken with several members of the archdiocesan staff, including Vicar for Clergy Fr. Raymund M. Reyes.
Asked for a comment Link said: "It's tough."
Cordileone, late Monday, issued the following statement: "I'm very pleased with the pastoral care that Fr. McClure gave to the community at Most Holy Redeemer, and also that he has the opportunity to serve his order's Berkeley Community nearby."
McClure appeared at the WOW conference on a panel of three men, Tony Flannery, Roy Bourgeois and Paul Collins, all priests who have been dismissed, excommunicated or forced to resign based on their support for women's ordination.
Before McClure spoke he asked the women to join him in prayer, asking the Holy Spirit to help guide him as he spoke. He cited scripture, which told a story of Jesus walking with women. He talked about Pope Francis' call to dialog. He told the women he wanted to support them in their efforts to end discrimination.
Miriam Duignan, a member of the WOW leadership team, said today she felt bad about the McClure sanctions. "I don't want him to be homeless. I don't want him to be an outcast. It's crazy."
Said Duignan: "I am shocked that our church is still capable of causing this kind of harm -- to punish a 71-year-old man for saying publicly what thousands of priests are saying privately all over the world."
[Fox is NCR publisher and director of Global Sisters Report. He can be found on Twitter at @NCRTomFox and can be reached at tfox@ncronline.org.]
*An earlier version of this story had an incorrect age.