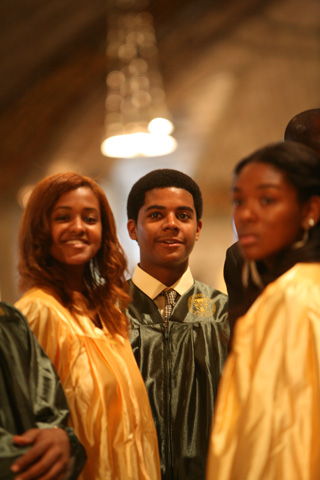 From left, Tsion Abera, Michael Chase and Melissa Savage attend Archbishop Carroll High School's 2013 Baccalaureate Mass on May 22 in Washington, D.C.
The marchers, about 1 million strong, came from across the United States and throughout the city of Washington. On that unforgettable day, Aug. 28, 1963, participants in the March on Washington heard those historic words of the Rev. Dr. Martin Luther King Jr.: "I have a dream."
That dream still lives five decades later. The majestic statue of King at his new memorial in Washington reminds us of his towering achievement in bringing our nation to a fuller awareness of the equality of all people before God. His dream, with its roots deep in prayer and sacred Scripture, continues to challenge us to see each other as brothers and sisters, children of the same loving God.
To a crowd of people from many backgrounds, walks of life and religious traditions, King added, "We cannot walk alone." Standing with him at the Lincoln Memorial was my predecessor as archbishop of Washington, Archbishop Patrick O'Boyle, who offered the invocation, praying "that the ideals of freedom, blessed alike by our religious faith and our heritage of democracy, will prevail in our land."
Before the march, O'Boyle had encouraged local Catholic groups, parishes and universities to participate and offer hospitality to out-of-town marchers, and to march with their pastors, carrying banners displaying the names of their parishes or organizations. Working for racial and social justice came easily to O'Boyle, who was named a cardinal in 1967. Shortly after receiving the shepherd's staff as the first resident archbishop of Washington in 1948, he began working to integrate local parishes and Catholic schools years before the Supreme Court's 1954 Brown v. Board of Education decision outlawing segregated educational facilities. He also joined the city's religious leaders in advocating equal opportunities in housing, jobs and public education. At the Second Vatican Council, he urged the council fathers to make a clear-cut declaration condemning racial prejudice.
In his address, King offered a clarion call for building a just society for children of all races and backgrounds. "Now is the time to make justice a reality for all of God's children," he urged the crowd and all of America. As people of faith and as Americans, we can never be lethargic or complacent when confronting the sin of racism or any form of injustice. King urged a response to "the fierce urgency of now."
We honor his legacy and that of O'Boyle by continuing their work. Today this effort also takes the form of providing educational opportunities for all children, but particularly for those who would otherwise be consigned to schools too often designated as "failing." Our 96 Catholic schools in the Washington archdiocese serve nearly 30,000 children in the nation's capital and in surrounding Maryland. Many of these students are minorities and are not Catholic. For the upcoming 2013-14 school year, the archdiocese has awarded $5.5 million in tuition assistance, more than a sixfold increase in recent years. The children attending Catholic schools along city streets, suburban neighborhoods and in the rural countryside come from all backgrounds, and through challenging academic programs rooted in Catholic values learn to be the future leaders of our church, our communities, our nation and our world.
The legacy reflective of the commitment of King unfolds in our Consortium of Catholic Academies, a cluster of Catholic schools serving some of the poorest children in the District of Columbia. They provide a beacon of hope to families in struggling neighborhoods in Washington, including at Sacred Heart School with its bilingual English/Spanish curriculum. Those doors of opportunity are also open at the city's Archbishop Carroll High School, with its high enrollment of minority students and its International Baccalaureate Program, and through the innovative work study program at Don Bosco Cristo Rey High School in Takoma Park, Md. St. Francis International School in Silver Spring, Md., offers a global learning program to children with roots in more than 50 countries.
Our archdiocese has supported other innovative efforts to expand educational opportunities. In 2004, leaders in Congress representing different parties and outlooks came together to establish the D.C. Opportunity Scholarship Program, which has provided about 6,000 scholarships to children in our nation's capital, 98 percent of whom are minorities and would otherwise go to a school in need of improvement. Last year, 97 percent of 12th-grade Opportunity Scholarship recipients graduated -- and the graduation rate for those who choose Catholic schools was even higher -- compared with the less than 60 percent graduation rate of D.C. public schools. One of those Opportunity Scholarship Program graduates, an immigrant from Ethiopia, was valedictorian of her class at Archbishop Carroll High School, and she dreams of becoming a doctor and serving the poor. Another of our Opportunity Scholarship students from El Salvador was recognized by the Barack Obama administration and named a White House Champion of Change.
As Washington's archbishop, I have witnessed King's vision of Americans praying and marching together for justice. Each year at the March, Rallies and Masses for Life, hundreds of thousands of people from across the country gather to pray and then march together in defense of the dignity of human life in all its stages.
Our faith can never be relegated to just an hour inside church on Sunday. As Pope Francis has urged us, we need to "go out" and bring Christ's love and hope to our communities and our world. That is why Catholic Charities programs and Catholic hospitals continue to bring Christ's love and hope to those who need it regardless of race, religion, gender, nationality or sexual orientation. That is why we must continue to stand for the dignity of human life, for religious freedom and for justice for immigrants. Our pope's new encyclical, Lumen Fidei, reminds us that faith is the light that should guide our lives. It certainly did so for King.
Speaking from the steps of the Islamic Center in Washington to an interfaith gathering in 2006, I called on people to rely on the light of their faith to dispel the darkness, fear and hatred of our world, and to build bridges of solidarity and peace, together. This is the unity that King not only dreamed of, but believed would become a reality.
"With this faith we will be able to transform the jangling discords of our nation into a beautiful symphony of brotherhood," he said. The day will come "when all God's children, black men and white men, Jews and Gentiles, Protestants and Catholics, will be able to join hands and sing in the words of the old Negro spiritual, 'Free at last! Free at last! Thank God Almighty, we are free at last!' "
[Cardinal Donald Wuerl is archbishop of Washington.]
A version of this story appeared in the Aug 30-Sept 12, 2013 print issue under the headline: Honoring King's legacy.