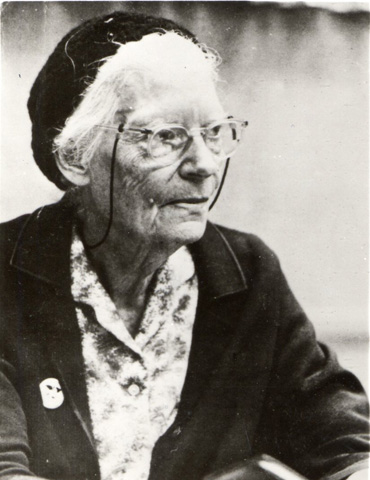 Dorothy Day (CNS photo)
Pope Francis touched the souls of Catholic progressives everywhere this morning by mentioning in his address to the U.S. Congress the names of three radicals they have revered for decades. Most of the millions who watched the pontiff speak were familiar with Martin Luther King Jr., the civil rights advocate, preacher of nonviolence, and Nobel prize laureate assassinated in 1968. They are less familiar with two other Americans equally dedicated to nonviolent principles, Trappist Monk Thomas Merton and co-founder of the Catholic Worker movement Dorothy Day.
Merton and Day were the two most noted radical US Catholics of the 20th century. Both based their visions of life and society on the Christian Gospels, especially their rejections of violence and commitments to the poor.
By citing these two figures, Francis appears to be elaborating on his own radical vision of Catholicism while placing this vision in a context more recognizable and understandable to U.S. Catholics.
Thomas Merton
Lawrence Cunningham, emeritus professor of theology at Notre Dame University, writing about Merton, once called him "the greatest spiritual writer and spiritual master of the twentieth century in English speaking America."
In 1939, after graduating from Columbia University, while reading a book on Gerard Manley Hopkins' conversion to Catholicism Merton found himself wanting to convert to the Catholic faith. He was baptized and eventually entered monastic life as a Trappist monk, finding his home at the Abbey of Our Lady of Gethsemani near Bardstown, Kentucky. He took his solemn vows in 1947 and in 1948 published his autobiography, The Seven Storey Mountain.
Over the years he became a prolific writer, publishing deeply spiritual reflections and maintaining copious correspondence with a wide range of public figures and private individuals and all the while growing to be a radical critic of U.S. militarism. He became a strong opponent to the Vietnam War and to the growing arms race. From his hermitage at Gethsemani, he used his writing to speak out against threats to the soul and society that nuclear weapons were causing.
He wrote that violence was shaping the very psyche of the nation.
"The real focus of American violence is not in esoteric groups but in the very culture itself, its mass media, its extreme individualism and competitiveness, its inflated myths of virility and toughness, and its overwhelming preoccupation with the power of nuclear, chemical, bacteriological, and psychological overkill," he once wrote. "If we live in what is essentially a culture of overkill, how can we be surprised at finding violence in it?
He once wrote in a letter to his friend, Jim Forest that he was not a "pure pacifist," going on to say "though today in practice I don't see how anyone can be anything else since limited wars (however 'just') present an almost certain danger of nuclear war on an all-out scale. It is absolutely clear to me that we are faced with the obligation, both as human beings and as Christians, of striving in every way possible to abolish war."
He once wrote words that seem to echo Francis today. Yesterday Francis told the US bishops not to fight culture but rather to engage it.
Wrote Merton decades back: "The beginning of love is to let those we love be perfectly themselves, and not to twist them to fit our own image. Otherwise we love only the reflection of ourselves we find in them."
Throughout his adult life, Merton consistently maintained an antiwar outlook.
Merton once referred to the Vietnam was as "an overwhelming atrocity."
Merton believed and stated unequivocally that "the root of all war is fear," not so much the fear people have of one another as "the fear they have of everything." Merton is widely viewed today at one of the two or three most influential peacemakers in the entire Catholic tradition.
Merton embraced inter-religious dialogued, still a relatively new idea in the 1960s. He traveled to Thailand to participate in a gathering hosted by Buddhist monks and died in a freak accident on Dec. 10, 1968.
Dorothy Day
Day, like Merton, has animated progressive Catholics for decades and continues to do so in the hundreds of Catholic Worker Houses that dot the inner cities of the United States and beyond.
It was in the 1930s, she met follow activist Peter Maurin and the two established the Catholic Worker Movement, a pacifist movement that combines hospitality to the homeless with nonviolent direct action. She served as editor of The Catholic Worker newspaper, which she and Maurin founded, from 1933 until her death in 1980.
Day was born in 1897 in Brooklyn, New York, and initially lived a bohemian life. It involved various love affairs and an abortion. A Day biographer, Robert Coles, described her as "a woman who had been, in her twenties, a well-known journalist and essayist, a novelist, a close friend of writers such as Eugene O'Neill, Mike Gold, John Dos Passos, and Malcolm Cowley."
It was in 1932 she met, Maurin, a French immigrant, and a man of deep intellect. The two began publishing The Catholic Worker May 1, 1933, priced at one cent, and published to this day at the same price.
Day had an affinity toward anarchists and Catholic Workers to this day often view their own hospitality actions in light of Day's anarchistic tendencies.
In June 1955, Day joined a group of pacifists in refusing to participate in civil defense drills. Day and six others took the position that their refusal was not a legal dispute but rather one of philosophy. As quoted on her Wikipedia page, Day said she was doing "public penance" for the United States' first use of an atom bomb.
Like other reform minded Catholics at the time, Day became an enthusiastic supporter of the Second Vatican Council in the mid-1960s. She hoped it would endorse nonviolence as a fundamental tenet of the Catholic faith, rejecting the church's "just war" theory, which she argued no longer made sense and violated the mandates of the gospels. She spoke out, as being immoral, not only the use but also the stockpiling of nuclear weapons, calling them acts of terror.
She lobbied bishops in Rome and joined with other women in a 10-day fast, attempting to draw attention to her nonviolent views. She wrote that she was pleased when the when the Vatican Council issued a document saying that nuclear warfare was incompatible with traditional Catholic just war theory. The document read: "Every act of war directed to the indiscriminate destruction of whole cities or vast areas with their inhabitants is a crime against God and man, which merits firm and unequivocal condemnation."
The Catholic hierarchy viewed her as a renegade through most of her life. Apparently more manageable after her death, Catholic bishops warmed to her. In 2000, the late Cardinal John O'Connor of New York opened Days' cause for canonization. Pope Benedict XVI, in the closing days of his papacy, cited Day as an example of conversion.
To this day, Day's spirit rings through the Catholic Worker movement, still well outside the mainstream of Catholic life. He writings on nonviolence and personal responsibility to the poorest continue to animate the movement.
[Fox is NCR publisher and can be reached at tfox@ncronline.org.}