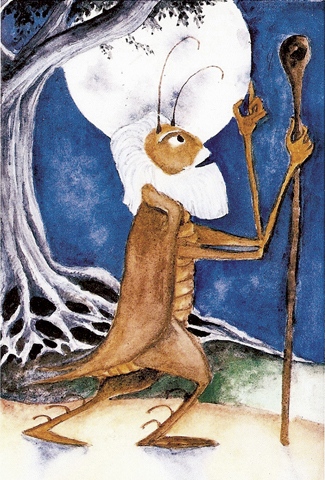 When previously asked for a photo of himself, Fr. Edward Hays sent this "self-portrait."
Some called Ed Hays a priest. Yes, of course, he was.
However, that was missing the point. He was a priest -- and more. I imagined him as a talented ringmaster of a three-ring circus of holy fools. And, yes, he was a clown, the most vibrant and imaginative one under the tent, impish, mischievous, fun-loving, always ready to entertain the world. We so need laughter, and he knew it.
At the same time, you could sit before him and become absorbed in the stillness he projected, his translucent eyes looking at you and through you. He had a large square face, elongated by a distinctly white beard. He radiated wisdom.
I was blessed to call him my friend. He was always inspirational, a guide in troubled times. I'd otherwise be tempted to call him a spiritual guide, but he'd bop me for saying that. He preferred not to use the words, "spirit" or "spiritual," because he found they played into a dualism that obscured the oneness of creation. In Hays' view, all is one, all is sacred.
His soul took form in his drawings, paintings and writings. He was the author of over 30 books and countless papers, thousands of letters and notes to friends. He wrote a book once and didn't feel comfortable with the publisher's cover choice. He needed total freedom, so he co-founded Forest of Peace Publishing, which published most of his books after that.
He was of the cosmos, but distinctly worldly. He had a passion for teaching prayer. He ministered for decades in prisons and jail cells, offering the incarcerated counsel and hope. He was the founding director of Shantivanam, now called Christ's Peace House of Prayer, a retreat center just west of Kansas City that pushed the boundaries of conventional spirituality.
---
Related: Fr. Edward Hays, writer of more than 30 spiritual books, dies
---
Prayer was Hays' life, his passion. He taught we were meant to live, not just say, prayers.
Like many others, I first encountered him after reading Prayers for the Domestic Church: A Handbook for Worship in the Home, first published in 1979. My wife and I, relatively young parents, were part of a Kansas City-based "Parenting for Peace and Justice" group. The book became, well, sort of our group's bible. By that time, Hays understood that family was the basic unit of culture and that we spend most of our time in our homes. And so it made sense that prayer language should be connected to domestic activities. His prayers aroused awareness of the sacredness of seemingly ordinary acts like eating, bathing, sleeping, awakening and so forth.
By using his prayer books, we added deep meaning to our lives. In sum, every act was a prayer. As if to hammer home the lesson, he wrote, "pray all ways."
In a way, Hays was a precursor for the creation story and the new theology that grew in popularity in the 1980s, underscored by the writings of Thomas Berry. God's love story began with creation and remains seamless. Hays, a mystic, found himself attuned to the story, and he preached it every way he could.
A decade after he wrote Prayers for the Domestic Church, he penned Prayers for a Planetary Pilgrim: A Personal Manual for Prayer and Ritual, another book of prayers, rituals, and guidance celebrating the divine presence that unites all people and faiths of the world. In it, he drew on his own life pilgrimage of divine discovery and inspiration. The book was at once planetary and cosmic.
A priest of the Kansas City, Kan., archdiocese, Hays' mission and reach was boundless and always in the process of discovery.
He once told me the Catholic church is like a trampoline. He liked to play on it, bouncing up and down, up and down. Then one day, he said, he bounced so high he had yet to come down. Solidly Catholic, he was ecumenical and inter-religious, and then some.
As a young man, after eight years of study at Conception Abbey in Conception, Mo., Hays was ordained a priest for the Kansas City, Kan., archdiocese. From the beginning, he was drawn to a deep prayer life. But he always had an itch that needed scratching. One day he gathered up his courage, as he likes to recall the story, and went to his archbishop, then Ignatius Strecker.
"It took me a while to get my courage up, but I asked him for three months off to go to a Trappist monastery to see if I could learn how to pray again."
To Hays' surprise -- and repeatedly expressed gratitude -- Strecker suggested that three months would not be enough, insisting his young priest take more time and even wander the world, praying with all kinds of people. On the spot, something within him bubbled a response. He wanted to go to India.
"Fine, go," Strecker said.
The year was 1971; Hays was 39. Three months later, he took off with a backpack. "That trip had changed me, changed my thinking," Hays told me.
Just as his soul was uncontainable, so, too, it seemed, was his personality. He once described himself as a "God spy." I felt a shudder within me as he spoke those words. I then began looking upon him more as a planted angel than an ordinary human being.
Don't think for a moment that his cosmic vision and approach took him out of the church, just out of the church as we conventionally know it. His view of Jesus was not always traditional. For example, in 1993 he published Holy Fools and Mad Hatters: A Handbook for Hobbyhorse Holiness. In it is this passage:
We might gain a unique insight into the personality of Jesus by imagining him wearing a black top hat! It would be no ordinary top hat, but a crazy one like the Mad Hatter's in Alice in Wonderland. Jesus, the Mad Hatter, would open our eyes to the fact that he often seemed as crazy at the Mad Hatter in Lewis Carroll's tea party. What made Jesus appear so eccentric to many was his profound belief in God's presence here and now.
People found in him a quiet presence. Stillness surrounded him. He harnessed and tranquilized wandering souls.
Hays taught that the incarnation was not just a moment in time, but a continuous "infleshing of the Divine Mystery within us." He told me: "If we believe in infleshment, then we see God not as other worldly, as separate, as different, but rather as of this world. The smell of burning leaves, an evergreen, a turkey in the oven ... isn't that the smell of God? Doesn't God taste like pizza, a good steak, salmon?"
Early on he objected to the description given to him as a "secular" rather than "religious" priest. He didn't like the idea of being secular. "It seemed too unreligious," he said.
Years later he was to change his mind. "Today," he announced some years back, "I am delighted to be called 'secular,' 'worldly,' because that is exactly what the Master was. Jesus came to give us a secular, worldly way of loving God, serving God and even worshipping God."
I was among the lucky ones. I managed to end up on Hays' birthday card list. On each birthday (and at Christmas) he would send me a card. It was not just any card, even a Hallmark. It was something he had created, drawn, designed, penned and stamped in numerous ways. It was always fun and foolish. A lift. Just what one might want on a birthday. And it came in an envelope also crafted, designed and stamped with Hays' unique humor. It must have taken hours. He once sent me a dirigible driver's license he created. He lived in another world.
He shocked me recently by saying he prayed daily, by name, for my wife, Hoa, and me. He said he used names in his prayers. We must have been on a long list of named invocations. How could I be more grateful?
Many viewed Hays as their (alas, allow me, "spiritual") advisor. He was, in fact, a profound listener. And why not? The stories he was hearing he knew were all part of the divine plan. They were simply other prayer forms. He received them prayerfully.
As he grew older and more frail, his eyesight weakened and his movements became more limited. Yet he continued to offer counsel and direction to more people than one might imagine. His base was Leavenworth, Kan., his home for many decades.
He never stopped teaching. His last book, Pilate's Prisoner: A Passion Play, published in 2012, dealt with the pains of aging. He imagined Jesus being deprived of crucifixion by Pilate, who spirits him away to his fortress on the coast to quiz him on the meaning of life. So Jesus, like most of us, lived to experience old age, and he shows us how to offer our own suffering as redemptive.
Some weeks back, we met for the last time at a Thai restaurant in Leavenworth. Hays spoke of his coming death.
The subject came up in response to a question I asked him: "What should I do in retirement?" He answered without an iota of morbidity: "Practice dying." He said he had bought a rose and kept it in his study, looking at it over days and weeks as it wilted and withered away. He said the flower watching helped him practice dying.
At first I thought he might have been depressed, but only because I remain a novice. For Hays, death was not in any way an end, but a transition, a transformation, a passage into an even more wondrous, foolish place.
Perhaps it is in foolishness that we allow vulnerability and shed our egos, so necessary for real growth.
Hays never stopped teaching, sharing insights. Many will miss his physical presence, but he has left behind a long legacy of stories, parables and drawings.
Rest in peace, my friend. Your eyes, always so penetrating, are seeing even more clearly now.
[Thomas C. Fox is a former NCR editor and publisher.]