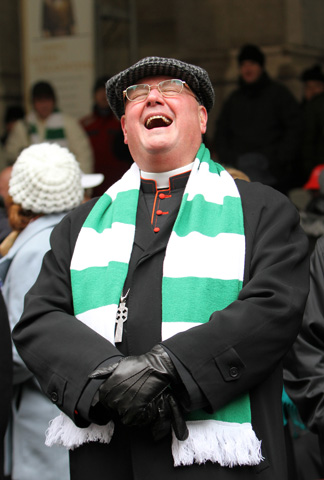 Cardinal Timothy Dolan of New York laughs while reviewing the 253rd annual St. Patrick's Day Parade on March 17 as it passes in front of St. Patrick's Cathedral in New York. (CNS/Gregory A. Shemitz)
New York — September 3, 2014
After years of strong resistance, organizers of New York's St. Patrick's Day parade on Wednesday said gays and lesbians will be allowed to march under their own banner for the first time, and Cardinal Timothy Dolan -- the parade's grand marshal next March -- has welcomed the move.
The decision is another sign of how quickly changing public attitudes toward gay people have pushed changes in state laws, government policies and the practices of private entities.
Dolan's positive response may also point to a shifting dynamic within the Catholic church on gays and lesbians since the election of Pope Francis last year. Francis has made it clear he wants church leaders to highlight Catholicism's outreach to the poor and vulnerable rather than always fighting culture war issues on gay marriage and the like.
The church's teachings on gays and lesbians have not changed, as was evident this week when two teachers at a Catholic high school in St. Louis were fired when administrators learned the women were married, and a teacher at a Catholic high school in suburban Detroit who is a lesbian said she was fired when she became pregnant.
But the St. Patrick's Day parade, which is not church-run, allows for some wiggle room. Dolan said Wednesday the parade committee that operates the annual event "continues to have my confidence and support."
"Neither my predecessors as archbishop of New York nor I have ever determined who would or would not march in this parade ... but have always appreciated the cooperation of parade organizers in keeping the parade close to its Catholic heritage," he continued.
Dolan concluded by praying "that the parade would continue to be a source of unity for all of us."
In 1993, then-Cardinal John O'Connor, facing gay protesters who staged a sit-in during the parade, vowed that he "could never even be perceived as compromising Catholic teaching" by entertaining their admission as an identifiable group in the event. "Neither respectability nor political correctness is worth one comma in the Apostles' Creed," O'Connor declared in his homily at a Mass for St. Patrick's Day that year.
O'Connor died in 2000, and much has changed since then.
The parade committee chose OUT@NBCUniversal, a lesbian, gay, bisexual and transgender resource group, to march up Manhattan's Fifth Avenue on March 17 next year under their own banner. The parade organizers voted unanimously to include the NBC group, they told The Associated Press, and a parade spokesman said other gay and lesbian groups could apply in future years.
The committee said its "change of tone and expanded inclusiveness is a gesture of goodwill to the LGBT community in our continuing effort to keep the parade above politics."
The committee's statement said the parade was "remaining loyal to church teachings," and O'Reilly said Dolan was "very supportive" of the change.
Dolan said last year he supported the participation of gay people but did not take a position on whether they should be allowed to march with their own identifying sign.
There are about 320 units set for next year's parade, each of which normally carries its own banner.
In recent years, as parade organizers steadfastly rebuffed growing calls to allow gay and lesbian Irish-Americans to march under their own banner, New York political leaders and others began avoiding the parade, which had always been an obligatory event for anyone expecting to stay in the good graces of the city's large and influential Irish-American community.
Last March, Guinness beer -- almost as much of an icon of Irishness as St. Patrick -- dropped its sponsorship of the parade.
That prompted conservative activist Bill Donohue of the New York-based Catholic League, a vocal opponent of gay rights, to launch a boycott of the brewer. "They have really made a serious mistake, Guinness, in trying to stick it to Roman Catholics," Donohue said.
On Wednesday, Donohue struck a different tone: "One would hope that all the new entries will conduct themselves in a manner that honors St. Patrick, lest another round of controversy emerges," he said.
The St. Patrick's Day parade in New York began in 1762, predating the country's founding, and it is one of the nation's premier events to celebrate the pride and heritage of Irish-Americans. The parade is not, however, a Catholic-run event even though it is closely identified with Irish Catholicism: It is held on the Feast of St. Patrick, and it always pauses in front of St. Patrick's Cathedral on Fifth Avenue so that the grand marshal can meet the archbishop, who, by tradition, is of Irish heritage.