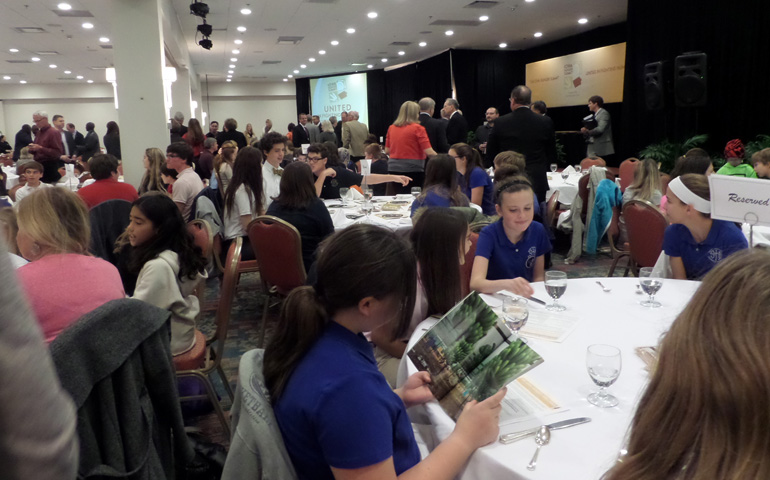 Students wait for their lunch at the Oct. 14 Iowa Hunger Summit in Des Moines. (Sue Stanton)
Des Moines, Iowa — October 20, 2014
Despite the name, the Iowa Hunger Summit, held here Oct. 14, is not solely concerned with food insecurity among the people of Iowa, but also throughout the United States and other countries of the world.
The state of Iowa, as the country's leader in corn production, seems to be a fitting place for the summit to happen every fall. This year, the summit celebrated the centennial anniversary of the birth of native son and Nobel Prize winner Dr. Norman Borlaug, who won the Nobel Peace Prize in 1970 for his efforts to end world hunger.
The Iowa Hunger Summit is the kickoff event for World Food Prize week and is the only event that is free and open to the public. Flags of world nations are put on display throughout the hallways of the Marriott Hotel in downtown Des Moines as they fill with an array of people representing global food organizations. Their tables are lined with representatives busily explaining their programs, networking with peers, renewing friendships or making new connections. Groups such as Oxfam, Catholic Relief Services, Bread for the World, and Meals from the Heartland are able to speak directly to those looking to understand more about global world food systems.
What is unusual about the Iowa Hunger Summit is the large number of primarily middle school students, a teacher by their side as they file into the auditorium to listen to the day's speakers and panels. At least half of the 600 seated in the auditorium this year were students.
Once seated, students listened to a variety of movers and shakers from the Iowa Food Bank Association, the Alliance to End Hunger, Outreach Inc., and AmpleHarvest.org, a food waste website where people from across the United States can find sources of free food grown by farmers and home gardeners.
This year's special address was given by Margaret Hoover, an author, activist and great-granddaughter of President Herbert Hoover. She recounted how her great-grandfather during World War I was able to work with both sides of the conflict to keep the people of Belgium supplied with food. She said she believes his work became a model for every future president's foreign policy and their use of presidential power in the world when it comes to humanitarian foreign aid.
One highlight of the Iowa Hunger Summit was the luncheon, where students were given an exact serving of food that a poor child across the world would receive from an aid organization.
Even after hearing for several hours that other people in the world go without food, the students were still surprised when they were served their portion at a table of white linen and polished silverware. Each student received one glass of water and a pre-packed dehydrated meal. This year, there were three options for food given to the students: macaroni and cheese, fortified rice with five red beans, or a serving of food packaged for use within the United States -- macaroni with a tomato basil flavoring.
During lunch, eighth-grade students from two different schools in the Des Moines area -- St. Augustin School and Merrill Middle School -- were asked about the idea of food being free for everyone as a basic human right.
"I think the idea of free food is a good one," said Olivia Anania from St. Augustin. Seated next to her, fellow student Noah Smith expanded a bit more, saying, "It's a good idea, but you need to have a program that is sustainable with food and the money for it. You need to have a workforce also that can sustain it."
Sierra Hernandez, also from St. Augustin, disagreed with the concept of free food for everyone. "I think that food should be free for only people in third world countries," she said, "We don't need it here."
Madeleine Kahl from the Merrill Middle School said, "I was very surprised by the data presented on hunger. Very surprised. Considering the impact food has on a person's physical health, it should be free, and it should be a right as long as they can't achieve it themselves."
But, others said, not so fast.
"It's a hard thing," said Mitch Majure, another student from Merrill Middle School. "It's not so easy to solve. People are so used to eating what they like and want. Not everybody likes fruit and vegetables."
Fellow eighth-grader Gabe Vald summed it up as the rest of the group from Merrill sat shaking their heads in agreement. "It sounds great, but is it sustainable? What if the food runs out? Or if people lose jobs because of it? People need to work too, you know."
[Sue Stanton is an author and freelance journalist in Ames, Iowa.]