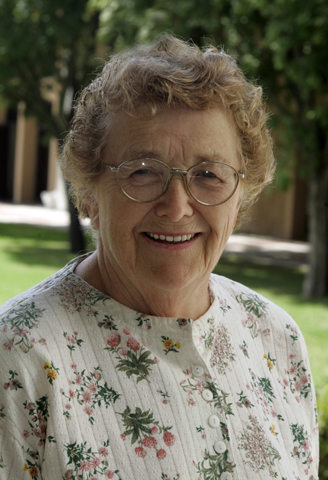 Rosemary Radford Ruether in 2009 (Annie Wells)
Rosemary Radford Ruether embodies the theological vocation well lived. Her scope is awesome, her writing compelling, her commitment to a livable planet unceasing. The impact of her work can be found in so many fields and hearts that she fairly defines the term "scholar activist," teaching and mentoring generations of appreciative colleagues, myself included, by challenging fundamental ways of thinking.
I met Rosemary in the fall of 1972 when we accidentally sat down at the same table in the refectory of Harvard Divinity School. She was a visiting professor in Roman Catholic studies and I was a new student. Our lunch ended prematurely when Rosemary realized that the Women's Caucus was meeting in a nearby small dining room. She picked up her tray and her briefcase that sported a "Question Authority" sticker and joined the group. I finished my lunch in solitude, not quite sure what a women's caucus was. Thanks to Rosemary, I learned that and a lot more.
In her recent autobiography, My Quests for Hope and Meaning, Rosemary reflects on her upbringing in "matricentric enclaves." Born in 1936 in Minnesota, she was the youngest of three daughters of a Catholic mother and an Episcopalian father. She was raised in Washington, D.C., and La Jolla, Calif. Wars and work made men scarce in her early years, and her father died when she was 12.
Her mother, an aunt and several significant women friends of her mother saw to her education, mainly in Catholic schools staffed by the Sisters of Providence from St. Mary-of-the-Woods, Ind. The nuns were strong women role models.
Her mother's crowd of intelligent, critical-thinking women included prominent social activist Helen Marston Beardsley, who exposed Rosemary to the finer arts of protest and demonstrations against war and for civil rights.
Rosemary chose Scripps College in Claremont, Calif., a women's undergraduate institution, for its rich curriculum and its female student body. She toyed with a career in painting (watercolors and oil), but opted instead for the humanities. She credits art with opening her to a big-picture view of the world that helps to explain the many, varied, yet integrated focuses of her subsequent scholarship.
One of Rosemary's paintings adorns the cover of Voices of Feminist Liberation, a festschrift written by her graduate students to celebrate her 75th birthday. It is a rendering of the kitchen table in the Cuernavaca, Mexico, home of her dear friend Betsie Hollants, a journalist and early proponent of Catholic women's feminist ministry. Such women's spaces -- beautiful, functional, and sites of world-changing conversations -- are reflected in Rosemary's views of ritual and church.
Not many theologians start out as experts on the patristic period, take on contemporary theo-ethical issues, venture into global religiously inspired conflict, embrace the urgent scientific demands of the day, and maintain a constant, faithful commitment to living a deep and integrated spirituality. In fact, I cannot think of another one, though Hildegard of Bingen comes to mind as a possible runner-up.
Rosemary studied Greek and Latin classics. As she describes it in her autobiography, "By 1965, with three children under seven, I had done an M.A. in Roman history (with a thesis on the lineage of a leading Roman political clan) and a Ph.D. in classics and patristics (with a thesis on the literary and philosophical thought of Cappadocian church father Gregory of Nazianzus). I was also writing a book on ecclesiology, published as The Church Against Itself."
So began the career of a world-class feminist theologian whose first published venture beyond the early fathers of the church was on birth control.
She articulated the well-grounded sentiments of many Catholics who rejected the patriarchal teachings of Humanae Vitae (1968), and she focused her enormous intellect on the well-being of women. The steady unfolding of her feminist theological work sprang from liberationist insights gathered from civil rights experience in Mississippi and attention to injustices in Latin America.
While gender was a major lens, the larger picture of racism, poverty, later colonialism, heterosexism and ecology formed the canvas on which she painted her theology.
In more than 47 books, hundreds of chapters and articles, countless lectures, and decades of teaching (currently, at Claremont Graduate University and Claremont School of Theology), Rosemary has employed her signature method: "What is the problem? How has injustice been created by inadequate or false ideology? How can we improve the system with better thinking and acting?" It is a deceptively simple approach, and it works.
What astonishes about her writing is not simply the quantity. We once made a pile of her books in the WATER office and had a medium-sized intern stand next to them to measure her production! But the surprise is in the variety of approaches she takes to the various topics.
For example, on feminist issues, she not only wrote a definitive work on systematic theology (Sexism and God-Talk: Toward a Feminist Theology), but also books on women-church (Women-Church: Theology and Practice of Feminist Liturgical Communities), goddesses (Goddesses and the Divine Feminine: A Western Religious History), and Mary (Mary: The Feminine Face of the Church).
She edited source books and encyclopedias with Rosemary Skinner Keller (including three volumes of Women and Religion in America), teamed with Eugene Bianchi in thinking how to get beyond the patriarchal mess (From Machismo to Mutuality: Essays on Sexism and Woman-Man Liberation), and engaged Buddhist friend Rita M. Gross in interreligious dialogue (Religious Feminism and the Future of the Planet: A Buddhist-Christian Conversation).
All the while, she has been a stalwart collaborator with the Women's Ordination Conference, a longtime board member of Catholics for Choice, and a popular lecturer around the world. Rosemary belongs to a women-church group at Pilgrim Place in Claremont, Calif., the intentional community where she and her husband, Herman Ruether, live in active retirement.
Venturing into the global scene, she engaged in one of the most intractable political problems of the time. In Faith and Fratricide: The Theological Roots of Anti-Semitism, she exposed Christian anti-Semitism long before most Christians understood what it was. Later, in collaboration with Herman Ruether, a political scientist with expertise on Islam, she explored the complicated Israeli-Palestinian situation (The Wrath of Jonah: The Crisis of Religious Nationalism in the Israeli-Palestinian Conflict).
She joined with Jewish liberation theologian Marc Ellis and Anglican priest Naim Ateek, founder of the Sabeel Ecumenical Liberation Theology Center, to think about a Palestinian liberation theology (Faith and the Intifada: Palestinian Christian Voices). In 1990, I joined a conference they convened in Jerusalem where liberation theologians from around the world gathered to work with Palestinians. We lived Rosemary's method -- studying together, praying as diverse religious people, and visiting homes, schools and projects. I recall vividly crouching on the floor in the back of a car as we drove in disputed territory. It made for visceral theology, as so much of hers is.
Rosemary's ecofeminist theological work is another foray into a global, indeed planetary -- or, perhaps better, galactic -- topic that spans four decades. She was early in her perception that humans cause much ecological destruction, lots of it due to twisted religious notions of divine-human relations and subsequent dualisms that result in privilege for some and oppression for others.
True to her method, she laid out the problem in historical terms, tracing how mistaken concepts have occurred, suggesting real-time solutions, and going about both intellectually and hands-on to solve them in communities of resistance and solidarity.
She began with her own view (New Woman, New Earth: Sexist Ideologies and Human Liberation). Then she collaborated with feminist colleagues from developing countries (Women Healing Earth: Third World Women on Ecology, Feminism and Religion), as well as with Protestant ethicist Dieter Hessel (Christianity and Ecology: Seeking the Well-Being of Earth and Humans).
Throughout, she urged audiences to live attentively, consume sparingly, recycle and compost, as she does in her own home. Rosemary is nothing if not down-to-earth!
The method has stood her in good stead in a heartbreaking but stalwart struggle to deal with her son David's mental illness. Rather than privatize a public problem, she insists on systematic change in national mental health policy to provide resources for him and millions of others.
She chronicles the difficulties in a book that includes David's thought and poetry (Many Forms of Madness: A Family's Struggle with Mental Illness and the Mental Health System). It is a devastating critique of the mental health system combined with a parent's love for a child, tempered by her signature realism and integrity.
In her autobiography, Rosemary updates the situation by describing David's further deterioration. True to her method, she maintains hope for his well-being, perhaps even recovery, a task to which she is committed "as long as he and I are still alive."
Rosemary, along with colleagues Mary Daly and Elisabeth Schüssler Fiorenza, shaped feminist theology from their various Catholic starting points. Unfettered by ordination, they were able to devote the full measure of their talents to theology, philosophy and biblical studies, respectively. Sadly, the kyriarchal church does not appreciate, or perhaps even notice, their work. But the rest of the community is deeply in Rosemary's debt, beginning with the National Catholic Reporter, which has published more than 185 of her articles.
Rosemary has always been a self-identified Catholic, but never one confined by the institution. She claims herself in communion not with recalcitrant bishops, but with those who struggle for justice in both church and the wider cosmos. She wisely and consciously confines her Catholic work to 10 percent of her intellectual production, a tithe, as it were.
Letting the failures of the kyriarchal church, rather than the needs of the world, shape her priorities would have truncated her work on so many other vital issues. Heaven knows there is enough to do to reshape the institution that she could have focused exclusively on it and still not made much progress. Instead, Rosemary sees herself as an ecumenical, interreligious Catholic seeking out and creating "good church" wherever she can.
Fourteen honorary degrees later, Rosemary has a collection of academic headgear that her wonderful women colleagues at Garrett were rumored to like modeling. She is renowned worldwide, her work translated into many languages, her ideas sparking theological insights in people she will never meet.
She continues steadily along her own path, rejoicing in a long, good marriage, the lives and careers of her children and grandchildren, and in the splendid company of the Pilgrim Place community made up of diverse ministers, professors, Grail members, activists all.
Rosemary's public practice of theology is a model to emulate. It is at once intellectually rigorous and grounded in daily experiences. It is as much about the ozone layer as about her garden. Her ability to create colleagues -- not mentor in the patriarchal sense, but to really create colleagues in her students -- assures that her work will endure beyond her earthly life, when, according to her own theology, she becomes part of the compost for future lives. That is "hope and meaning" in abundance.
[Mary E. Hunt is a feminist theologian who is co-founder and co-director of the Women's Alliance for Theology, Ethics and Ritual (WATER) in Silver Spring, Md.]
A version of this story appeared in the Oct 10-23, 2014 print issue under the headline: The life of a 'scholar activist'.