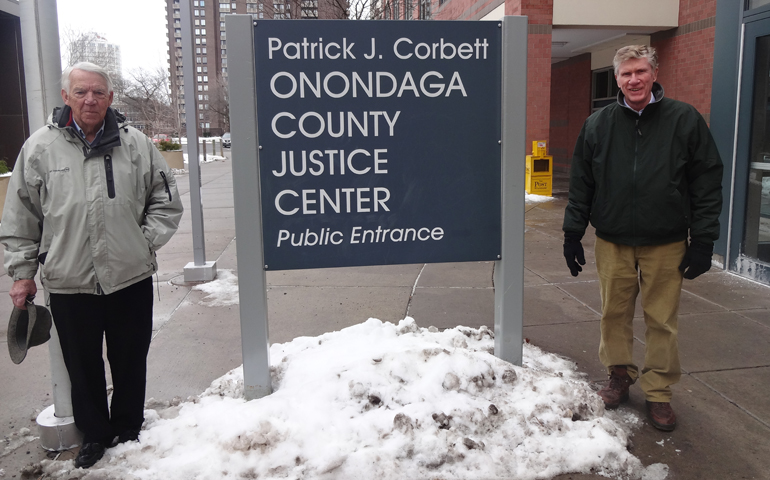 Dick Keough, left, and Bill Cuddy
Jamesville Correction Facility is just a few miles from Syracuse, N.Y. Syracuse has its own jail, known as the Justice Center. After serving two months at the Jamesville Correction Facility (my crime was attempting to deliver a message to stop the killing from the Syracuse drone assassination base, the 174th Attack Wing of the New York Air National Guard), I can testify that there is little or no correction accomplished there. My many interviews with inmates who moved from the Onondaga County Justice Center in Syracuse to Jamesville Correction Facility bring serious doubt if justice is served in either place.
At Jamesville, inmates are allowed to sleep much of the day. Education, including behavioral change, is all but absent. A weekly meeting of Alcoholics Anonymous and a GED program stand alone. Behavioral change classes are absent, as well as training for trades (unless toilet cleaning and snow shoveling counts).
The common pastime is playing poker or dominoes or watching TV. A favorite is "The Jerry Springer Show," featuring men and woman quarreling and fighting on stage. Twice a week, movies are shown, and most assuredly, they will be violent films. Keep in mind that many of the inmates have had problems with aggressive behavior.
The vast majority of inmates at Jamesville are violators of parole or probation. Guards often know inmates from previous incarcerations. The staff jokes about the revolving-door syndrome. The many men I interviewed did not find it funny.
Most have families. Most have children. Some have children or spouses in other jails, if not in other units at Jamesville. One young man, a serious diabetic, had his mother in the women's unit, a brother in another Jamesville unit, and his father in an upstate prison.
So, who does care about these men and women?
First, the men care for one another. "Are you all right?" is a common question. Men help each other compose letters to lawyers, judges and sometimes even to their loved ones -- not all inmates are literate. When an inmate is ill, fellow inmates urge them to request medical assistance. Sometimes positive medical care results.
All faiths have representative jail ministers. As a Catholic, I found that Fr. Ed Reimer and St. Joseph Sr. Maura Rhode were excellent. Willing to speak to and assist any inmate, they made it a point to seek out those who indicated they were Catholic.
Reimer, a full-time pastor of St. Patrick Parish in Chittenango, N.Y., makes time for visits with each new inmate. He had spiritual gifts to offer, the most important being the willingness to hear the inmate's story and offer advice. Each Friday, Reimer has Mass and is assisted by Rhode.
Reimer and Sr. Maura have the respect of both men and women. That's evident at each Friday's Mass. Reimer's clear and sensitive message of faith and hope is captivating. Inmates are riveted by his Gospel-based message, given in good cheer. He knows how to smile as he zeroes in on the love essence of the Christian message.
Having served the poor of Ecuador for years, there is a sense of ease in Reimer's manner with the men and women. (Men and women do not see one another at Mass, as a wall divides and a guard stands, arms crossed as he stares at the men in attendance.)
Reimer has help in Sr. Maura's ability to bring alive the Christian message, often with mind-awakening quotes from literature or thoughtful people of justice and faith.
Sr. Maura has no problem walking through the men's units, offering books or magazines and inquiring how the men are doing. She is the best-known and respected woman to enter the men's quarters.
Not being from Syracuse, but knowing a couple of former priests who do jail ministry at the downtown Justice Center, I wrote and called them for assistance with several needy inmates. Bill Cuddy left the priesthood back in the 1970s, when he fell in love with a parishioner, a widow with nine children. Bill married and became a different kind of father.
When Bill came to see me in the visitor's center, we faced each other over a barrier, but his eyes twinkled when I asked him how many grandchildren he had. "Thirty-eight," he said.
As busy as Bill is, he was willing to come up from the Justice Center. He agreed to focus on a few guys I hoped he'd find of interest.
One young man was due to be released but was without a job or a place to stay. He worried about going to a halfway house where drugs seemed too easy to get. The 26-year-old never knew his father, and his mother was an alcoholic. Various friends took turns raising him. After high school, he was on his own. His mother died some years ago. So, after years of prison and jail time, it was Cuddy who worked to get the young man a place to stay after his November 2014 release.
My good friend Dick Keough, a former Catholic priest, has a long history of jail ministry at the Justice Center. He was aware of the burden on the backs of Reimer and Sr. Maura at Jamesville. Dick agreed to help.
He came to Jamesville and interviewed several men -- most notably, "Bob" (not his real name), a 44-year-old man who has spent 16 years in jail and prison. A carpenter, Bob has a job awaiting him but nowhere to live. Dick agreed to come over to Jamesville to speak to him.
Shortly afterward, Bob was transferred out of my unit, and it was several weeks before I heard him call my name through the falling snow and razor wire in the jail yard. We were in different caged-in walking areas, but only 25 yards apart. Bob, whose toes had been getting black from the ill-fitting jail-issued footwear, called out as he pointed to his feet: "Hey, Jack, how about my new sneaks?"
He said Dick brought them, and his feet were getting back in shape. More importantly, he was ecstatic that Dick had arranged to help him get a place to live when he was released in February.
Bill Cuddy, Dick Keough, Sr. Maura Rhode and Fr. Ed Reimer are examples of Catholics who understand the injustice of incarceration in the United States. No other nation imprisons its people as we do. Yet, going into jail to greet, listen to, and help is surely an act of mercy and love.
Many who read this may live near a prison and could ask the jail or prison chaplain if you can visit someone in need. Keep in mind the story Jesus tells in Matthew 25:39-40: "When did we see you ill or in prison, and visit you? And the king will say to them in reply, 'Amen, I say to you, whatever you did for one of these least brothers of mine, you did for me.' "
[Jack Gilroy is Immaculate Heart of Mary- and Jesuit-educated. You can read more at www.franzjagerstatter.com.]
A version of this story appeared in the April 10-23, 2015 print issue under the headline: My time in prison reveals caring behind bars.