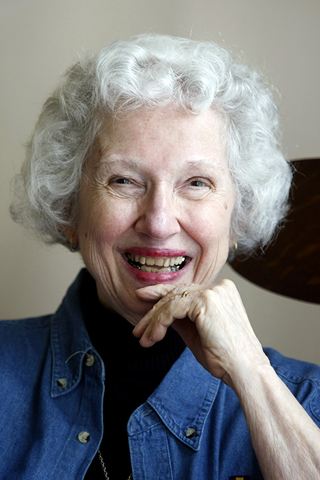 Phyllis Tickle (RNS/Karen Pulfer Focht)
Phyllis Tickle, a best-selling religion author, popular speaker and influential scholar, died at her home in Lucy, Tenn., Sept. 22. She was 81. Her 2008 book, The Great Emergence: How Christianity Is Changing and Why, was her best-known work. As the religion editor for Publishers Weekly, Tickle influenced the academic discussion of religion and befriended and mentored countless authors. Jon M. Sweeney, Tickle's biographer and executor of her literary trust offers this appreciation.
---
On a beautiful fall evening in November 2007, Phyllis Tickle, 73, was standing at a podium, a familiar posture for her. She wouldn't remain behind it for long; she never did. She moved around the dais, taking it as her responsibility to make the most of the moment she'd been given. She learned from her father that a lecture was an opportunity never to be squandered, an occasion to influence minds and hearts.
She was dressed in a worn, dark, wool skirt, a plain blouse, and a floppy gray wool jacket. Back in the early 1990s at Publishers Weekly, where Phyllis founded the religion department, her boss, Daisy Maryles, once said, "That's the fourth time I've seen you wear that. You need to buy some new clothes."
She did, then, but Phyllis was from east Tennessee. She began as a poet, a mother of seven, the wife of a rural country doctor, an academic and a playwright. When not in the media spotlight (or even when she was) her clothes were designed to go unnoticed.
On that day in November, she was giving "the talk," as it was known for years, about 70 minutes in length. This was before the punctuality, polish and fussiness of TED talks became popular. People didn't come to hear precision from Phyllis; they came for wide-ranging analysis, a global take on what was going on in the religious world, including her entertaining digressions, which were often as well-rehearsed as the core content.
She was the Sunday general session speaker at the National Youth Workers Convention, sponsored by evangelical-leaning Youth Specialties, in the Atlanta Convention Center. Herself a left-leaning Episcopalian, Phyllis seemed to fit comfortably in most any crowd of religiously sincere people.
She ranged from ancient philosophy to new science to the latest fads in social media, to elaborate, explain and exemplify the radical speed with which First World Christians were experiencing "emergence." She made it clear that any religious professional within earshot should not only realize the sea changes they're trying to stand in, but the responsibility they have to help others navigate the same.
The Holy Spirit was surrounding them, she explained, in the midst of what often felt disruptive and chaotic. The future was awaiting creative, inspired responses to essential change. For a decade after leaving Publishers Weekly, which she did in 2004, Phyllis lectured to more people than perhaps any other woman in North America.
In her audience were thousands of youth leaders, clergy and church professionals. Many that day experienced revelatory moments. Some explained hearing Phyllis as like a puzzle being put together to explain what had already happened in their lives or their church. Many used words like "awestruck" and "beautiful" to express what this septuagenarian had to say about faith. Phyllis was a couple months away from turning her final manuscript in for what would become her magnum opus on this subject, The Great Emergence: How Christianity Is Changing and Why.
Fifteen years earlier, as a journalist, she'd reported on how books were becoming "portable pastors" to help explain the rise of popularity of the spirituality category in publishing -- and, by unfortunate converse, the drop in annual church attendance. Her own series, The Divine Hours, made the fixed-hour prayer of the church accessible and popular to hundreds of thousands of people within a few years' time.
On this occasion in Atlanta, Phyllis explained that the days of scriptural authority as the guiding principle for churches were behind us. The faith is more complicated than ever before. Martin Luther's sola Scriptura resulted in 40,000 denominations, and the "every man and his Bible" principle, dear to evangelicals, simply no longer holds. The future is looking for new foundations. To some, this was unsettling; to others, it was upsetting.
So enraged was one middle-aged man that as Phyllis left the stage to a standing ovation, he jumped from his front row seat. In itself, this wasn't unusual; Phyllis was always engaged with audience members after a talk. Also, she was the author of many books and many people carried them to her talks to get them signed.
This night was different. As people were cheering, and Christian rock music began throbbing through large speakers for transition, few actually heard the exchange between Phyllis and the unidentified man.
"Shame on you for denying the authority of Scripture!" he yelled at her. He pointed a finger in her face and intentionally blocked her exit.
Phyllis responded with a conciliatory Southern cool, "Oh, no, sir. If you didn't hear me support the authority of the Bible in all of this, I'm afraid I miscommunicated."
But he grabbed her arm and shouted again.
Phyllis had two designated "handlers" that day. It was their job to ensure people didn't impede her too much in making it from one event to another. Mark and Tony both jumped to their feet. Tony pulled the man away from Phyllis, and Mark body-shielded her down the aisle toward a rapid exit.
She had struck a nerve that day. This would happen often, but never again physically. Millions of Christians were unprepared to hear that Christendom was falling, or had fallen, and were trying still to speak with their old authority and hegemony from the rubble. With wisdom, wit, humor and humility she encouraged Christians of all denominational backgrounds to face the future. She will be missed.
Phyllis died Sept. 22, at 81. Diagnosed with stage 4 lung cancer this past spring, she entered hospice at home just a few weeks ago. There is no need for a funeral, since she and her husband, Sam, who died at the beginning of the year, donated their bodies to medical research. There is nothing left to inter.
[Jon M. Sweeney is the editor of Phyllis Tickle: Essential Spiritual Writings (Orbis), and is currently writing Phyllis Tickle, a critical, authorized biography to be published in 2017.]
A version of this story appeared in the Oct 9-22, 2015 print issue.