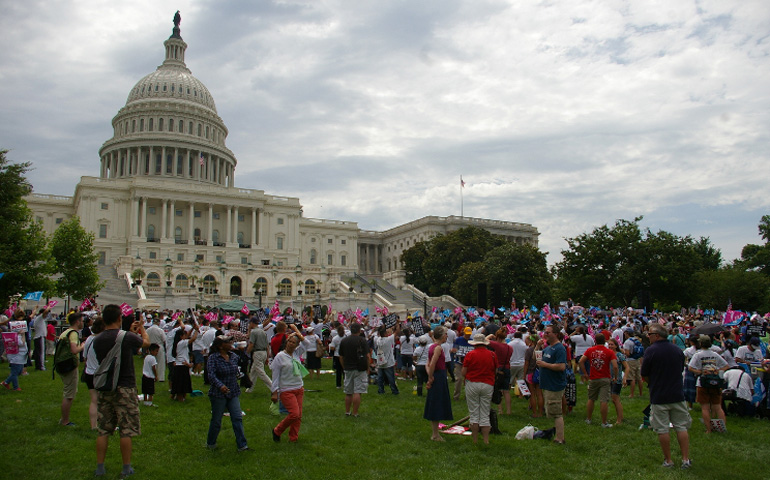 Advocates for marriage between one man and one woman gather outside the U.S. Capitol building Thursday before the March for Marriage, an event organized by the National Organization for Marriage. (NCR photo/Joshua J. McElwee)
Washington — June 19, 2014
Advocates for marriage between one man and one woman presented their view as an oppressed minority Thursday, converging on the U.S. Capitol for a symbolic march that presented the opposing views on marriage as representing a battle of biblical proportions.
A key backer of the advocates' efforts, according to San Francisco Archbishop Salvatore Cordileone: Pope Francis.
Speaking on the Capitol lawn in humid weather for a rally before the second annual March for Marriage on Thursday, Cordileone noted that Archbishop Carlo Viganò, the apostolic nuncio to the U.S., was in the audience.
Viganò's presence, Cordileone said, "signifies the presence and support of Pope Francis for what we are doing today." The San Francisco prelate went on to compare the advocates' efforts to those of early Christians in Rome who were "so often scapegoated" but continued their faith and in their works of service.
The march, hosted by the National Organization for Marriage, gathers advocates of traditional marriage outside the Capitol for speeches before a symbolic one-block march to the outside of the Supreme Court.
During his remarks, which came at the beginning of the event, the San Francisco archbishop said he and other advocates have to oppose same-sex marriage because of the effects it has on children.
"Every child has a natural human right ... to be known and to be loved by their own mother and father," Cordileone said.
"The question is then: Does society need an institution that unites children to the mothers and fathers who bring them into the world, or doesn't it?" he continued. "If it does, that institution is marriage -- nothing else provides this basic good to children."
The archbishop, who before the event had received letters from several public officials asking him to consider not attending, also said other public policy issues deserving support from Catholic bishops depend on them first to "rebuild a marriage culture."
Mentioning his support for a living wage and comprehensive immigration reform, Cordileone said there can be "no justice, no peace, no end of poverty without a strong culture of marriage."
Before the beginning of the rally and march Thursday, the Washington archdiocese sponsored a Mass of support at nearby St. Joseph's, a parish on Capitol Hill.
In the homily during that Mass, Msgr. Edward Filardi compared the advocates' work to a trumpet sounding the call for battle.
Quoting from St. Paul's letter to the Corinthians, Filardi said: "If a trumpet gives an uncertain sound, who will prepare the battle?"
"It's not a battle against people. It's a battle to uphold something beautiful that God created," said Filardi, who is the pastor of Our Lady of Lourdes parish in Bethesda, Md.
Filardi also said same-sex marriage is an affront to God.
"The image of God ... comes to its fullness in the union of man and woman together," he said. "When we attempt to reshape marriage ... we risk mocking God himself."
Continuing with an overview of male and female biology, Filardi said, "marriage is defined in our design."
"Only a man and a woman are equipped to enter into that one flesh," he said. "Anything else is an impostor."
Giving reason to why advocates should be opposed to civil laws defining marriage when they do not impact religious ceremonies, Filardi said such laws have wide impact.
"It's may be not our physical lives that are threatened, yet," he said. "What's written into law becomes 'Comply or die.' "
One attendee at the rally Thursday said he agreed with Filardi's view of opposition to same-sex marriage as a sort of battle.
It is "long overdue" to speak that way, said Mike Phillips, as there is a "great social crisis in America."
"It's my obligation and duty to teach my sons ... that the marital union is only something that happens between a man and a woman," said Phillips, who traveled to the event with others from St. Andrew Catholic parish in Newtown, Pa.
Other speakers at the event Thursday included former Arkansas Gov. Mike Huckabee, former U.S. Sen. Rick Santorum, and a number of clergy leaders and local representatives.
[Joshua J. McElwee is NCR national correspondent. His email address is jmcelwee@ncronline.org. Follow him on Twitter: @joshjmac.]