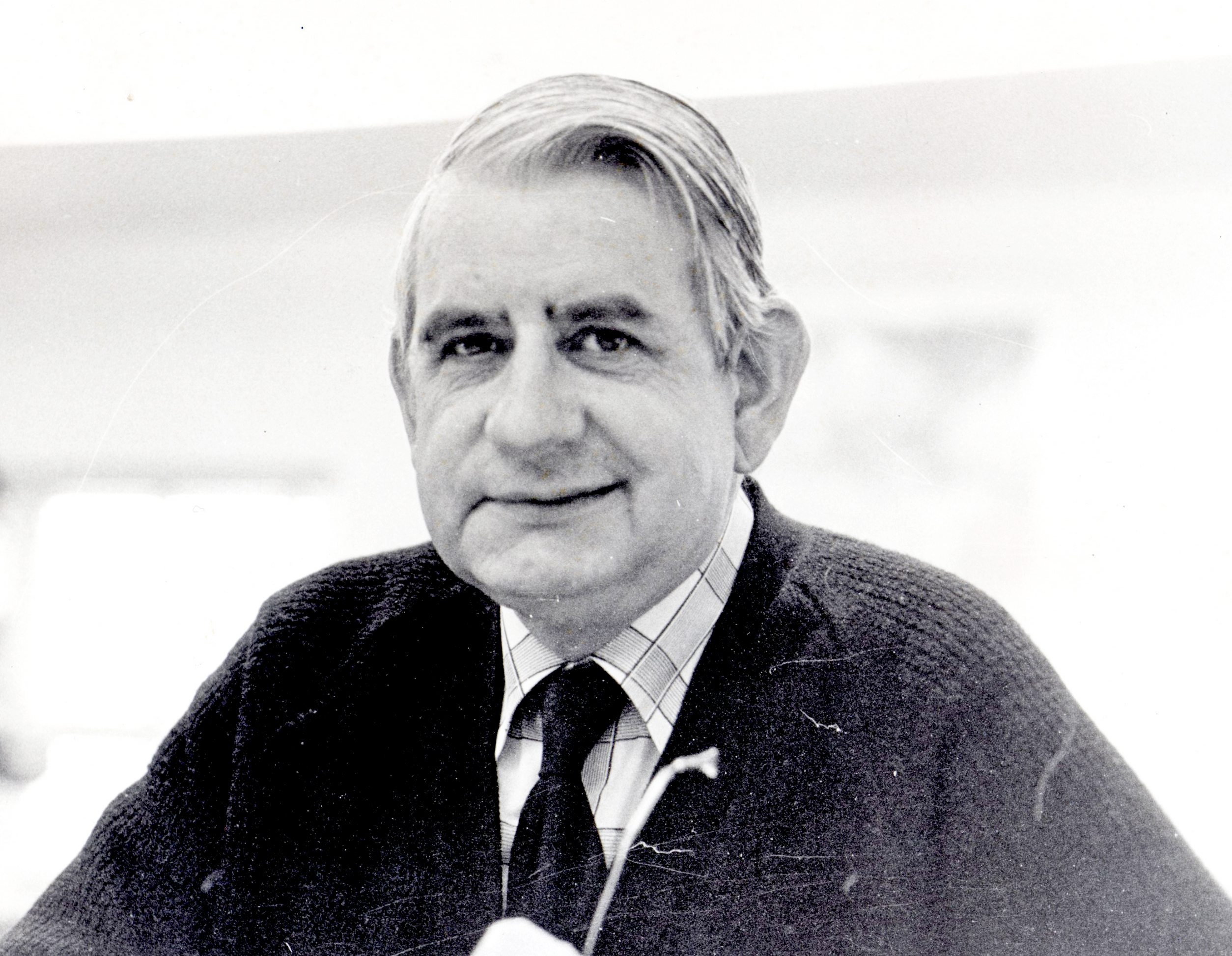 Desmond Fisher at NCR headquarters in Kansas City, Mo., in 1980. (NCR photo/Pam Bauer)
With the death on Dec. 30 of the noted Irish Catholic writer Desmond Fisher at age 94, the legion of writers who covered the Second Vatican Council (1962-65), has thinned practically to vanishing point.
Fisher, as editor of The Catholic Herald on London's Fleet Street, was in Rome in 1962 before the council opened to set up the Herald's coverage. (His anecdote of Pope John XXIII from that time appeared in NCR's 2012 Vatican II anniversary special. Fisher was also NCR guest editor for three weeks in 1980 and an occasional contributor.)
Fisher himself covered the 1963 and 1964 sessions of the council for the Herald and the Irish Press Group. Vienna's Cardinal Franz König said in a note to Fisher that he learned "more of what is going on at the council from your superb reports" than he heard "while on the spot."
In equal measure, Fisher's council coverage offended some cardinals, not least Cardinal John Heenan of Westminster, England. The Catholic Herald's owners — whether pressured by Heenan or not — recalled Fisher to London.
When Fisher resigned in 1966, an anonymous article in Herder Correspondence described the backdrop. Many bishops in England and Scotland, plus Dublin's over-bearing Archbishop John McQuaid, had strongly opposed Fisher's interpretation of council events — McQuaid called it "very objectionable." When Fisher resigned, dozens of other bishop-attendees wrote to say quite the opposite.
Fisher was born Derry, Ireland, on Sept. 9, 1920. Ireland was still a united land: This was prior to the "partition" that created Northern Ireland.
His father, who worked for a firm of wholesale wine and tea shippers — which explains in part Fisher's own fondness for and knowledge of wine — moved to Dublin to establish an office there.
At age 11, Fisher won the all-Ireland scholarship that provided five years of secondary education at a school run by a religious order. He took the education, but not religious orders. His Irish, Greek and Latin were exceptional, and at 91 he completed a new translation of the Stabat Mater.
With a bachelor's degree from University College Dublin, his first job, at age 25, was assistant to the editor of The Nationalist and Leinster Times. He became an experienced copy editor and reporter. His first editorial said, "True peace cannot be based on fear. For true peace transcends the bounds of policy and diplomacy. … It must be founded on freedom and justice, on the recognition that man is a spiritual being created for an eternal destiny and not a pawn in the game of power politics."
Sixty-five years later, Fisher remarked, "It was a bit full-blown for an Irish provincial newspaper. But I would change very little. Pope John XXIII said much the same 18 months later in Pacem in Terris."
Fisher and his wife, Margaret (Peggy), wed in 1948 and marked their 65th wedding anniversary in 2013.
For four years, Fisher was with the Irish Press, and in 1952 became its London editor and daily columnist. He became the Press political correspondent and traveled widely overseas in the early 1960s. That began with a three-month United Nations Fellowship. He was present at the U.N. General Assembly during the famous scene when Nikita Khrushchev banged his shoe on the desk.
In 1962, in his first Catholic Herald editorial, he wrote that a lay-owned and independent Catholic paper had "a freedom that is journalistically necessary if it is to carry out what it conceives to be its function and which relieves the hierarchy and the clergy generally of any responsibility for opinions expressed in its columns."
Recruited by RTÉ (Raidió Teilifís Éireann) as deputy head of news, by 1973 Fisher was head of current affairs. There, after several years of bureaucratic infighting over an unhonored agreement to make current affairs its own division, Fisher was promoted sideways to director of TV development.
For 14 years, he was also Ireland correspondent for The Economist. He left RTÉ on "early" retirement and returned to his origins, as editor and managing director of The Nationalist and Leinster Times, where his career had begun.
The Fishers lived in Dublin. Survivors include Peggy, four children and four grandchildren. Desmond Fisher had outlived practically all his journalistic contemporaries.
[Arthur Jones, NCR editor from 1975 to 1980, worked for Fisher at The Catholic Herald from 1964 to 1966.]
A version of this story appeared in the Jan 16-29, 2015 print issue under the headline: Vatican II reporter Desmond Fisher dies at 94.