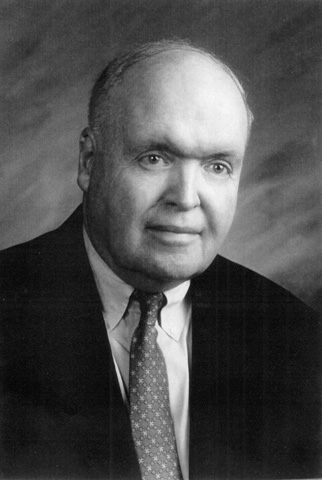 Eugene Cullen Kennedy in an undated photo
Eugene Cullen Kennedy, a writer, psychologist, and former Maryknoll priest transformed into a lay Catholic activist, died Wednesday. He was 86.
Kennedy died in Lakeland Hospital in St. Joseph, Mich., with his wife, Sara, beside him and surrounded by family.
Kennedy, retired psychology professor at Loyola University Chicago, was comfortable both inside powerful church circles -- he was a confidante to the late Cardinal Joseph Bernardin and authored books about his friend -- and on the outside, lobbying for changes about how the hierarchy handled sex abuse and other issues. Much of his retirement was spent talking to groups such as Voice of the Faithful, galvanizing lay action on church issues.
"In many ways, he was right in the middle of the church and he looked around. He also stepped to the edge and looked deeper at some aspects of the church," said Msgr. Ken Velo, a Chicago priest, former aide to Bernardin, and friend of Kennedy's.
In an essay for NCR, posted online in June 2002, soon before the bishops met in Dallas to chart a response to the sex abuse crisis, Kennedy blamed the scandal on the "characteristic passivity of American bishops" and warned against the secretiveness of clerical culture. He castigated what he called a "Pontius Pilate Syndrome" in the hierarchy, a "getting along by going along."
---
Related: Read Kennedy's columns for NCR, Bulletins from the Human Side.
---
In 2006, Kennedy told a Voice of the Faithful meeting in Long Island, N.Y., "The world of hierarchy has come to an end. Don't fight with it. Let it disintegrate."
While he could be highly critical of the clergy, he numbered priests among his closest friends.
It was a culture he knew well, Fr. Richard McBrien, theologian at the University of Notre Dame and another longtime friend of Kennedy's, noted in 2010.
"I think priesthood has had a major impact on his life," said McBrien, who died earlier this year. (Kennedy wrote an appreciation of his friend in a column for NCR.) "I'm sure that his priesthood has had a lot to do with his work as a psychologist."
Kennedy first earned national attention while, still an active priest and seminary professor, he wrote numerous bestsellers on personal psychology. One, The Pain of Being Human (1972), offered the insights of clinical psychology for popular consumption.
A regular theme was mixing spirituality and psychology. Kennedy argued that the two are inseparable.
"We may thank God that we can feel pain and know sadness, for these are the human sentiments that constitute our glory as well as our grief," he noted in The Pain of Being Human.
William Van Ornum, psychology professor at Marist College in Poughkeepsie, N.Y., and a former student of Kennedy's, credited him with helping to make psychology insights a part of church life.
"His concern for persons rather than the jot and tittle of bureaucratic rules lessened psychological burdens perceived by many in the church, and gave greater freedom and peace to their lives," Van Ornum said.
Kennedy's early work, Van Ornum noted, warned about the festering problem of psychological immaturity among priests that eventually grew into the sex abuse crisis.
Kennedy was strongly connected with the post-Vatican II Catholic culture of Chicago. In many ways, his career paralleled that of friend and sometimes rival Fr. Andrew Greeley, as they both pursued social science on church matters and wrote novels based upon personal and religious experiences.
Greeley and Kennedy sparred throughout their lives -- particularly at a time when Greeley was critical of Bernardin -- yet reconciled in their later years. Kennedy was a speaker at Greeley's 50th anniversary ordination party and wrote a reflection on their friendship for the Chicago Tribune after Greeley's death in May 2013.
While identified with Chicago, Kennedy was a native New Yorker, an heir to the King Kullen grocery store chain, which began when his uncle, Michael Cullen, started the nation's first supermarket in Jamaica, Queens, during the Great Depression. Kennedy participated in the management of the chain, which is centered on Long Island.
While much of his family was immersed in the grocery business, Kennedy felt another calling. Ordained a Maryknoll priest in 1955, he worked for the religious order as a psychology professor and counselor.
He was also instrumental, with Greeley and Bernardin, in pulling together a 1970s study commissioned by the U.S. Catholic bishops on the emotional health of priests. Kennedy suggested in that work that many of the emotional problems faced by priests were due to mandatory celibacy (a conclusion contested by Greeley).
In the 1970s, Kennedy was quoted in TIME magazine, predicting that the priestly exodus from the church would continue. "The most creative and healthiest will continue to depart in mounting numbers, leaving their conservative colleagues with the balance of power," he said. He called for "a basic reworking of religious life."
Kennedy himself resigned from the active priesthood in 1977 and married Sara Charles, a former Maryknoll sister and psychiatrist. They remained together until Kennedy's death, each personally and professionally influencing the other.
A New York Times profile of Kennedy, written in 1987 at the publication of his biography of Pope John XXIII, described Kennedy's leaving of the priesthood as one that generated little rancor. He continued to advise church leaders and fellow priests, and the article described a busy, influential life in a number of spheres.
"Mr. Kennedy is an unusual presence on the intellectual scene of Chicago, where he lives in an apartment overlooking the city's scenic lakefront," the Times story said. "He is able to lecture on psychology, dash off an informed guest column or book review for a daily newspaper and provide priceless background for many journalists researching political maneuverings among the church's bishops while he simultaneously works on a new novel and researches a book on church history."
Greeley, Bernardin and Kennedy were part of the same American Catholic postwar generation highly influenced by Vatican II, Pope John XXIII and the election of President John F. Kennedy (no relation). For many years, Greeley, Bernardin and Kennedy lived within blocks of each other near Chicago's lakefront, with the trio exerting influence and advice on one another. (Kennedy later moved to Florida and also kept a vacation home in Michigan.)
Kennedy's influence extended beyond parochial Chicago Catholic life: He was also a confidante to author Saul Bellow and the first Mayor Richard Daley. He penned a biography of Daley, the prototypical Irish Catholic big-city machine politician. He also counted among his friends author Norman Mailer, Jacqueline Kennedy, Spencer Tracy and Katharine Hepburn.
In Catholic circles, Kennedy was known as a progressive. Yet he had a more conservative political streak, as well. He was supportive of the first Mayor Daley, who often angered liberals and minorities during the 1960s, and was publicly critical of his successor, Jane Byrne. Kennedy occasionally contributed to Republican political causes.
Besides his political and church activism, and his teaching at Loyola, he also wrote novels -- among them Father's Day, Queen Bee and Fixes -- and more than 50 books of nonfiction, including works on popular psychology and biographies.
Many of his books offered personal advice on relationships gleaned from his counseling work. A regular theme was the value of friendship.
"The real test of friendship is: can you literally do nothing with the other person? Can you enjoy those moments of life that are utterly simple?" Kennedy wrote.
Kennedy's work as a counselor had an impact on his public views. Velo recalled, "He understood the human condition more than others. He has witnessed growth and development in people and understood their faults and failings. It's parallel to his view of the church."
Richard Madsen, a sociologist at the University of California at San Diego, is a former Maryknoll priest and former student of Kennedy's. While other professors at the Maryknoll seminary in suburban Chicago where Kennedy taught were steeped in Thomistic theory, Kennedy offered insights from the modern world of psychology.
It was heady material in the immediate post-Vatican II world of seminary education, Madsen said.
"He was real charismatic. He made a big impact on all of us," Madsen said. He noted that Kennedy's Catholic legacy grew out of his humanistic psychological vision.
"In the American Catholic church, he will be someone known for pushing the horizons of the church in the modern world at the beginning of Vatican II. He had a very humane, person-centered vision of what it took to be a modern person and a person of faith."
The ability to empathize with all kinds Kennedy brought to his later work with Voice of the Faithful, noted Janet Hauter, a Chicago-area resident who has served as vice president of the group.
"He could speak at the highest intellectual level and then immediately apply that theology to what is happening in the world today, into the common man's parlance," she said. "It came from the fact that he has not been isolated. He was not an academic locked up with academic people. He knew a cross section of society."
Jim Post, a founder of Voice of the Faithful, said Kennedy offered invaluable expertise and a sense of the compelling moment for change when the sex abuse scandal broke in 2002.
"When the crisis broke, he was one of the people of stature who had something to say about the institutional crisis. Right from the beginning, he was one of a handful of Catholics who spoke to the issue. ... He gave people a sense of confidence that the desire for change was rooted in sound theology and understanding of the church."
Kennedy was born Aug. 18, 1928, in Syracuse, N.Y. He is survived by a brother and sister-in-law, Bernard and Dorothy Kennedy. Eugene Kennedy and his wife, Sara, had no children but were very close to their more than 50 nieces and nephews.
A funeral Mass is scheduled for at 6:30 p.m. June 10 at Old St. Patrick's Church in Chicago. Visitation will begin at 5 p.m. at the church, and a public reception is to follow the Mass.
[Peter Feuerherd is a freelance writer from New York.]
A version of this story appeared in the June 19-July 2, 2015 print issue under the headline: Writer Eugene Kennedy dies at age 86.