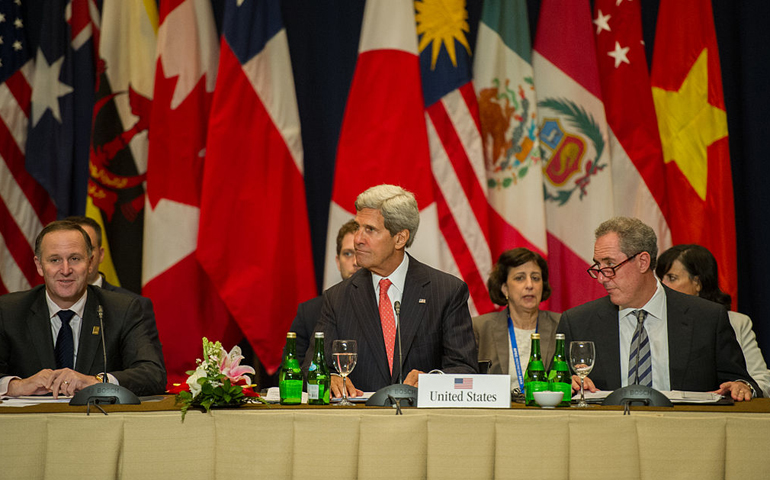 U.S. Secretary of State John Kerry participates in a meeting with nations' leaders discussing the Trans-Pacific Partnership Oct. 8, 2013, in Bali, Indonesia. (State Department/William Ng)
Beginning the flurry of executive orders enacted his first week in the White House, on Jan. 23 President Donald Trump officially removed the United States from the Trans-Pacific Partnership — a trade deal involving the U.S. with 11 countries in the Pacific Rim.
Though this was welcome news to many activists in faith, labor, public health and economic justice groups, those who had fought the Trans-Pacific Partnership deal give themselves most of the credit for its death in Congress Nov. 14, following years of advocacy.
And those who spoke with NCR still see this as an opportunity for Trump, though are cautious in their optimism.
"If Trump is sincere about being the voice of forgotten women and men, I think he can be an impetus for changing who's at the table going forward," said Christopher Hale, executive director of Catholics in Alliance for the Common Good.
"By taking TPP off the table, I think the president will encourage a new era of universal participation in trade policy," he said. "There might be a willingness by him to bring folks at the table — probably not the global poor, that's probably not his interest, but he could at least change the framework of who in the American society is in these conversations."
---
Related: Editorial: Fast-tracking the Pacific trade deal is a bad idea (March 19, 2015)
---
Free trade is one of the few contested issues not determined by party affiliation. President Barack Obama was forced to seek allies among congressional Republicans for its ratification when Democrats expressed disdain for the pact. Some moderates applauded the workers' rights and environmental protections included in the deal, while many progressives focused on the fine print that they feared would favor corporations over the impoverished in the long run.
Breaking from the GOP, Trump was among free trade's dissenters, going so far as to call the Trans-Pacific Partnership "a continuing rape of our country."
Vermont Sen. Bernie Sanders, who was also vocal in opposing TPP while campaigning for president, said after Trump officially signed away the deal, "Now is the time to develop a new trade policy that helps working families, not just multinational corporations. If President Trump is serious about a new policy to help American workers, then I would be delighted to work with him."
For Gerry Lee, director of Maryknoll Office of Global Concerns, this looming conversation about free trade is as much an opportunity for Catholics as it is for Trump.
"It's important for faith communities to engage with President Trump in dialogue and share their values with him and assume good faith," he said. "Assume that he will respond to a good, respectful articulation of Catholic values."
Though united in their opposition to the Trans-Pacific Partnership, progressive Catholics and Trump are worlds apart in their reasoning: the first is concerned about the deal's effects on the global poor, while the latter opts for a protectionist, "America First" approach.
Hale argued that free trade is not the problem, but rather pacts that are "one size fits all." The Trans-Pacific Partnership is an example of this, he said, as its participants ranged from Canada and Malaysia to Chile and Brunei.
"What we need to look at is in particular to human rights, environmental rights, economic rights, questions that face the countries we're trading with," he said. "We believe that global trade agreements don't do well in recognizing the particular circumstances that face each country we do business with."
The U.S. should work toward policies that allow flexibility, so governments can adapt trade policy to meet the needs of the vulnerable populations in their countries and craft laws that protect them, Lee added.
As Laura Peralta-Schulte, the senior government relations advocate for NETWORK put it: "Commerce is not a bad thing," adding that, for communities struggling with poverty, they may likely need to increase their trade. "We are not anti-trade," she added. "The economy of exclusion is what we're trying to counter."
Within the Trans-Pacific Partnership, she pointed to access for medicine and increased prices of pharmaceuticals — including generic medication — which she attributed to the deal's extension of monopolies.
"On issues like that, our hope is that we can find agreement that whether you're a patient in the U.S. or a patient in the Congo, humanity dictates that people have access to these life-saving treatments," she said.
The U.S. can utilize its commercial power to affect positive social change in countries that lack respect for human rights or economic justice, Hale said. "The problem with economic protectionism is that it denies the force of moral good the American economy can be in a global society."
But the Trump administration has thus far expressed a more narrowed interest in prioritizing American citizens. (The White House website's section on trade is titled, "Trade Deals That Work For All Americans.")
"From this day forward, it's going to be only America first, America first," Trump said at his inauguration Jan. 20. "Every decision on trade, on taxes, on immigration, on foreign affairs will be made to benefit American workers and American families. We must protect our borders from the ravages of other countries making our product, stealing our companies and destroying our jobs."
Worth noting is that the White House website repeatedly mentions bringing back jobs in manufacturing, specifically ("the backbone of our economy"). But the loss of manufacturing jobs can be more attributed to a boom in technology than to a hit from trade, as factories become automated.
"If trade agreements are seen as a way to bring jobs back home, that is a dishonest claim," Hale said. "There has to be a new economy in the U.S. that focuses on those who are left behind in the technology revolution."
Plus, the problem with an "America First" ideology is that it creates the illusion of an either/or situation, when the U.S. can aim to implement policies "that protect the global poor and the American worker," Hale said, adding that those who lost their jobs in the Midwest and those who are being paid unjust wages in Mexico — both as a result of U.S. trade deals — are not necessarily problems that need to compete with one another.
"Protectionism is not a sustainable way forward, it's not a Christian way forward, and it does not respond to the realities we live in."
Lee agreed, noting that the "Catholic way forward" would respect the right to dignified work for those in the U.S. as well as the rest of the world, and would protect the Earth's resources while respecting the value of commerce.
While Peralta-Schulte said she appreciated Trump formally killing the Trans-Pacific Partnership, she finds herself more realistic than optimistic about what's to come.
"I'm not sure the priorities of this administration align with ours," she said, listing the environment as an example. "For us, it's not just domestic workers. It's small farmers in Guatemala. It's workers in other countries.
"We'll engage, but we're not quite clear what the process is. There's just some uncertainty between Mr. Trump's rhetoric and some of his choices as it relates to personnel and other things. It's a question mark as to what the future looks like."
[Soli Salgado is a staff writer for Global Sisters Report. Follow her on Twitter @soli_salgado.]
A version of this story appeared in the Feb 24-March 9, 2017 print issue under the headline: Catholics see opportunity in Trump's trade approach.