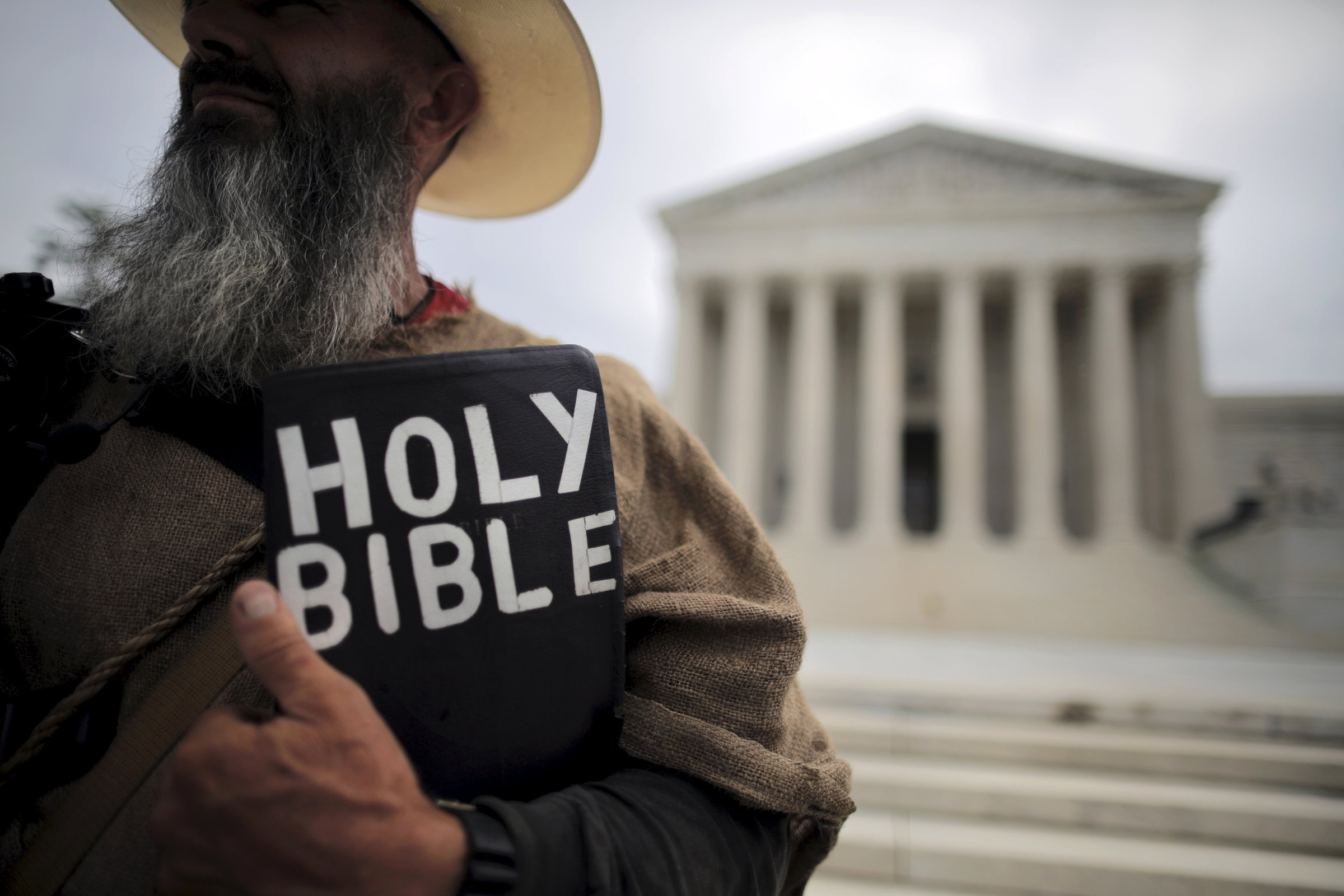 A protester holds a copy of the Bible outside of the U.S. Supreme Court building in Washington June 15. (CNS/Reuters/Carlos Barria)
Washington — June 18, 2015
The Supreme Court gave one man on death row a chance at getting a lesser sentence, upheld another death sentence and ruled in favor of a small church that sued the local government in a First Amendment case over a sign code.
Those were among six rulings released by the court June 18 as it winds toward the end of the term, probably before the end of the month. Among the 11 cases still pending were those over the constitutionality of laws prohibiting same-sex marriage, the constitutionality of federal subsidies for health insurance and the constitutionality of a commonly used method of execution.
In a 5-4 ruling in Brumfield v. Cain, the court said Kevan Brumfield was entitled to have his claim heard by the sentencing court that his low IQ and other evidence of mental disability should exempt him from the death penalty. The 5th U.S. Circuit Court of Appeals had ruled Brumfield was not entitled to evaluation for his claim that intellectual disability precludes him from the death penalty.
Brumfield was convicted in the 1993 murder of Baton Rouge, La., police officer Betty Smothers during a robbery. He has maintained his confession to police was coerced and that it was his accomplice, not he, who was responsible for the officer's murder.
In 2002, the Supreme Court ruled that people who are mentally retarded may not be subjected to capital punishment. When Brumfield's attorneys tried to raise his mental condition on appeal, the Circuit Court said he was not entitled to evaluation for disability and that evidence of such provided after his trial must be disregarded.
In writing for the majority, Justice Sonia Sotomayor said there was ample evidence that Brumfield's intellectual disability was diagnosed years before the murder. The ruling said the state trial court "should have taken into account" the evidence of disability. "The court's failure to do so resulted in an unreasonable determination of the facts."
Joining her in the majority were Justices Anthony Kennedy, Ruth Bader Ginsburg, Stephen Breyer and Elena Kagan. Justice Clarence Thomas filed a 27-page dissent in which he focused on Brumfield's claim of being disadvantaged in part by life's circumstances and contrasting that with the actions of the family whose mother he was convicted of killing. Among her children were Louisiana Sports Hall of Fame football player Warrick Dunn.
Joining the main legal arguments of Thomas' dissent were Chief Justice John Roberts and Justices Antonin Scalia and Samuel Alito. Alito and Roberts filed a short dissent in which they noted that they agreed with the thrust of Thomas's dissent, and concur that the Dunn story is inspiring and could serve "a very beneficial purpose if widely read," but they don't "want to suggest that it is essential to the legal analysis in this case."
In the second death penalty case, Davis v. Ayala, the court reinstated the death sentence of a California man who had challenged his conviction on the basis of the prosecution excluding blacks and Latinos from the jury.
That case also had a 5-4 split among the justices. Alito wrote for the majority, joined by Roberts, Scalia, Kennedy, and Thomas. Writing for the dissent, Sotomayor was joined by Ginsburg, Breyer and Kagan.
Kennedy also filed a concurring opinion, in which he railed against the near-constant solitary confinement under which Hector Ayala has been held during his 25 years in custody. Acknowledging that it had nothing to do with the legal question before the court, Kennedy cited research showing that "years on end of near-total isolation exacts a terrible price."
Kennedy went on to quote Russian novelist Fyodor Dostoyevsky, saying "the degree of civilization in a society can be judged by entering its prisons."
Thomas supplied a rejoinder in which, as he did in Brumfield, he focused on the victims of murder. He noted that "the accommodations in which Ayala is housed are a far sight more spacious than those in which his victims, Ernesto Dominguez Mendez, Marcos Antonio Zamora and Jose Luis Rositas, now rest."
In the First Amendment case, Reed v. Town of Gilbert, a unanimous court -- albeit reaching the same legal conclusion from several different angles -- found that the town of Gilbert, Arizona, used unconstitutional content-based discrimination in applying a sign code to a church.
The Good News Community Church had sued the city over how its code was applied to the church's signs. The small church has no chapel and meets in various buildings around town. It posts signs in places such as highway medians each week, inviting people to services. The lawsuit noted that the church's signs were required to be removed within 12 hours, while other types of signs, such as political ads, were allowed to remain for months.
Writing the opinion of the court, Thomas noted that the town's disparate approaches to different kinds of signs was unjustifiable because on its face the code is "a content-based regulation of speech."
He was joined in the main opinion by Roberts, Scalia, Kennedy, Alito and Sotomayor. Separate opinions were filed by Alito, (joined by Kennedy, and Sotomayor), Breyer and Kagan, who was joined by Ginsburg and Breyer.
Kagan's concurrence took issue with how far the Thomas opinion went in focusing on the legal standard of "strict scrutiny."
She said she expects the court and others will regret that. "As the years go by, courts will discover that thousands of towns have such ordinances, many of them 'entirely reasonable. And as the challenges to them mount, courts will have to invalidate one after the other. (This court may soon find itself a veritable Supreme Board of Sign Review),'" she wrote.